Published May 20, 2022
Cat Face Socks Personalized Sock Gifts For Pet Lovers
Looking for fun, unique, cost-effective, and high-quality gifts for pet lovers in your life? Face socks are a gift they'll surely love!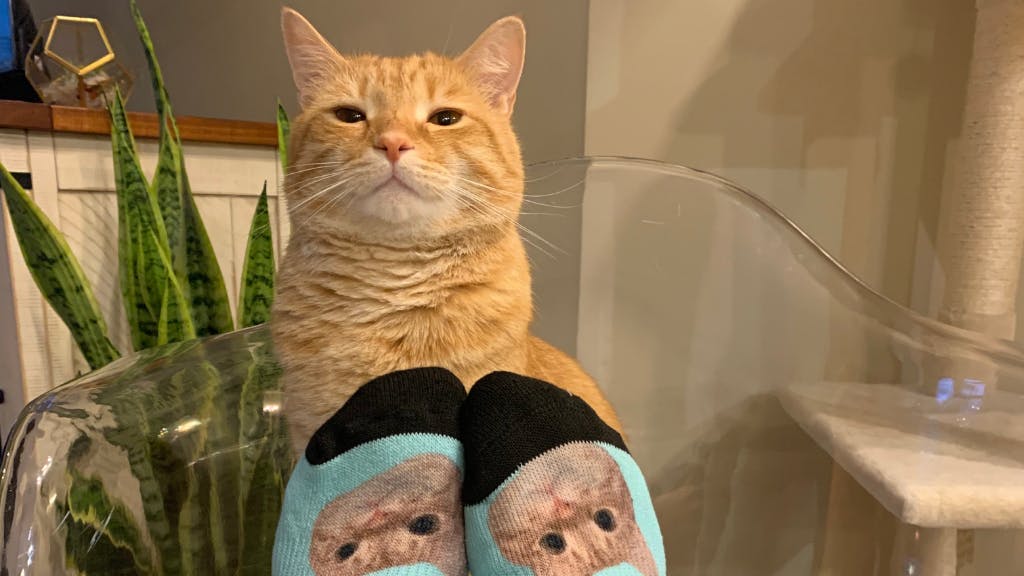 Custom photo socks are blowing up as the best gift idea for 2022. They are the perfect combo of thoughtful, cost-effective, and functional. When it comes to gift-giving for pet lovers, you can be sure of one thing- they love their pet.

So get them a gift that embodies their pet. Instead of getting a basic, boring toy for their pet that will be thrown in a pile of their other toys, dare to be different. With custom pet socks, you can capture their pet(s) face on a unique wearable that is sure to make them smile.

Gift Idea For The Cat Lover
Custom face socks using their cat's face is a great gift idea. Not only is it a great idea, but the process of making them is super easy, fast, and fun!

All you have to do is go to Sock Club's custom cat sock builder to get started. You can do it from the comfort of your own home and even directly from your phone.

Simply choose a pattern, upload a photo of the cat or multiple cats (don't worry we will perfectly cut out their face(s) for you!), select a fun icon, and checkout. We will take care of the rest, producing your sock proudly in the USA and shipping directly to whatever address you provided. 

Cat lovers, like me, can't get enough of their cat or kitten's adorable face. They most likely have multiple photos, and probably a full album, on their phone, so give them a custom printed photo sock of their cat and it will be treasured forever. Having a tangible gift mixed with a unique medium is one of the most thoughtful gifts you can give.

I mean look at how cute these are!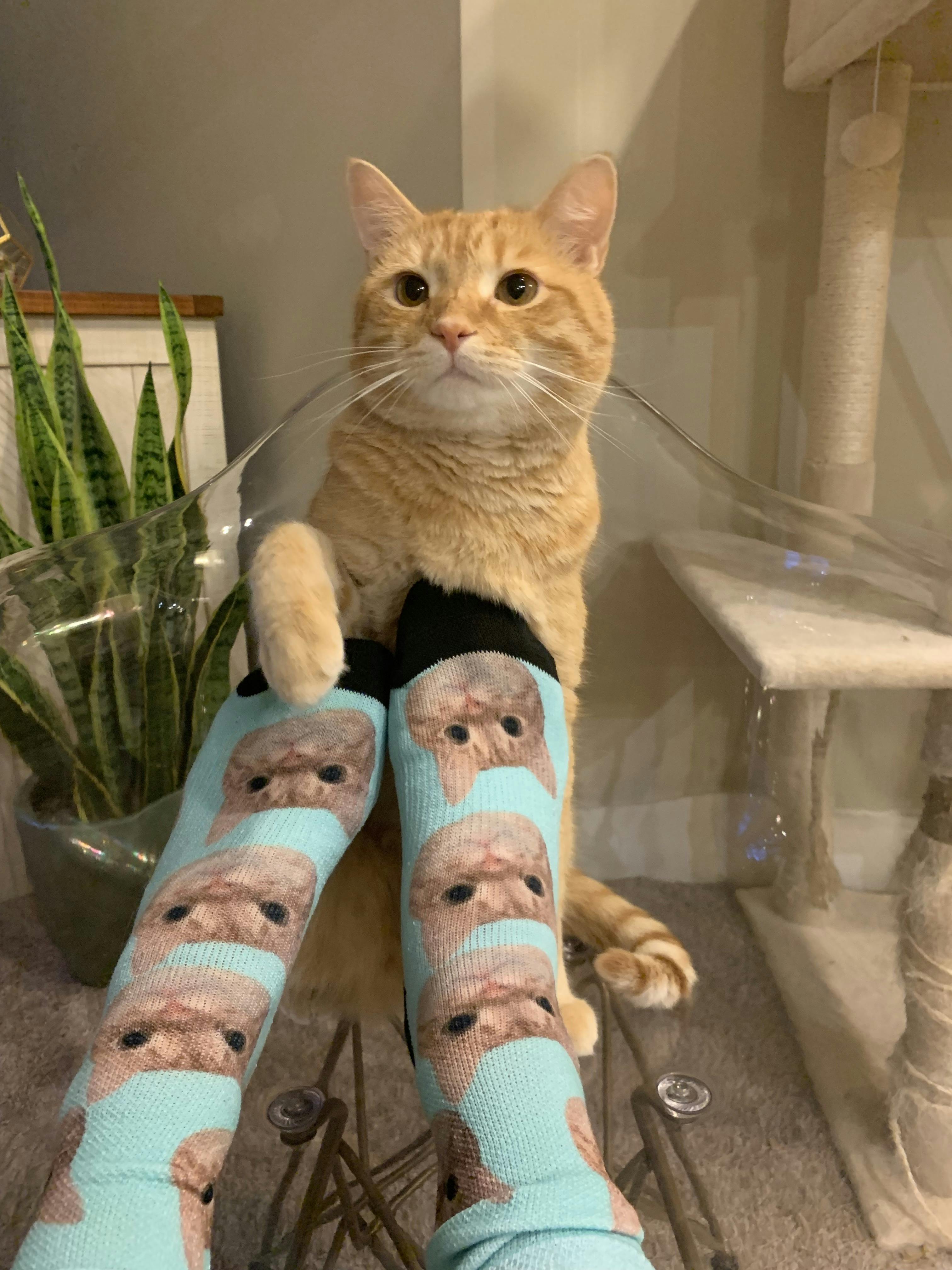 How To Make Custom Cat Face Socks

In these ten easy steps you will master how to create your very own personalized cat socks:

1. Go to Sock Club's custom cat face sock builder
2. Choose the pattern of your liking
3. Choose the face layout that speaks to you
4. Select an icon if you so please (my personal favorite is the meow icon)
5. Select the number of faces you want to be on the sock (up to four faces!)
6. Upload the photos of each cat face (we will cut out the face for you later, don't worry!)
7. Select how many pairs of this sock version you would like
8. Add to cart
9. Repeat process as many times as your heart desires
10. Checkout and relax, knowing your amazing socks are on their way!

Pet lovers may have one or more animals, so make sure you get the whole squad involved. Go to Sock Club's custom pet sock builder and upload an image of each of their pets. You can upload up to four faces so if you have more than four pets I recommend creating more face socks.

With various pattern and icon options for you to choose from, you can design your sock any which way you like. Pick the color that represents your friend the best and an icon that you know they will love. No two socks have to be the same!

No Professional Skills Needed
You don't need any design, photography or photoshop skills to create your own personalized face sock! When uploading a photo, you can use a photo taken on a phone as long as it isn't blurry.

Check out the helpful tips for photos on the face sock builder to make sure it will print with the best quality. You don't need to cut out the face either! Upload a photo with a background and Sock Club's design team will expertly cut out the face for you. 

The custom builder was created to be used and enjoyed. With stark previews and various options, you'll want to keep making pairs just for the fun of it. 

High-Quality Material
Sock Club custom face socks are high-quality custom socks that feature fun and relevant icons, as well as, your face on socks. Their custom face socks are made from soft, pre-shrunk polyester, which means you'll get great performance from the fabric. Every sock features secure elastic in the calf, which makes the socks super comfortable and easy to wear. You don't have to worry about your face socks digging into your calf or sliding down to your ankles.

One Size Fits Most
Face socks are an Adult One Size Fits Most which fits anyone from a Women's Size 6 – Men's Size 11. Instead of going through the hassle of figuring out what size they are, you can be confident with custom face socks that you are getting something they will be able to wear.

Face Socks For Anyone and Everyone!
I mentioned custom cat socks, but you can make custom pairs of socks for anyone! Sock Club has an awesome selection of face socks including, mom socks, dad socks, love socks, pet socks, and dog socks. Even though these different builders have preselected icons that resonate with the intended audience, you can upload any four faces to the face sock builder and select whichever icons you please.

Here is a recent review from a verified customer regarding Sock Club's custom face socks:
"I had been looking at other personalized gifts with cats for a while, and these socks were exactly what I was looking for! All I had to do was upload a photo and Sock Club did the rest for me. I loved the fun design I created and I love how cute they look on my feet. I really felt like they were made for me and my cat! The service from Sock Club was great as well. They sent me several emails throughout the process to check in and make sure that I was happy. My cat face socks were shipped to me quickly, and they arrived a few days later."

If you have any trouble or questions about your order, Sock Club's customer service team is available on the phones from 9-6pmCT to help answer any questions you may have!

What are you waiting for? Make your own custom cat or pet socks today! Make sure to tag @sockclub for a chance to be featured on their website and Instagram.