Published July 8, 2020
Custom Love Socks For Your Special Someone
Valentine's Day, anniversary, or birthday, show love custom face socks!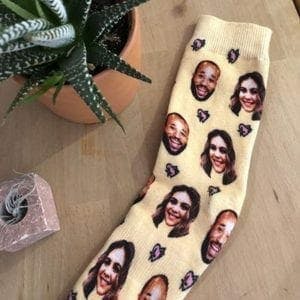 Fall In Love With Our Custom Love Socks!

Whether you're looking for a Valentine's Day gift or just something to show your appreciation for the one you love our custom Love socks are the perfect gift that won't break the bank! Give BAE something personal that was customized by you and means just a little more than flowers or chocolate. We guarantee you'll be met with a big smile when these personalized socks are unwrapped by boo.  
We have had some amazing love stories told through our socks. Our custom love socks have been a part of 2 proposals, 4 promposals, and 100s of custom Valentine's Day and birthday gifts. When you order yours be sure to share your story with us on social media! Don't forget to tag us too. (:
To better execute the love socks theme, we recently upgraded our designs with additional themes like, Be Mine Socks, Galentine's Day Socks, My Boo Socks (this includes a super cute ghost with heart eyes... can we BE anymore adorable?) Kiss Socks, I Heart Mom Socks, #1 Girlfriend Socks, and #1 Boyfriend Socks.
There are so many options to choose from and so many combinations to try out. Which do you think you'll choose?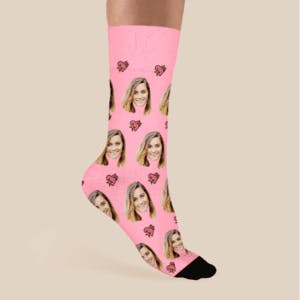 Just like Taylor Swift's new song, Lover, we want you to give a gift that will last forever and ever. Add your girlfriend's face, boyfriend's face, dog's face, any face really to a pair of our custom love socks. 
Not only are these personalized socks a great gift, but they give back too. For each pair you purchase, Sock Club donates a pair to one of our partner charities. 
With our custom printed socks you can also rest easy knowing that our custom face socks are high quality, stylish, and made right here in the USA.
Design your own custom Love Socks for your LOVER today!