Published July 8, 2020
Unify your Team with Custom Socks for Sport Uniforms
Perfect socks for any sport, use custom socks to show-off team spirit!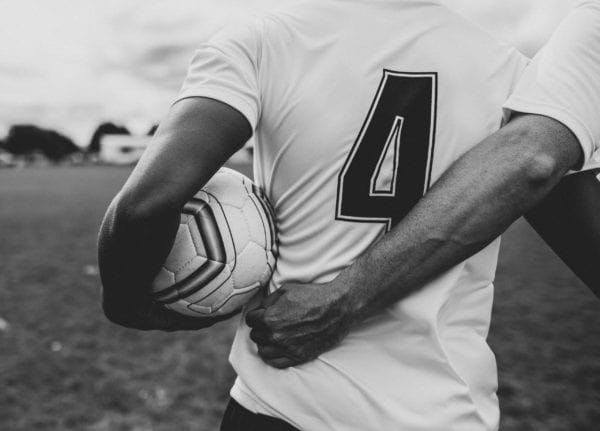 ATHLETIC SOCK OPTIONS FOR ALL SPORTS
Nylon Crew Socks
Our custom nylon crew socks are perfect for a sports team looking to create a branded head-to-toe uniform. They are endlessly customizable with features like breathable mesh, compression around the foot, and cushion on the footbed. The length of the cuff is shorter than our typical cotton crew, which gives our nylon socks a more streamlined style. Because this nylon sock provides a snug fit without ribbing, logos knit cleanly into the calf of the sock.
Nylon Ankle Sock
Our custom nylon ankle socks have the same optional features of our nylon crew socks but in a shorter, no-show style. This style is popular for sports like running or weightlifting where a shorter sock is often worn.
Cotton Athletic Sock
Our custom cotton athletic sock has been gaining popularity since we began to offer it as an option for a more casual athletic sock. It is customizable with features like ribbing on the calf and a shorter cuff than our standard cotton crew sock. Our cotton athletic sock is closest to what most recreational athletes use on a daily basis for physical activities like going to the gym or playing basketball with friends.
WAYS TO USE ATHLETIC SOCKS
Official Uniform Gear
Custom socks for official athletic teams are an easy way to visually unify a group. When teams don't have personalized socks, their mismatched outfits stand out in photos and make the players look less professional. Socks are a one-size-fits-most product, so it's easy to order one run of custom socks and make sure that your team looks polished!
Branded Event Merchandise
Custom socks are a great way to promote marathons, cycling races, CrossFit meets and many other kinds of athletic events! Often, marathons we've had as clients include socks as an item runners get when they check-in before a race. This is a great way to get people excited about the event. Custom socks also act as collector's items for people who return to annual athletic events and want to collect socks to train year-round.
Because of Sock Club's fast turnaround time, we can often meet deadlines even if you've got a late start on planning your event merchandise.
College Sports Teams
Often, colleges have limited budgets for merchandise. This means that custom products made for the sports programs at the school need to apply to multiple sports. Socks can be branded with the school's colors, shield or mascot and worn by student-athletes across different sporting programs. Unlike sport-specific items, socks are an item that can be used by every athlete in a college setting.
Children's Teams
Custom socks for children's sports teams are a fun item they can use year-round. Socks are an inexpensive, unisex, one-size-fits-most product, which makes ordering for a group quick and easy. No need to collect sizing information from team members' parents!
Gym Merchandise
Gyms and workout centers often have a space of their entryway designated as shops to sell branded merchandise and fitness essentials. Custom socks are a fantastic fit for gym shops because they are an item people coming into workout often realize they have left at home. Branding these essential items is an easy way to keep customers representing your gym while they are working out or are around town running errands.