Published July 14, 2022
Employee Spotlight: Hanna King Design
A series dedicated to meeting the minds behind Sock Club's incredible custom socks. Meet one of our incredibly talented designers, Hanna King!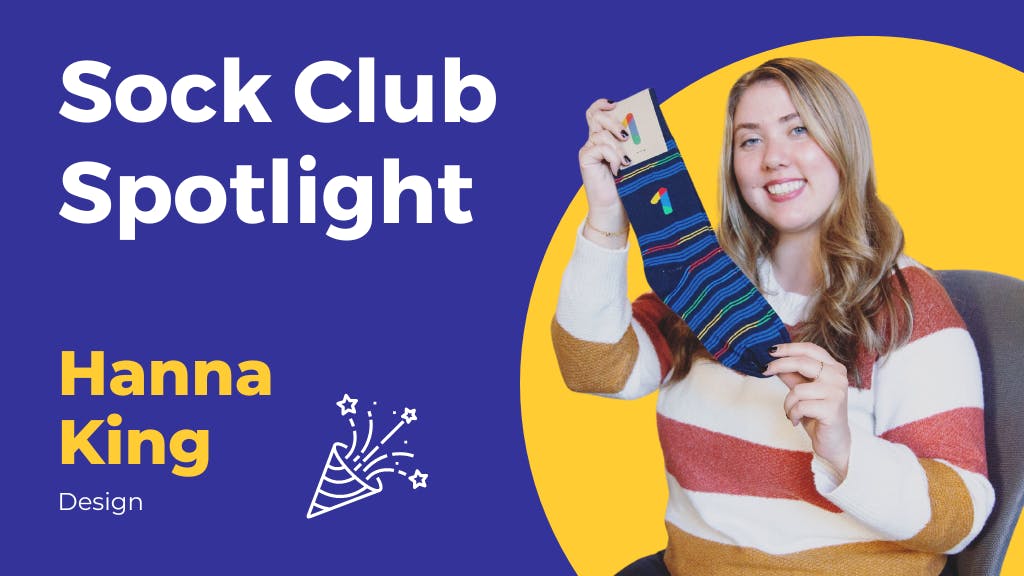 Let's Get Right to It!


Sock Club started as a sock subscription company in the summer of 2012, sending customers a unique pair of socks every month.

Although we grew to sell custom socks, we never lost sight of our roots as the original sock subscription company. We continue to offer our incredible sock subscription service, complete with a personalized letter from our team and a custom note from the subscription purchaser. We even made our subscription options more personable, where users can choose a bold/funky or classic/modern sock every month. Purchasers can switch between styles each month if they so choose! It's all about giving YOU more options.

As this month marks our 10th Anniversary, we wanted to look back at where we started and appreciate our growth as one of the leading producers of custom socks. Our success and growth wouldn't be possible without our people, so this blog continues our employee spotlight series to showcase all the faces around Sock Club. We are excited to highlight one of our top-notch designers, Hanna King!

Hanna King is a true "unicorn" as they say, born and raised in Austin. She graduated with honors from St. Edward's University with a B.A. in Graphic Design. Hanna began her sock stardom three and a half years ago as a member of our Design Team.

Growing quickly in her role and creating some of the coolest socks, Hanna wears multiple hats on the Design Team. Not only is she a designer for custom sock orders, but she is also the Hiring Manager for the Design Team, the design trainer, and the main coordinator for our Subscription line.

Hanna is one of the kindest, bubbly, energetic, and creative humans. Her smile and laugh is contagious, and she is always there to make your day with a compliment. She brings her energy and excitement to work, happily conversing with customers to make sure their visions are executed into works of art. We say works of art- because that's really what Hanna considers custom socks to be, art for your feet!

In her role, Hanna has created so many types of designs, more than just polka dots, argyle, or repeating logos, that anything can be put on a sock. This rings true for one of her favorite socks she has designed thus far- Moe. merch socks. These socks are truly one-of-a-kind, with the most detail, colors, and unique elements (such as flying pigs) that she has had the chance to design. How cool are these?!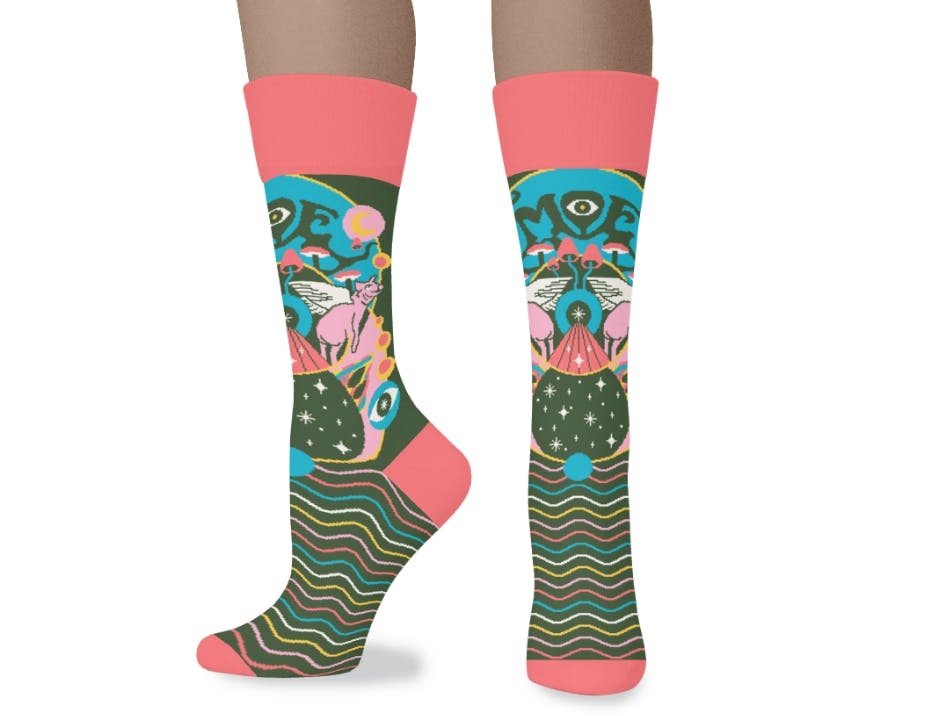 Want to get to know a bit more about Hanna? The first concert she ever attended was Carrie Underwood with Little Big Town as the opener and the last book she read was Red, White & Royal Blue. The next place on her travel bucket list is the U.K..

Hanna is full of creativity, for not only is she an incredibly talented designer, but she loves to write, specifically short stories or fiction.

Hanna finds herself inspired by the other design ladies! She says, "They are all so creative, kind and talented. Any time I feel like I'm in a rut, I turn to them." The collective kindness, passion, and creativity of the ladies on the Design Team is so powerful it could be its own energy source. We love seeing how close the team has gotten and the amount of time and effort they put in outside of work to grow and create together.

Hanna wants to be remembered for being kind, and there is no doubt in my mind she will be, as well as being remembered for so much more. She makes someone smile everyday and carries a positive energy with her that is contagious. Not only is she a leader on her team, but she is able to bring together others to accomplish tough challenges. We are so grateful to have the amazing human (and of course designer) that Hanna is, and we cannot wait to see what more she accomplishes here at Sock Club.