Published May 19, 2022
Get Your Cat's or Kitten's Face Custom Printed on Socks!
Are you looking for a fun way to show off your cat or brand new kitten? Well, socks with their face on them are the purr-fect way.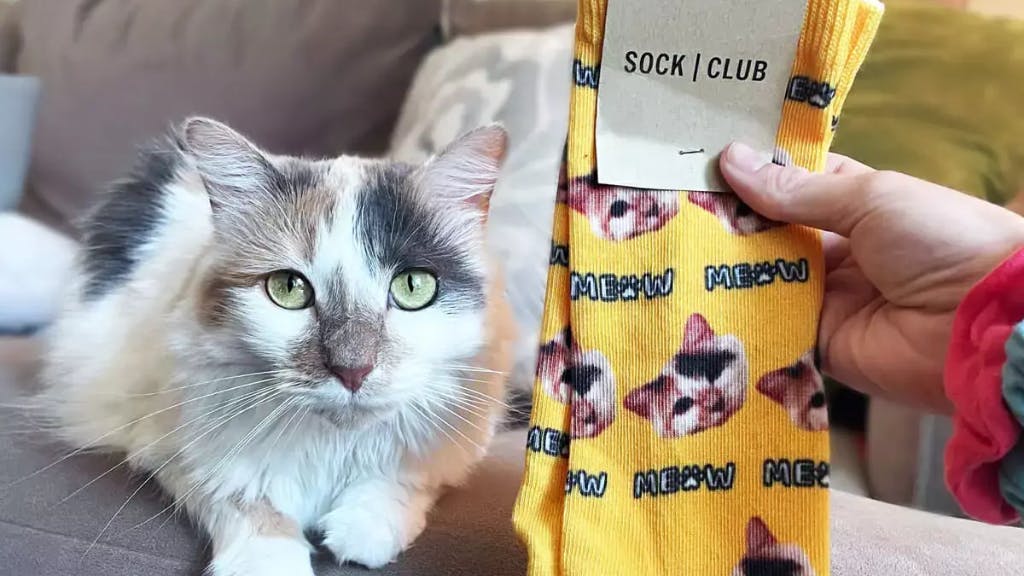 Get Your Cat's or Kitten's Face Custom Printed on Socks!
Are you looking for a fun way to show off your cat or brand new kitten? Well, socks with their face on them are the purr-fect way.

If you're like me, you have hundreds, if not thousands, of photos of your cat on your phone. I simply cannot get enough of how cute she is! My sister also has a cat that she is obsessed with and we have a shared photo album so we can see photos of each other's cats.

With my sister's birthday coming up, what better gift for a cat lover than a gift that showcases their cat? Searching for the perfect gift, I wanted something that was unique and personalizable. Luckily, I found custom face socks on Sock Club's website and was intrigued.

Looking at their various face sock options, there were face socks, pet socks, dog socks, mom socks, dad socks, and cat face socks! It was such a fun and seamless experience too. I started with the sock color and decided on a nice bright yellow shade.

For the next step, it was time to upload my photo. You can upload up to four different faces which I thought was pretty neat. Looking at the linked helpful tips for what type of photo to upload, it made selecting one of my hundred photos easier, because I knew which photo would print well. There was a final option to select an icon if you wanted, I thought the meow icon was too cute to not add on!

After customizing my sister's cat socks, I submitted my order and waited for the order to ship. I went back into the builder and started uploading different human and animal faces for other people and pet lovers in my life. I made one for each of my family members and close friends, knowing I was already set for Christmas gifts.

Within a few weeks, all of my sock gifts were at my front door and I was beyond excited to see how they turned out. Opening the package for my sister, the pair of socks were crew socks and her sweet cat, Lucy, was perfectly cut out and placed all over the sock.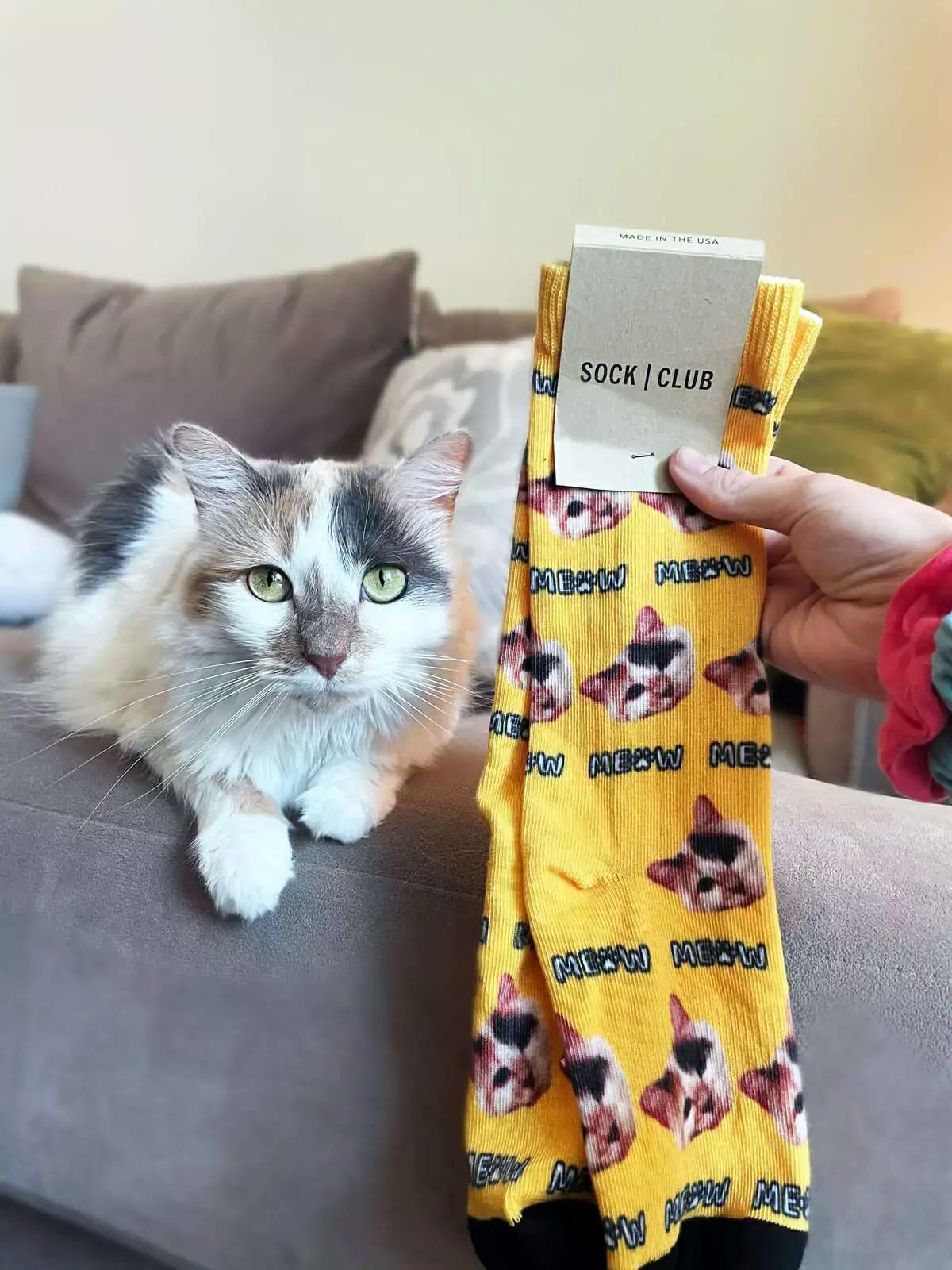 Giving my sister her custom cat socks, she was blown away by my birthday gift idea and claimed she was going to steal the idea for future gifts- I didn't blame her. She absolutely loved the photo socks and continues to wear them year after year.

Overall, custom face socks with Sock Club was a 10/10 experience. I highly recommend personalized socks for anyone looking for great gifts for pet lovers! Speaking of, my best friend just got a new kitten, legit less than 2 pounds, and you bet I am going to get her some kitten face socks.


Why Putting A Cat's Face On A Sock Made Such A Great Gift
Not only is the process of creating face socks so fun but they are the best gag gift that is actually functional. 

Better Than Custom T-Shirts
Custom t-shirts are so last year; the shirts are made with cheap material and the printing process makes the image tear after washing. With face socks, they are one-size fits most so you don't have to guess what size the person you are gifting is. They are also made in the USA and produced to be the perfect material that isn't too thin or thick. 

Fully Customizable 
With face socks, you can completely customize the entire sock, and leave the production and delivery to us. From the comfort of your home you can choose the sock color, upload a photo of your choosing, and have fun selecting which icon you want to add. No two socks have to be the same! 

No Minimums
There are no minimum order quantities for purchasing face socks. Whether you want one or 100, you can choose the amount that is right for you. It's most common though that people purchase multiple pairs because they find themselves wanting to give them to all sorts of people in their life. 

Cats Are Cute
The only thing better than having a cat is looking at photos of cats. They bring so much joy to cat lovers, and by having their face on a pair of socks you can share the joy of their presence to everyone around you!


How Do I Put A Cat Face On A Sock?
In these 10 easy steps you will master how to create your very own personalized cat socks:

1. Go to https://custom.sockclub.com/product/cat-socks/ 
2. Choose the pattern of your liking.
3. Choose the face layout that speaks to you.
4. Select an icon if you so please.
5. Select the number of faces you want to be on the sock (up to four faces!)
6. Upload the photos of each face (we will cut out the face for you later, don't worry!)
7. Select how many pairs of this sock version you would like.
8. Add to cart.
9. Repeat process as many times as your heart desires.
10. Checkout and relax, knowing your amazing socks are on their way!

What are you waiting for? Make your own custom cat or kitten socks today!