Published June 17, 2022
How are Custom Socks Printed?
Custom printed socks have been around for decades, but the trend has recently picked up. Let's discuss how socks are printed and where you can find them.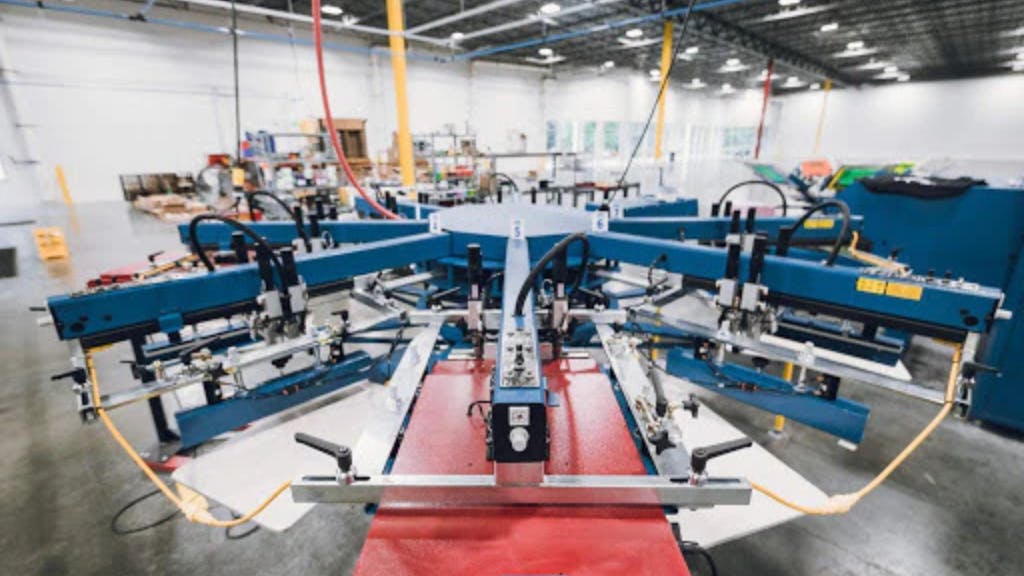 There are many different types of custom socks that you can order. You can order a pair of socks with your company's logo or slogan on them, or you can order a pair with your own photos.

Custom printed socks are a great way to make a statement when you walk into the room. They are also a perfect gift for any occasion. You can get custom socks in tons of different colors, patterns, and styles since it is all customizable! 

Custom branded socks are also popular. They are knitted, unlike printed socks that are printed, and are often used as promotional items for companies who want to give something memorable to their customers or clients. Custom socks, printed or branded, can be used as giveaways at events, conferences, or trade shows. They are also used as gifts for employees and customers on special occasions such as Christmas or Employee Appreciation Day. With Sock Club's custom branded socks, they are an American-made product and you can opt for fast shipping for a quicker turnaround time- shipping in as quick as 5 days!

No matter what you use or need socks for, let's explore how specifically printed socks are made and why you should consider purchasing them.


How Do You Find a Company That Makes Printed Socks?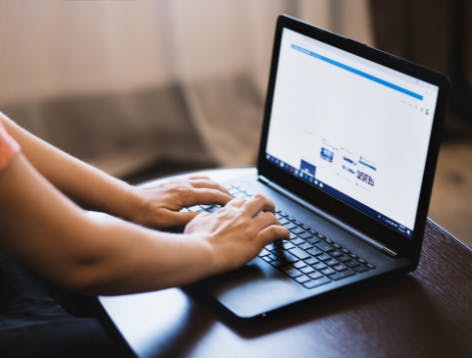 Have you been looking for a company that offers printed socks? There are many things to consider when choosing a company—for example, the quality of the socks, price, and turnaround time.

There are a few ways to choose a printed sock company. You can look at the reviews they have online or talk to people who have used their services. It's also essential to determine how much experience they have and what type of socks they specialize in.

One way to make sure you're choosing the right company is by looking for one that has been around for many years and has a good reputation. A few other tips to keep in mind:
The first thing to consider is the quality of the socks. If you want your socks to last long, they must be made from durable material. 
The second thing to think about is the price. You want to find a company that offers competitive prices for high-quality products. 
Finally, you should look at what kind of turnaround time they offer and how many business days it will take to ship out an order once approved.

Custom Logo or Design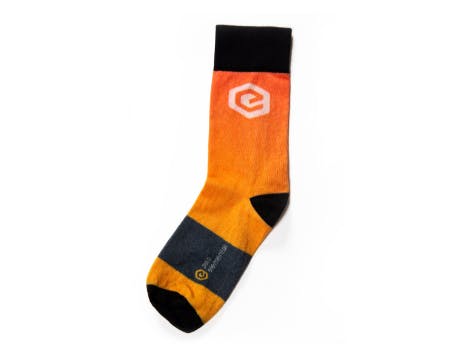 Custom socks are a great way to promote your business and stand out from the competition. If you are looking for knitted socks with custom designs incorporating your logo, opt for branded socks. If you are needing a minimum lower than 60-pairs, check out printed sock options.

If you are leaning towards printed socks, check out Sock Club's printed logo socks. You can choose from different sock patterns and upload your logo or text. However, if you are looking for a printed sock that you can upload a face photo, I would suggest going to Sock Club's custom face socks builder.


Submit a Logo or Image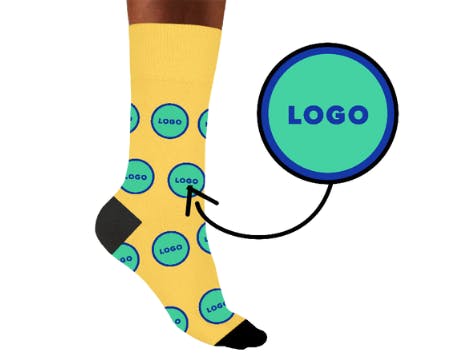 With printed logo socks, you can select your desired background/pattern, upload your logo, and see an automatic preview. With printed face socks, you can select where the face is positioned and even include fun icons to add a bit more personality to your sock. 

Printed socks are a recent trend that is catching on quickly. The most popular designs for these socks are logos and faces. You can upload a photo or logo of your choice to the custom builder and the rest of the work will be taken care of for you!

If you want face socks, make sure you upload high-quality photos with good lighting to ensure the best photo print quality. You can also upload up to four different faces per face sock!

The customization options for printed socks are endless, and you can be sure that there is a design for everyone out there!

The Printing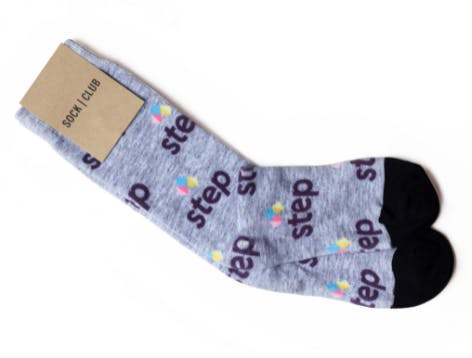 With custom printed socks, you can have your logo or slogan imprinted on the calf of the sock, on the bottom of the sock, or all around the sock. You can also choose from pre-designed backgrounds, upload a logo and specify your preferences/any notes to the designers.

The computer-aided design (CAD) process is utilized in many different industries, but the most common application of CAD is in the textile industry. You will often find this process for custom socks.

The process starts with a design. It can be any image that the customer wants on their socks. This image is then transferred to a special sheet which is then heat pressed at 400 degrees F.

The best part about custom printed socks is that they are not limited to just one type of design. You can pick from many different designs and styles, such as camouflage print socks, striped print socks, solid color print socks, and many more. 

Reasons to Buy Custom Printed Socks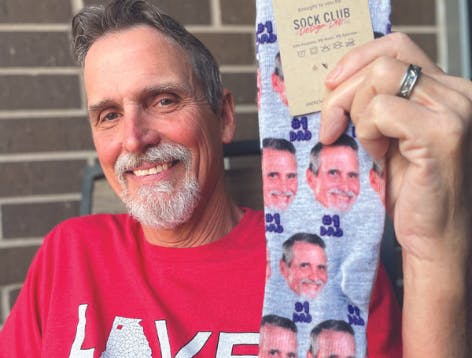 Printed socks are a great way to add personality and creativity to your wardrobe. They can be customized with anything from your favorite emoji, a family member's face, or even your company's logo!

There are many benefits of printed socks, including:
The ability to completely customize a pair of socks with a variety of styles and colors
It is a unique gift for someone who has everything
Custom face socks are great for printing anyone's face or even your pet!
The best part about custom photo socks is the versatility and options you have. You'll never have the same socks as others. Lastly, it's a beautiful opportunity to be creative or create a personalized gift for someone special. If you buy from Sock Club, not only will they be USA-made, but you can expect fast shipping with a quick turnaround time for additional convenience.

If You're in Search of a Custom Sock Company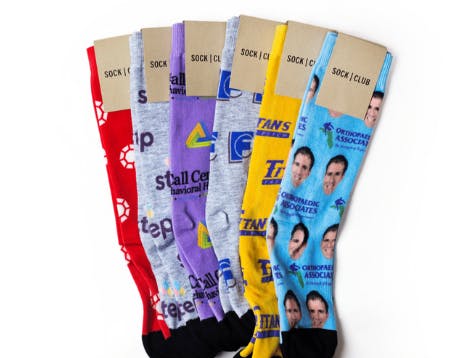 Here are some reasons you should buy custom-printed socks from a company like us here at Sock Club.
Socks are functional, and they can be personalized for added flare
They are a perfect gift for clients, employees, or even loved ones
Custom picture socks make great promotional items for events and trade shows
They can be worn on any occasion, from work to your next marathon, and they will never go out of style.
If you're interested in learning more, check out Sock Club for unique and personalized socks!