Published July 8, 2020
How Covid-19 Affects Product Sourcing in Q4 2020
Why people are moving product sourcing to USA Made products.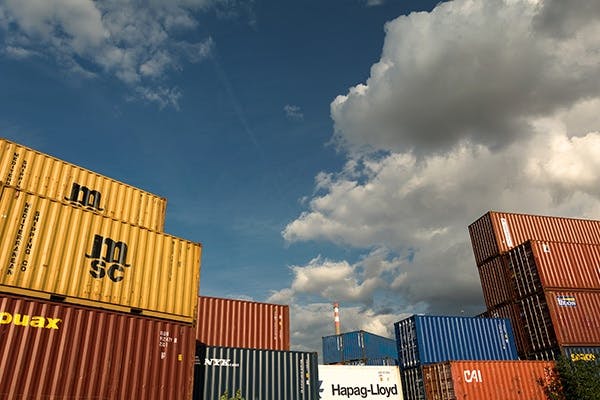 The COVID-19 global pandemic has affected every aspect of our daily lives. We are physically removed from our friends and family, unemployment rates are surging worldwide, and we are having to reconsider our safety in every activity for disease control and prevention. 
Most of our reconsideration involves minimizing risk - what is the safest way to get groceries, to go outside, to see our families? That focus does not stop at our personal lives, however. We are also focusing on minimizing risk within our businesses and global supply chain.
Any order in the promotional products industry requires at least two things to happen successfully: product sourcing/manufacturing, and delivery. Q1 2020 saw significant disruptions in both of those areas. How can we avoid those supply chain disruptions in the third and fourth quarter? Should we be looking out for the same obstacles?
Product Sourcing and Manufacturing
The first indicator that the promotional products industry was going to experience some rapid change was when the Chinese New Year shutdown extended far past its expected end date. We saw an influx of orders looking for quick-turn domestically-produced products to meet clients' deadlines that were non-negotiable.
One thing that we at Sock Club are trying to learn from this experience is what could be indicators of future obstacles. Based on our current knowledge of of the situation, we have identified three main indicators to watch out for:
Another outbreak in the Fall.
The pandemic has definitely had more success in being controlled in the rest of the world than in the United States, but this is due to closures rather than a cure.

If reopenings in the United States are showing us anything, it is that more activity can make new case numbers skyrocket.

Without a vaccine or a control mechanism that is not based on physical distance, we could easily see a situation in Q3/Q4 that is very similar to the rise in cases worldwide in Q1/Q2.
Policy changes and pressures due to the upcoming 2020 US election.
No matter where your political leanings lie, we can all agree that this upcoming election is going to be a contentious one.

Biden and the Democratic candidates for Congressional elections will likely try to differentiate themselves by proposing corporate tax hikes. This could have an impact on the amount of budget that companies have to spend on promotional products, marketing campaigns, and expanding teams.
An escalation of the US/China trade war.
Last Fall, we saw a steep increase in tariffs on Chinese products that affected almost every promotional product possible. While those tariff increases were eventually repealed, the impact on Q4 orders was significant.

Even if cases do not rise again in China, if there is a restriction on items being imported into the United States, we could see those same issues arise again. Price fluctuations are the fastest way to lose a client's trust and confidence and can be a budget-buster.
Shipping and Delivery
One of the ramifications of the pandemic that is ever-present in the promotional products industry and also felt acutely by people personally is delays in shipping. When even distribution giant Amazon stops guaranteeing the 2-day delivery that is their main differentiator, it is safe to assume that this is a problem with no easy solution.
Deadlines, however, still exist. There are certain dates that need to be met for marketing and sales initiatives, and it is our responsibility to make sure that happens. What kind of disruptions should you plan for in your delivery timeline?
Hub delays due to high volume.
With many areas of the country still under shelter-at-home orders, most people are ordering more online than they ever have. This high volume could be expected at holiday peak times, but, with more restrictions on shipping companies to provide safe working environments for their employees, things are simply moving more slowly.

One Oakland UPS hub saw delays of up to two weeks between a package arriving at their facility and being put on a truck for delivery. Potential delays can be identified by calling a destination and getting a timeline, but that does not solve the problem that the delay exists.
United States Postal Service funding issues.
Even with the influx of parcels in 2020, the USPS is facing some severe financial problems. The organization requested a $75 billion bailout in the Fall of 2019, and operational costs have increased in 2020 due to the increased measures for workplace safety.

This situation is still very much unfolding, but this could lead to even more complications in the Fall of 2020 as we get closer to the US election.
Unexpected office/facility closures.
With shelter-at-home orders being implemented so quickly in the US in March, many companies did not have time to think about the shipments that were still being directed to their offices.

That led to a lot of shipments being missed or sent back due to delivery drivers not being able to drop a package off to a closed location.

One thing that we at Sock Club implemented to avoid this is to double-confirm the shipping address 2 days before the order is scheduled to ship.
Increased shipping prices on imports due to lockdowns.
This obstacle goes hand-in-hand with a potential second wave of the virus. While tariff rates normalized in Q1 of 2020 from the spike in 2019, shipping rates skyrocketed due to the limited amount of space on cargo flights as the US and China shut down.

This is another area of unexpected cost increase that could bust your budget or lose the trust of your customers.
Potential Solutions or Work-Arounds
It is important to be aware of the potential obstacles that lie in front of us, but it is even more important to be armed with the knowledge to meet those obstacles head-on and eliminate them. Here are some tips on avoiding the issues stated above:
Order early.
This may be easier said than done, but if your team or client is presented with the potential pitfalls of waiting to make a decision, they might be more incentivized to approve and order more quickly. 
Not only does this budget time for seemingly inevitable shipping delays, but it also is a great way to avoid potential price increases due to supply chain threats in the Fall.
Buy USA-made products.
The biggest reason that people purchase promotional products overseas is price. Branded items made in China do cost significantly less if shipping costs and tariffs are at a normal level. 
However, a sudden policy or public health change could easily change that. Buying a USA-made product ensures that those costs will be predictable and stable, and allow for more confidence in buying.
Think outside the box.
If there is a hub delay, can you hire a courier to pick up an order for you? If you are placing a large enough order from a supplier that does not offer storage, can you rent a storage unit to make sure that your order is accessible on its delivery deadline? 
If you can't get a project approved without hitting a certain price point, can you suggest a different item that you can source domestically to fit the budget? Can big Q4 orders that might be event-based turn into individual shipments for virtual events? 
Creativity and being solution-focused are the keys to not only surviving during this time, but thriving.
In short, we have seen all of these issues before, just not at this scale. We are all equipped to navigate them, it just takes a little more planning and foresight. At Sock Club, we are your partners, and it is paramount that we get through this together!