Published May 14, 2021
Our #1 Custom Dog Socks, They're Face Socks with Your Dog's Face!
Design your own custom dog socks, perfect gifts for pet parents!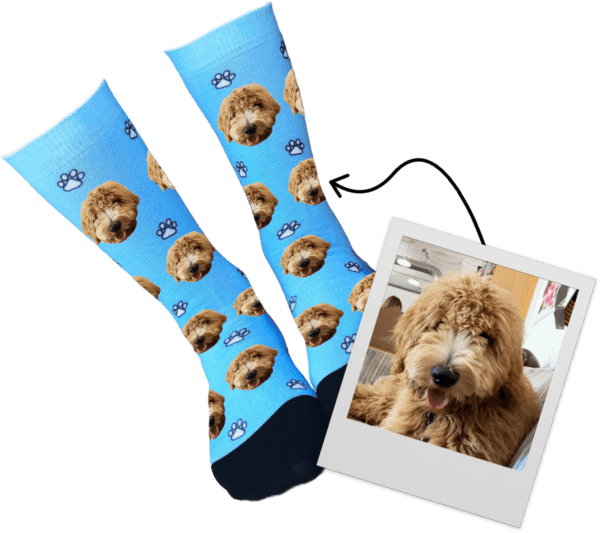 At Sock Club, we have a lot of loyal office dogs, so we thought our custom dog socks would be the perfect way to show them off. Our team decided to have a friendly competition to see who could create the cutest custom dog socks! 
Each employee submitted their favorite pet photo and we created personalized socks with their pet's adorable little face. Each owner wore their socks to work one day and we had a vote for the best pair. 
It was a tough decision as there were so many cool custom made socks, but after we tallied up the votes we selected the winning pair. Scroll down to meet our winner!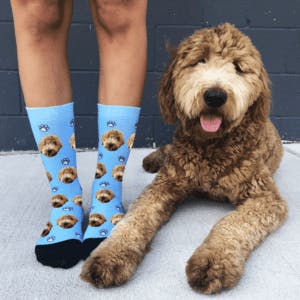 His name is Henry and he is almost 1 year old. Henry is a super sweet Golden Doodle and he LOVES socks. No, really - he is obsessed. We love having smiling dog faces in the office and it really builds a happy company culture and positive work environment. Thanks, Henry, for making Sock Club a better place every day!
We love getting the chance to make awesome socks with your pet's faces on them! Each time we get in an order of pet socks we smile looking at the dog and cat photos that you submit. Every pair is so special and unique, which is why we work hard to provide you with the best custom made socks.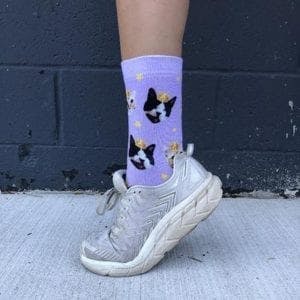 Designing Your Custom Dog Socks
It is so easy to design your own custom Dog Socks or Cat Socks. All you have to do is choose a pattern, select accessories and icons, upload a photo, and you are done! 
Even if you have a different pet like a hedgehog or a pig, we can put that on our custom printed socks too! Just head over to our custom face socks design lab and follow the same process mentioned above.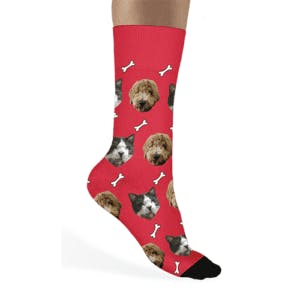 If you know someone who is completely obsessed with their animal, order a pair of socks for them. We make sure to treat every order as we would our own. They'll love them!  :)