Published May 25, 2022
What Are Custom Pet Socks?
Take any pet's photo and transform their face onto a super fun and unique wearable- a pair of socks! These photo socks make for the perfect gift, so let's dive into what personalized socks really are and why they come highly recommended!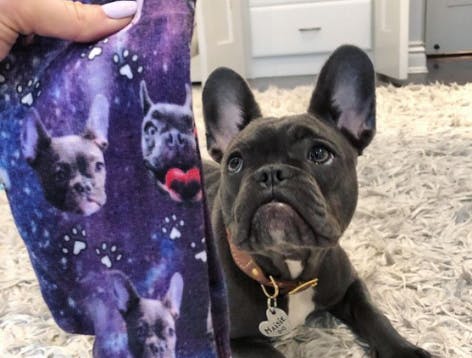 Custom pet socks are pairs of socks that you can create with your own photo on them. They have the ability to be completely customized, from icons to colors, and with the addition of up to four of your own photos, you can craft the perfect pair for you and your pet. Custom pet socks are a fun gift idea for any pet owner or animal lover. It's also fun to make!

What Can I Use Custom Pet Socks For?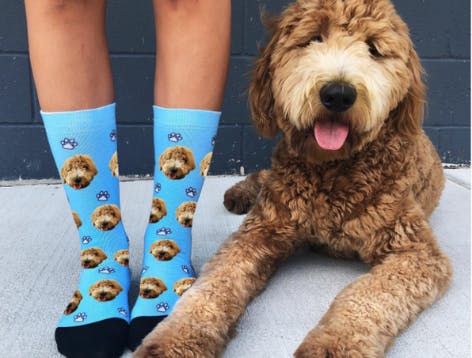 Custom pet socks are a fun and creative way to express your love for your pet and show the rest of the world how adorable your fur baby is. They also make a fantastic gift to other pet owners or pet lovers, being extremely personable, unique, and fun. Lastly, they are also functional, being a great way to keep your feet warm, especially during colder months. 

Gift giving is a difficult task; you want to find the right balance between spending enough money, but not too much, you want to get something they will cherish, actually use, and appreciate, and you want to make sure your gift is creative and personable enough that they know you put the time and effort in to get them something that is truly for them. 

Deciding on what gift to give is difficult as well. You have to find something that would be an ideal gift for an individual. Plus, when it's the holiday season and you have to give a gift to multiple people, where do you start? You don't have enough time in the day to put energy into deciding what gift to get everyone. This is where personalized face socks come in. They can be created in any way to fit any person in your life!

For the dog lovers in your life, you can create custom dog socks. These socks can feature up to four dog faces and as always, you can select as many or as few pairs you want to purchase. Plus, you can choose styled icons such as bones and paws. Dog face socks are much better than gifting a dog toy that will be thrown into a box of other miscellaneous toys because it is a personalized gift. Socks with dogs on them are the gift trend of the season!

For the cat lovers in your life, you can create custom cat socks. These socks can again feature up to four cat or kitten faces. Then select a stylized cat icon such as yarn or meow. Cat lovers have tons of photos of the fur baby so transforming one of their images into a wearable is the purr-fect idea!

If you are looking to get a gift for someone that has multiple animals or different types of pets, feel free to add them all to our custom pet socks. There are icons that speak to different types of animals. You can add up to four different photos, which means four different animals or faces.

However, if you have non-pet owner friends, you can create custom face socks! Choose your friend's face, partner, or child. There are so many different faces you can upload that there is truly a face sock for anyone.


How Do I Make Custom Pet Socks?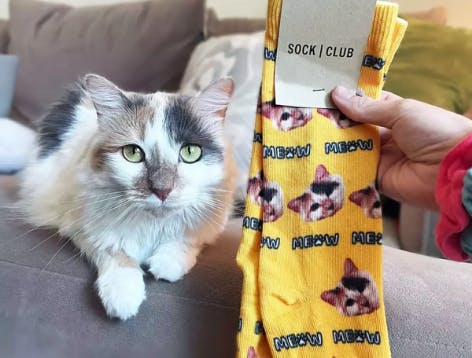 Put your pet's face on socks with Sock Club's custom pet sock builder. First, you'll need to decide what type of pet socks you want to create, luckily, the builder is fun and easy to use and you can preview what the sock will look like before you spend a penny!


After you've chosen your sock color, you can upload your photo. The best part is, that you can upload up to four different photos, featuring up to four different faces on a sock! Don't worry about cutting out the face from the background, Sock Club's expert design team will meticulously cut out the face for you. You can mix and match human and animal faces or keep them all one face. The possibilities are endless!


Want one sock to be pink and the other to be a galaxy? No problem! You can edit each sock with any pattern and any combination of faces. After you make one sock, you can make another, and another- as many as you please! They will all be added to one cart so the checkout process is seamless.

By purchasing your pairs of custom pet socks from Sock Club you can be confident that your socks will be high-quality. Their custom face socks are made from soft, pre-shrunk polyester, which means you'll get great performance from the fabric. Every sock features secure elastic in the calf, which makes the socks super comfortable and easy to wear. You don't have to worry about your face socks digging into your calf or sliding down to your ankles.

Who Can I Give Custom Pet Socks To?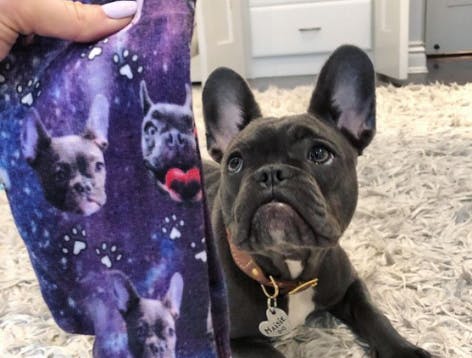 Custom pet socks make a great gift for any pet owner or animal lover. You can make photo socks for your own pet or you can find an image and make socks for someone else's pet. You may even want to make photo pet socks for all the pets in your life!


Custom pet socks can make a great gift for any occasion. They're a creative and fun way to show a loved one how much you care. Plus, they can be worn year-round, making them a great gift for any time of year.


They don't have to be given as a gift though! When people receive their face socks they are so blown away they wish they had their own pair. So why not make yourself a pair?


Why Are Custom Pet Socks A Great Gift?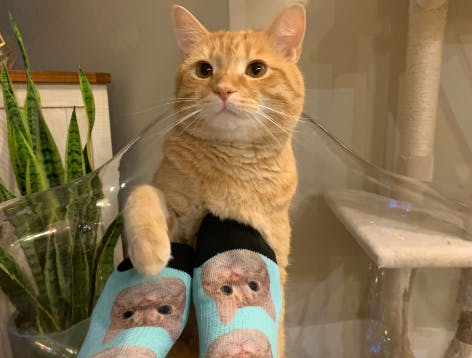 Custom pet socks can be a great gift for any pet owner or animal lover in your life. They're a fun and creative way to show your love for pets and can be worn year-round. Socks customized are a gift that's sure to leave a lasting impression and be talked about for years to come.
The main reason custom socks make a great gift is because it is a low effort for such a high-quality, unique product. You can have fun building, mixing, and matching a sock design for the low price of $25 and give a gift that will be talked about and worn for years to come. It's a win-win situation for both parties.


Read this recent review from Julia, a gift recipient of a pair of custom pet socks:
"I have two adorable pit bulls named Lola and Jasper. They are essentially both my children. I love them so much! We were celebrating their 2nd year anniversary of being adopted and my best friend Suzie surprised me with a pair of pairs with both Lola and Jasper's faces on them! They were a beautiful blue color (which happens to be my favorite color). They even added bones to them, how cute! Needless to say, I was SO impressed by these socks and thought it was the most thoughtful gift I have ever received."


After reading about all the creative ways you can design a pair of custom face socks and the various uses for custom socks, go on and make a pair! They will ship within 10-15 days from whenever you place the order. If you are looking to purchase face socks in bulk, contact our support team and we would be more than happy to talk about discounts and potential free shipping!


If you start getting into the custom aspect of socks, check out our branded custom socks. With just a 60-pair minimum order you can get any pair of socks your heart desires. We typically find companies, brands, and artists who enjoy our custom socks because of the range of designs and uses for them. Check out our sock drawer for inspiration on what type of sock designs are possible!