Published June 22, 2022
What Are Some Good Gifts for Dog Owners?
With belly rubs, displays of love, and attention, it's easy to make a dog happy. However, it's more difficult to find the right gift for dog owners who put in the time to make their dogs happy. This is because a gift for dog owners needs to be thoughtful, meanigful, and often personalized.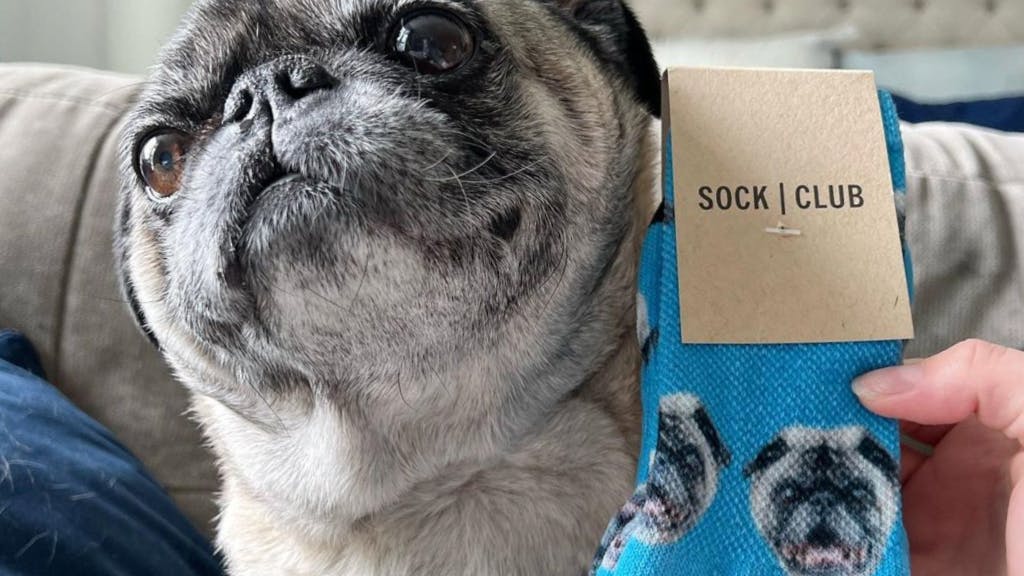 Gifting a dog parent means finding that special gift that warms their heart while putting their dog in the spotlight. Sometimes this also means that you have to give them something they can show off on Instagram as dog lovers. 

From custom dog face socks, a comfy dog bed, and even a set of puppy boots, we have a list of awesome gifts for dog owners. They include the following:


1. Personalized Face Socks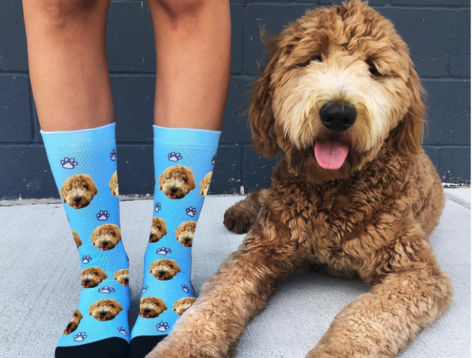 This is a special personalized gift for dog owners that involves printing the face of your dog, or dogs, on socks. It is a perfect gift idea to give your loved ones who are dog owners because it makes them know you appreciate the love they show you for their dogs. The best part is that these custom dog socks come in different designs which means you can customize them just the way you want. Whether adding paw print icons or bones, your pair of socks can be totally personalized! You can also design face socks that include the dog and their owner as a gift.

2. Custom Dog Collar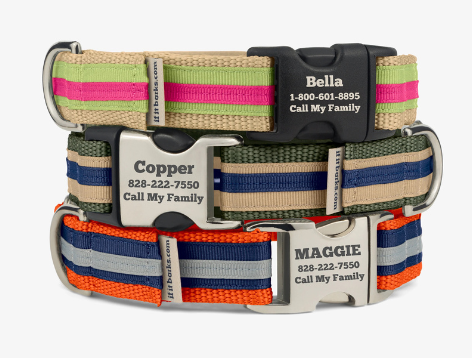 Because dog collars are often the first thing a dog owner thinks about, a custom dog collar is a unique gift for dog owners. This gift involves choosing fun and unique patterns to be displayed, as well as including the owner's phone number, name of the dog for easy identification, and even a personalized message.

The collar should be one that can easily be adjusted not only to make the dog comfortable but so it can be cleaned when necessary. This personalized gift can be given to the dog owner either to congratulate them or celebrate milestones of becoming a dog parent.


3. Personalized Mug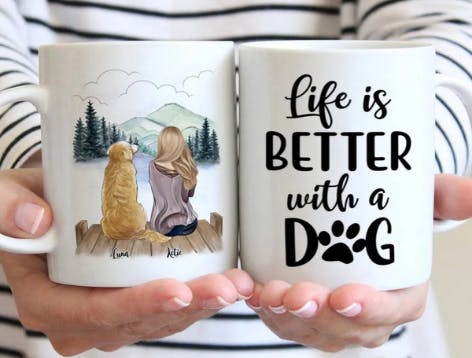 This custom gift for dog owners is designed in a way that a picture of either the dog or the dog and its owner is seen on the mug. The picture should hold a beautiful memory. For instance, you can include a picture of when your loved one first got the dog or from any beautiful moments they shared in the park. This gift is perfect for any occasion.

4. Custom Made Pet Bandana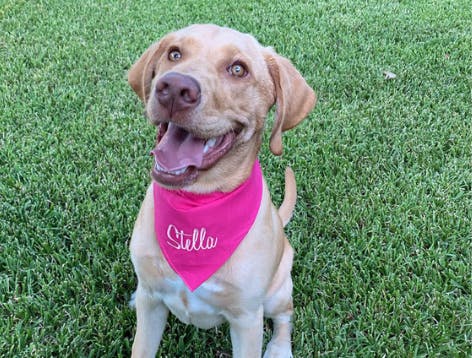 Did you know that you can design bandanas to include your loved one's dog name or picture? These bandanas can also be designed in different colors and font sizes. There's absolutely nothing as cute as customizing similar bandanas that can be worn by your loved ones and their dog on the same day. This personalized gift for dog owners can be ordered in different sizes with materials that are durable and washable.

5. Customized Dog Phone Case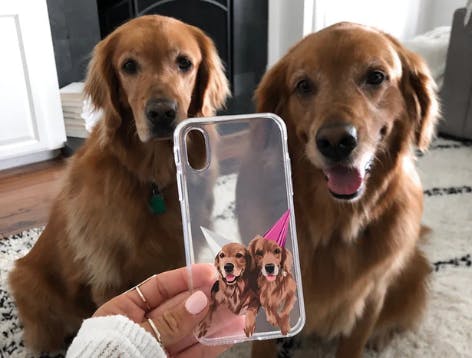 This custom dog phone case is a unique and quality gift for dog owners. It can be used to make your loved one feel connected with their dog, especially when they leave the house for their daily activities. This personalized gift can be printed to include multiple pictures of your dog in a way that fits perfectly.

6. Personalized BFF Pet Tags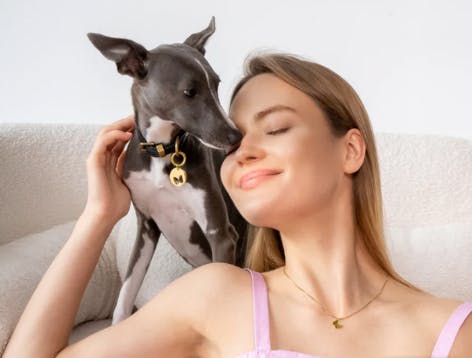 You can design this gift by engraving the name of the dog on the tags, or get a matching set of tags that complement each other. This custom-made tag is often gifted in two adorable tags including one for the owner and the other for the dog. This tag can be attached to your dog's collar while yours can either be used as a necklace, bag chain, or key chain.


7. Custom Dog Face Notepad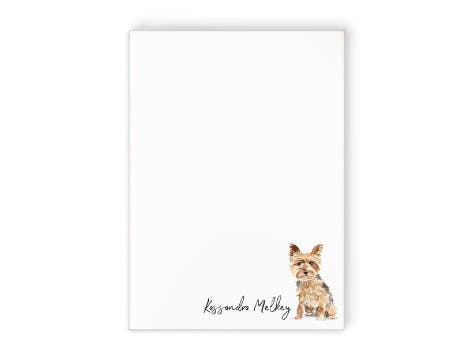 This custom-made notepad should be made to include a personalized picture of your loved one and their dog. You can decide to design it in a way that the moments shared between the dog and its owner are featured on each page. On the other hand, you can design this gift for dog owners as sticky notes that can hang nicely on a desk, workstation, or refrigerator.


Things You Should Know About Personalized Face Socks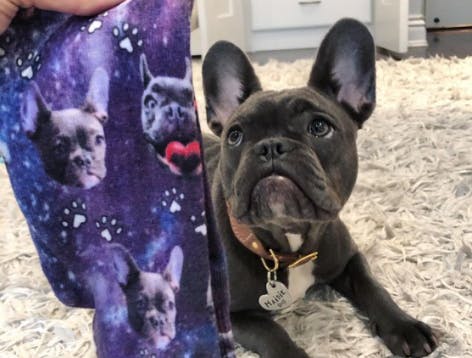 1. Delivery 
These custom dog socks offer a fast shipping service with quick turnaround times. If you need your order faster than the scheduled time, all you need to do is to contact the company and they will rush it for you.
2. Size
Your custom face socks are made in such a way that they fit most everyone. Of course, these personalized gifts should be made suitable for everyone that owns a dog. One thing is certain, these custom face socks come in a size that fits a women size 6 up to men size 12. 
3. Design
The beautiful thing about these custom photo socks is that they can be designed to suit your style. Whether you only want your dog's photo, or you want your face and your dog's face featured together, there are numerous options available. This perfect gift for dog owners gives room to design multiple faces on the socks. 
4. Quality
Personalized dog face socks are made with high-quality soft materials that are comfortable and easy to wear. This gift is made in the USA with quality, stretchy polyester, and durable materials. What this means is, you do not have to worry about the elasticity of these personalized face socks getting weak and sliding down your ankles. What a great way to get value from a gift! 
5. Suitable for all animal lovers 
These personalized socks are available for any pet owner. This means, face socks can be given to your family and friends on any special occasion. If you or a loved one is a cat lover, we have great gifts for them too!
6. Cost
The cost of these custom gifts for dog owners depends on the number of faces you want to have included on the sock. Another factor that may affect the cost is the time of delivery.
Steps To Design A Custom Dog Sock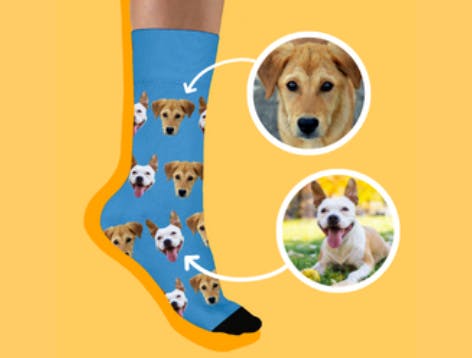 Below are a few step-by-step processes to help you design your custom-made socks. 
1. Upload the picture you want to be printed on the socks.
2. You can include a description of what you want the designer to see. Perhaps you want the dog's head to appear bigger than the body or otherwise.
3. Ensure that you receive an email confirming that your order was received.
4. After your personalized dog face socks are completed, you will receive an email with your tracking information. It takes about 11 days after you make the order to receive this information.
5. Now that your order has arrived, it's time to create a memorable experience for your loved one.


Conclusion
From personalized face socks, collars, bandanas, mugs, tags, and even phone cases, these custom gifts for dog owners are a unique and thoughtful way to celebrate pet lovers. Celebrate a dog owner today by getting them custom printed socks!