Published May 27, 2022
What Are Some Personalized Gifts For Best Friends?
Your best friend is someone who has been there for you through the highs and lows of your life which is why it could be tough to decide on the perfect best friend gift ideas for them. Not only do you feel like they deserve the world but you would want to get an interesting gift worthy enough to show how much they mean to you.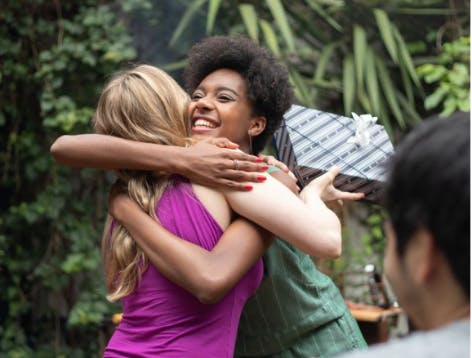 You should consider buying high-quality personalized gifts for best friends that show how much you pay attention to their interests. So whether you are getting a gift to celebrate your new job, birthday, or any other life events, we got you covered.
In this article, you will find some of the sentimental, thoughtful, and personalized gifts for best friends. 
#1. Custom Face Socks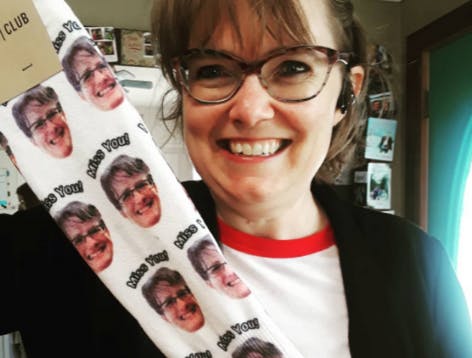 Custom face socks are the perfect gifts for best friends! You can get a picture of your best friend's pets and have them printed on their socks with cute pet icons. Or to make it even more special, you could order two pairs. One for your best friend to wear of your face and the other pair to be worn by you of your best friend's face! These fun and unique custom best friend gifts are something new that your bestie is guaranteed to love!
#2. BFF Journal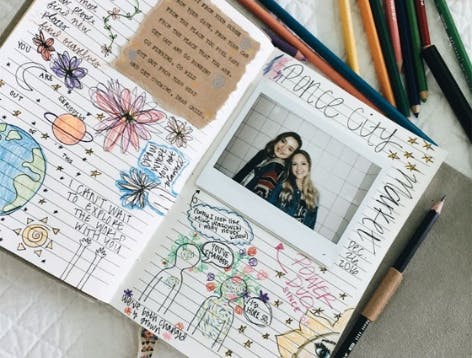 The idea behind getting a BFF journal as a best friend gift is majorly to get your best friend to write often about what you both share or whatever they may wish to share with you. This custom best friend gift shows that you are thinking about what your best friend has to share. You can go the extra mile to a journal that has sweet prompting that will help your best friend know how much they mean to you. 
#3. Customized BFF Portrait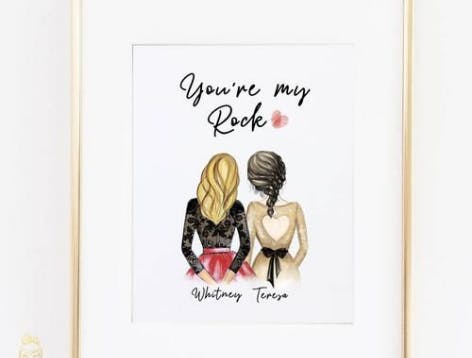 A customized BFF portrait may look a little bit extra but of course, it's your best friend. This portrait can either include a cheesy write-up you both find interesting, a picture of you both, or even a picture of your best friend caught in a very special moment. What makes a customized BFF portrait a significant best friend gift idea is not how perfect it looks but the numerous special moments embroidered in one picture. 

#4. Customized Mug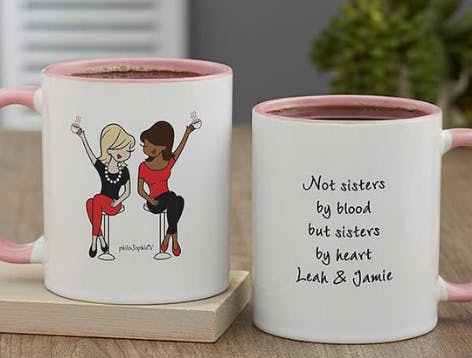 This is another custom best friend gift you should consider getting for your best friend. This best friend gift idea is sweet and thoughtful. You can include a few texts on the mug that goes a long way to assure your best friend that they are not alone. 

You can also consider choosing a color you both find interesting or that they most prefer. A customized mug should include either a perfect picture of your best friend or a picture of you both. 

#5. Plant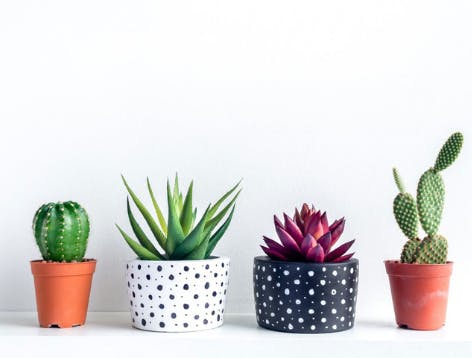 A plant is a perfect gift for best friends that not only adds more decor to their environment but offers health benefits. This is one of the best gifts to get when congratulating them on their new home. A plant gift has more meaning and is even more special if your best friend is a plant lover.
Nurturing the plant daily is a metaphor in showing how important it is to nurture your friendship. This best friend gift can be an extra responsibility for your best friend which is why you need to consider getting their most preferred plants. 

#6. Friendship Bracelet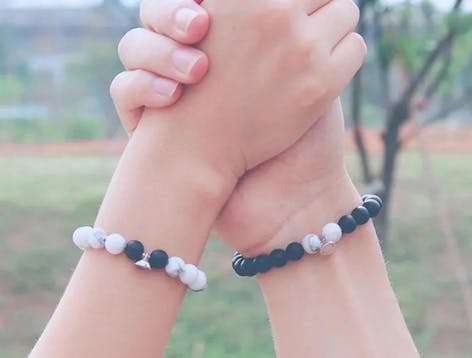 Friendship bracelets are a perfect custom best friend gift for you and your best friend. The idea of having a friendship bracelet is to honor the time and love you both share in the friendship. This personalized best friend gift idea can be used to mark an important date or moment. 

It is often gifted on special occasions like graduation, marriage or to show the end of a season. Friendship bracelets are metaphors to show respect and the need to see your friendship flourish. 

#7. Song Playlist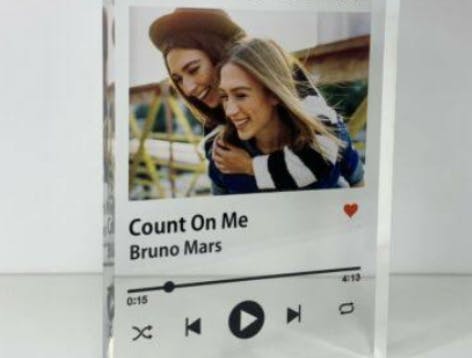 Of course, your best friend will appreciate the time and effort you put into creating a song playlist for them. This is also a perfect gift to give your best friend who may either be going through an emotional period or traveling to a long-distance location. It can either include songs about friendships or any other thing they may be interested in. Including a picture of you and your best friend makes it a beautiful custom best friend gift. 

#8. Tickets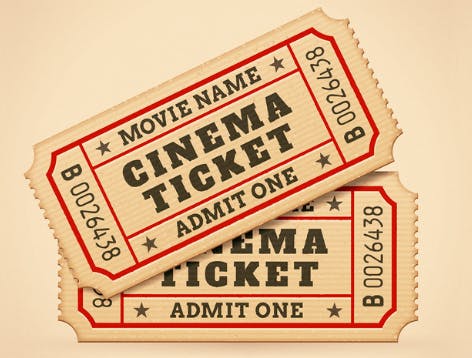 A ticket to see a new movie or to a concert that includes their favorite movie stars and musicians is one of the best-personalized gifts for best friends. The beautiful thing about this best friend gift idea is the memory it creates which can often outlast any tangible gift you may think about. So instead of wondering if you are making the best decision, go get a double ticket and be prepared to have another lifetime moment with your best friend.

#9. Picture Album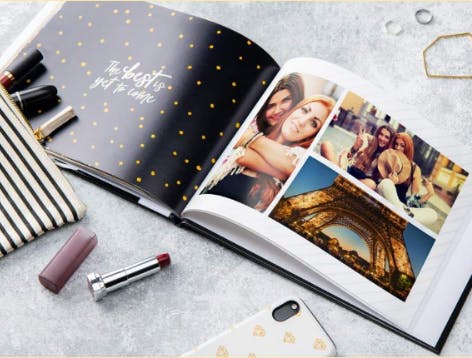 A picture album is one of the best-personalized gifts to give someone you cherish. It contains images of moments and quality time spent. It can also be used to celebrate every time you hit a milestone in your friendship, especially if you have been there for each other since childhood. One beautiful thing about a photo album as a custom best friend gift is that you do not have to wait for any special occasion or to present this gift. 

#10. Camera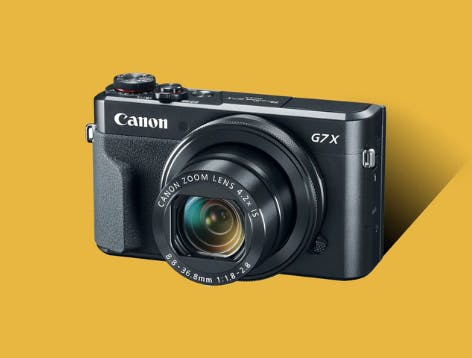 Your best friend is moving to another city, perhaps to college and you will want them to capture every special moment by giving them a camera. Giving your best friend a camera can also be used to encourage them to practice photography especially if they have been nurturing such interest over time. 

Reasons You Should Consider Getting Your Best Friend a Gift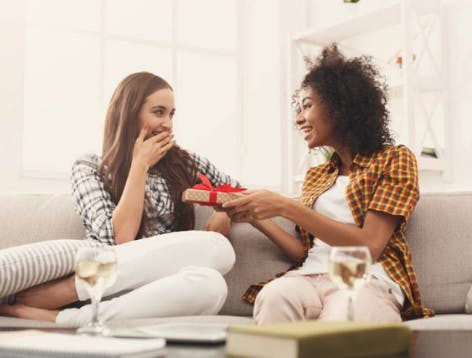 Gifts are one of the ways that represent how special a person is even without a special occasion. Aside from the fact that gifts bring joy to the receiving party and even to the person giving it, there are other reasons why you should consider getting gifts for your best friend. Some of these reasons are listed below:

1. To Show Love
People often use gifts to show love towards a person and best friends are not excluded. One special gift often speaks louder than a thousand words and this is more thoughtful when you know exactly what the person wants. 

2. To Show Appreciation
The relationship between best friends is more than could be itemized however, this does not mean that you shouldn't send your best friend a gift to show appreciation. Not only will this make them feel your gratitude but it also shows them how valuable they are to your life.

3. To Make Them Relaxed
Imagine giving your best friend a playlist of amazing songs or a ticket to a soothing concert when they feel stressed. Of course, this will make them feel relaxed and comfortable. So do not hesitate to send your best friend a gift whenever they are anxious or going through a difficult period. 

4. To Celebrate Milestones
Milestones are seen as achievements that a person sets for themselves. It involves a lot of hard work to achieve a milestone and should be worth celebrating. So whether it is a graduation, a college admission, a new job, a new home, or even marriage, gifts are essential and add spice to that valuable occasion. Your gift is memorable to help your best friend remember the occasion in the future. 

Conclusion 
The feeling of getting a perfect best friend gift to that special person is memorable not just for you but for the person receiving it. Getting gifts for best friends is special because it must not always involve a special occasion. However, knowing the purpose behind getting a gift is necessary to help streamline your options, and save time and money. 
Now we have provided a list of best friend gift ideas for you, please ensure you let your best friend know how special they mean to you.