Published May 9, 2022
What Is A Great Father's Day Gift?
There is no one "right" answer to this question, as dads come in all shapes and sizes with differing tastes and interests. However, there are a few general ideas that could be personalized to become a great Father's Day gift...
What Is A Great Father's Day Gift?
Dads are the best. They're always there for a good laugh, a shoulder to cry on and to give some of the best advice you'll ever receive. So, when it comes time to show our appreciation on Father's Day, we want to make sure we do it right. Father's day presents have the ability to show how much we care. It can be something that will make him smile, laugh and maybe even shed a tear or two of happiness.

Father's day is a special day to celebrate all the amazing dads out there, however, it can be hard to find the right dad day gift, but we've got you covered.


What's the Best Father's Day Present?
There is no one "right" answer to this question, as dads come in all shapes and sizes with differing tastes and interests. However, there are a few general ideas that could be personalized to work for most dads as a dad day gift. If your dad is into sports, consider buying him tickets to a game or a gift card to his favorite sporting goods store. If he's into technology, consider buying him the latest gadget or a Spotify membership. If he's more of a homebody, perhaps consider getting him a comfy blanket or a movie streaming subscription. If your dad is a combination of these, consider mixing gifts.


Do You Find It Hard to Shop for Your Dad? You're Not Alone! 
It's a common saying that fathers are the hardest people to shop for. This is because they either already have what they want or they are just not that into material things. But what dads can't resist is a custom gift, and custom face socks are your ticket to giving a perfect father's day gift. 

Simply upload a photo of your father's face onto our custom face socks builder, select the sock color and any fun icons, and we'll do the rest. We'll print his face onto a pair of socks, with any custom selections you made, so he can literally walk around with his own face on his feet.

And if your dad is known for being a bit of a jokester, custom face socks are sure to get a laugh (and maybe even a few compliments from strangers). Consider getting multiple pairs, so you and your family can wear his face as well. The more the merrier! If you're looking for a unique, fun and personalized gift for your father, custom face socks are the way to go.

What's the Best Surprise for Dad?
The best surprise for Father's Day is a gift that you have put thought and effort into- something special just for him. Because what dad doesn't love feeling like the most important person in the world? There are so many potential great father's day gift ideas out there that it may feel overwhelming to choose. Let us help you find something personalized for any type of dad. 

For the handyman dad, consider a custom-engraved toolkit. For the dad who loves spending time in the kitchen, personalized aprons or beer mugs are sure to be a hit. And for the sentimental dad, how about a custom photo book or frame featuring all his favorite memories with you? Whatever you choose, make sure it comes from the heart and you're sure to have a winner! Now, you may be thinking that these ideas are pretty generic - so why not spice it up by getting custom face socks? Face socks add an element of uniqueness, making it a special and thoughtful gift!

Last-Minute Father's Day Present Ideas
Father's Day is just around the corner, and if you're like most people, you're probably scrambling to find a great Father's Day gift, searching on Google for what to give. But look no further, here are five Father's Day gift ideas that are sure to excite any dad:

1. A New Tie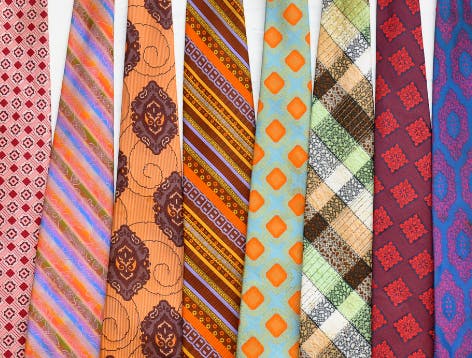 Dads are always on the go, and a new tie is the perfect way to help him stay stylish without trying! Now, I know what you're thinking, ties are boring and unimaginative. But that doesn't have to be the case! You can find ties in any color or pattern imaginable these days, so it's easy to find one that your dad will love. If your dad is more of a casual dresser, you can also opt for a classic pair of socks or a belt - either would make a great Father's Day gift. 

2. A Toolkit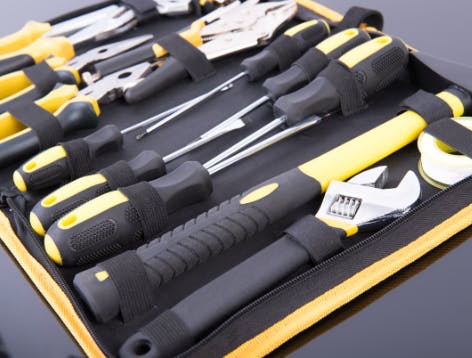 Another great Father's Day gift idea is a toolkit. Whether your dad is a self proclaimed handyman, a quick fixer upper, or just likes being prepared for anything, a toolkit can always make a great Father's Day gift. You can find toolkits at any hardware store or online in any style, and they come in a variety of different price ranges.

3. A Personalized Mug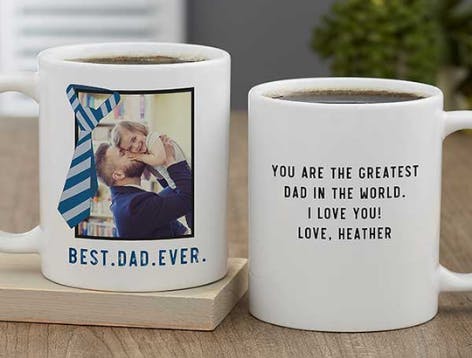 Dads love coffee, so why not get him a mug that's personalized with his name or initials? You can find mugs with all sorts of cool designs, or you can even create your own. Either way, he's sure to appreciate this thoughtful gift as he sips his morning coffee.

4. A Nice Watch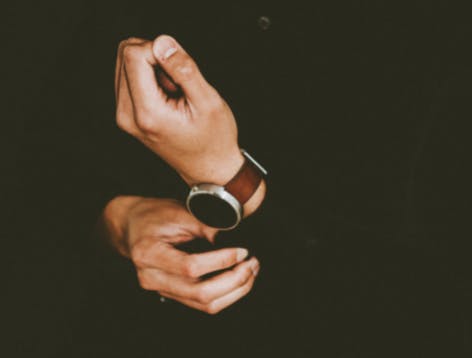 It's practical and stylish, and he'll think of you every time he checks the time. You can find watches at any jewelry store or online, and they come in a variety of different price ranges and styles.

5. An Experience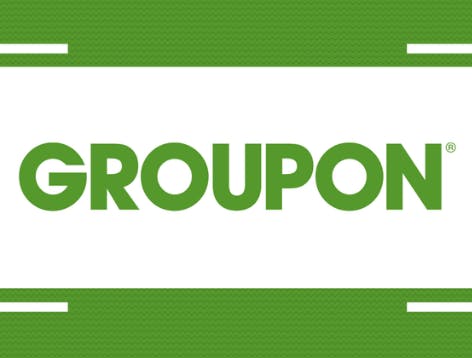 If you're really not sure what to get your dad, a gift card to a local experience is always a safe bet. You can find awesome experiences in your local area through groupon.com. They always have deals going on, which is great for the budget, and with any curated experience you find, it is sure to be memorable. 

6. A Homemade Card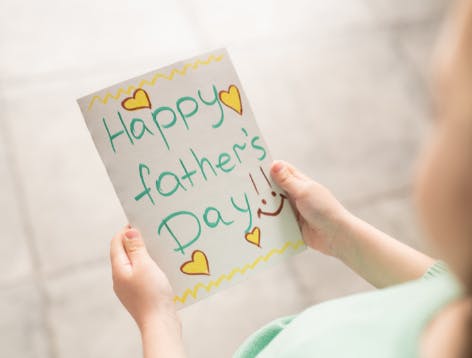 Sometimes the best gifts are the ones that come from the heart. If you're not sure what to get your dad, why not make him a card? You can use construction paper, markers, and crayons to create a one-of-a-kind card that he's sure to cherish.

No matter what you end up choosing to get for your dad for Father's Day, he's sure to appreciate the thoughtfulness. Just remember to keep it simple and have fun!

Bring In the Surprise Element! 
The greatest surprise is something that they never see coming. Socks are a practical gift that everyone can use, but custom socks are unique, personal, and functional. You can combine your dad's interests by selecting his favorite color and icons that speak directly to him and then upload his face on them to complete the gift. Custom socks are sure to put a smile on his face and his feet!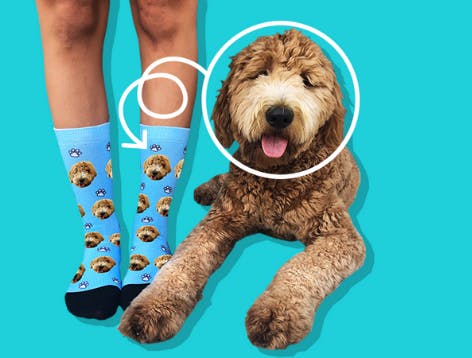 Get Creative! 

Here are a few ways you can be creative with custom socks:

First, you can choose an icon that reflects your dad's interests. For example, if he loves sports, you can get socks with soccer balls, baseballs, basketballs, or whatever his favorite sport is, all over them. Or, if he loves dogs, you can get socks with paw prints or bones all over them.

Another way to be creative with custom face socks is to select a fun/embarrassing/sweet photo of his face to put on them! This is sure to put a smile on his face and anyone who sees them.

Finally, you can also get creative with the packaging of the socks. For example, you can put them in a gift box or wrap them in tissue paper. Whatever you do, make sure the packaging is reflective of the thoughtfulness of the gift.

You can also combine these face socks with other gifts, such as the handmade card, to add a touch of personalization. This will make your once mainstream gift unique!

Father's Day Gifts For New Dads
Looking for a great Father's Day gift that is specific for new fathers? Let's dive in!


1. Matching Outfits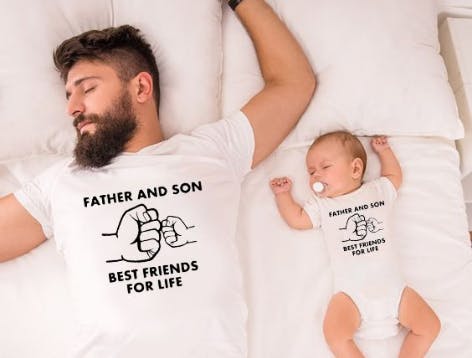 It can be tough to find the perfect gift for a new dad. But this year, Fathers everywhere will appreciate a thoughtful gift that celebrates both them and their new baby—a matching outfit from head to toe! A matching outfit is not only adorable, but it's also practical. This is a great way to show dads how much they mean to their families and help them feel included in the new baby's life from the very beginning and it will definitely get lots of laughs and smiles.

2. Custom Socks With Baby's Face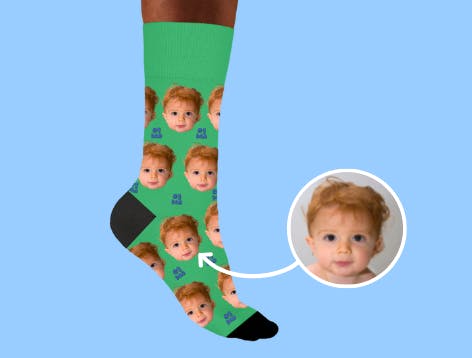 Upload one of the hundreds of photos you have of the new baby on our custom face sock builder, select a fun and fresh color, and an icon (we recommend the #1 Dad icon!). Fun fact- you can upload more than one photo, so throw in a photo of dad's face too with the baby. You can design the custom socks here and find them on your doorstep not too long later!

3. A Massage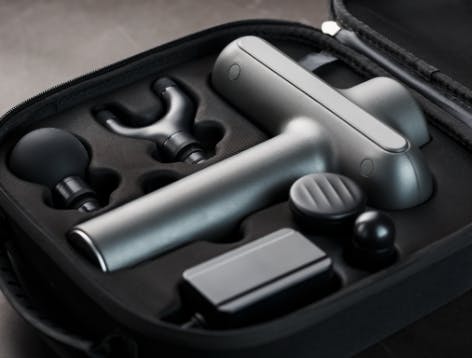 Being a new dad can be stressful at times, as there is no clear guide on how to be a Father after all. Help a new dad relax by giving him some time for himself with a massage. You can purchase a handheld massager, give him a massage yourself or find a spa nearby for them to redeem when they need it most.

Our Recommendation
If you're looking for a Father's Day gift that is both practical and personable, custom socks are the way to go! You'll get the opportunity to design them in the most creative ways with fun colors and icons. You can also upload up to four faces! Check them out, I guarantee you'll have a blast making them.