Published June 15, 2022
What Is the Best Way to Personalize an Anniversary Gift?
We all know that personalized gifts are the best way to show your loved ones how much they mean to you. Personalized gifts have that special touch that you cannot get if a gift isn't customized for a specific person or celebration.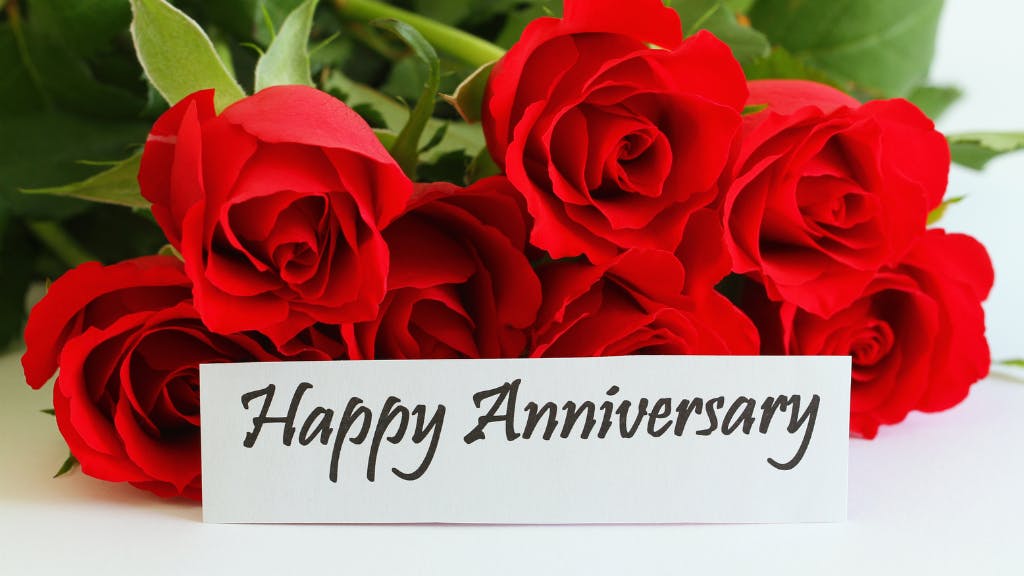 This list is not just about romantic gifts - we have included some more general ideas for different kinds of relationships to help you out if you don't know what to get someone for a special occasion.

An anniversary is a great time to show your partner how much you care about them. To get the perfect present for your spouse, it's essential to think about their tastes, hobbies, and preferences, but in a way that's unique to them. 

Put the special date on a calendar and take time to order in advance. A quick turnaround time is important to consider since personalized items can take extra time.

So, if you are looking for a personalized gift for your wedding anniversary, we have compiled a list of creative and original ideas that will make the day extra special.

Custom Printed Socks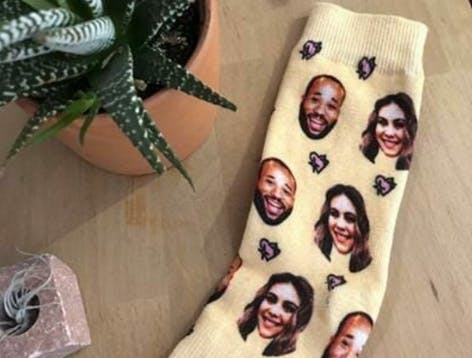 Socks are a great way to celebrate an anniversary because they are inexpensive yet creative and functional. 
There are many ways to personalize socks, and with custom love socks, adding photos of you or of you and your spouse together is perfect. With various background patterns and unique icons to choose from, you can completely design your own sock.

There are many different ways to personalize an anniversary gift using socks. With Sock Club's custom face builder, it is so easy and fun to use that you can come up with tons of different sock designs. This will be an excellent gift for them to wear every day, and it will also hold sentimental value because it's personalized over any traditional gift.

Face socks are a great way to personalize an anniversary gift. They are also a perfect way to make the gift more memorable.

The best thing about face and love socks is that they can be printed and personalized with up to four different faces, so add a photo of your pet too! Socks aren't gender-specific, so they can be made for anyone and everyone!

Photo socks are truly unique gifts for men and women. They are available in different colors, designs, and branding depending on what you're looking for in your pair of socks as an anniversary gift, plus they are made in the USA. The opportunity for custom photo socks is endless!

Sock Club is your ideal solution if you want to create and personalize socks for anniversaries.

Personalized Sheet Music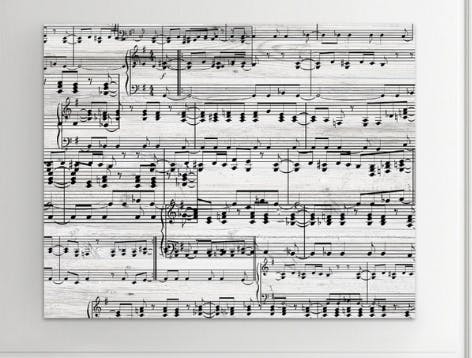 Every couple has a song that is special to them. Maybe the song was playing when they first met, or it was the song they danced to on their wedding day. This personalized anniversary gift will help you keep the magic alive by hanging this personalized music sheet on your wall.

This gift is perfect for couples celebrating their first anniversary or who have been married for decades. This anniversary gift is a thoughtful and sentimental way to celebrate your love with your partner every year.

The wall art is made from the sheet music of their favorite song and has a frame that can be customized with their names and their anniversary date.

The couple will have a beautiful reminder of the magic they felt when they heard that special song every time they walk into their living room.

Find personalized sheet music here on Etsy.

Personalized Ring Dish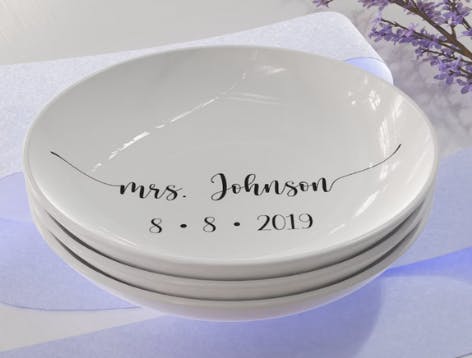 Usually, people celebrate their love by exchanging rings, the most symbolic form of love. This personalized anniversary gift is perfect for those special rings.

This specific dish is a great size to hold wedding and engagement rings when they are not wearing them, as well as other jewelry that they want to keep close at hand. This dish is made of pewter and measures 4.5" in diameter.

This dish can be personalized with up to three lines of text, making it a perfect gift for couples who have been together a long time or those celebrating an anniversary.

A personalized dish is a perfect way to show that you care about your partner's style while also being practical. It also makes a great wedding gift for a newly married couple.

These Etsy ring dishes are a fabulous deal with big sentimental value.

Wooden Candle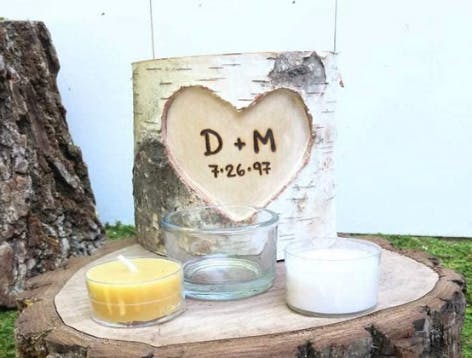 This candle holder is made from a birch tree, and the initials are carved into it. It has a hole in the back that you can put a votive candle in. The initials can be customized with an added special message on the front of the birch tree to make it even more personal.

This personalized anniversary gift is a great way to show your loved one how much they mean to you. The design of this candle holder is very romantic, and it will be a perfect addition to any home.

This personalized anniversary gift is a beautiful way to show your loved one how much they mean to you. This candle holder takes the age-old tradition of carving lovers' initials into a white birch tree and turns it into something new for the modern couple.

Have an Amazon account? Check out this candle on Amazon for a quick turnaround time.

Coordinates Of Where You Met Each Other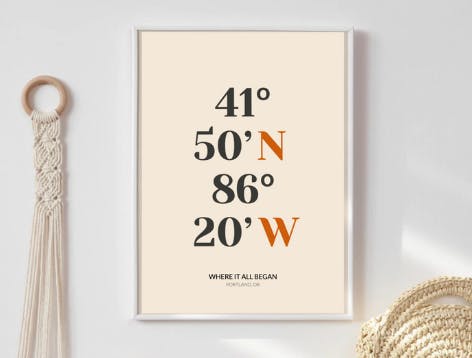 When looking for a gift, it's hard to find something personal and unique. That's where personalized anniversary gifts come in.

The perfect personalized gift for your loved one's anniversary is a customized art print! You can select from many different beautiful designs and tell your "how we met" story through home decor. One of our favorite custom art prints is one featuring the coordinates of where you met.

You can find this at My Happy Place. This specific art print is for the couple who met in Portland, OR. 

It captures their story by displaying the coordinates of where they met on their customized print. Make sure you allow enough time to be printed and mailed in time.

To Wrap Up this Gift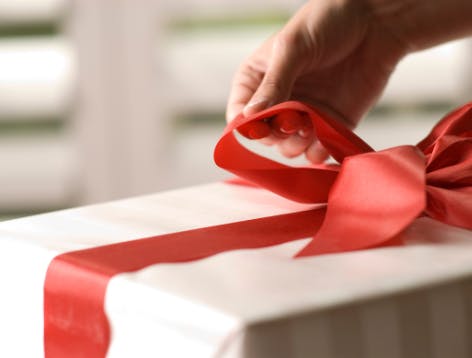 The best way to personalize an anniversary gift is by looking at what they like and asking them for some ideas. If you know their favorite color or food, it will be easier for you to find a gift that suits them.

The personalized anniversary gift is perfect for couples who want something more romantic than just flowers or chocolates. Make sure you pick an option with fast shipping for quick turnaround times. Whether it's face socks or sheet music, you have many options.

When it comes to anniversary gifts, the best way to personalize them is by thinking about what the couple might enjoy together. This could be anything from a romantic getaway to a personalized gift from their favorite restaurant.

The idea of personalized anniversary gifts can be both sentimental and practical. They are sentimental because it shows that you have been listening and watching them for years and you know what they like. It's also beneficial because you can make sure that the gift is something that they will use regularly.