Client Spotlight
Acuity Engages Team with Custom Socks from Sock Club
Acuity provides accounting, finance, CFO, tax, and online bookkeeping services for entrepreneurs. In 2004, Founder Kenji Kuramoto built a CFO practice knowing he could help businesses by giving them the financial tools and advice they needed to reach their full potential. 
Along the way, he discovered that Acuity's clients had additional financial needs, including simple bookkeeping services. He realized they could better serve small businesses and challenged themselves to expand their offerings as go-to accounting experts.
In 2013, Matthew May joined Kenji, and Acuity was relaunched as a full-service financial firm, tackling everything from invoicing and bill pay to industry-leading financial strategy. 
Kelli Spanjers, Office Manager at Acuity, knows that the team at Acuity needs to be kept happy and engaged because it takes a lot of effort and attention to detail to stay current and competitive with the players in their field.
One of the ways that Spanjers helps the team to stay engaged and happy is to coordinate team building activities and events. Acuity had a quarterly meeting coming up, that included a wine tasting, and Spanjers was looking for a branded swag item to give away.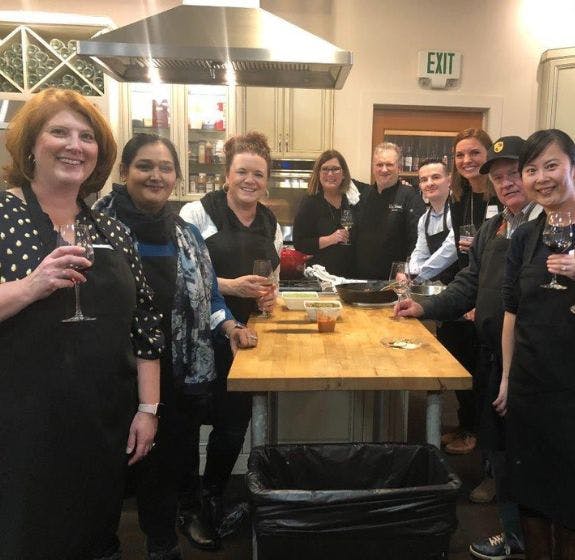 When one of their clients said that they had worked with us in the past, and had a great experience, Spanjers decided to give Sock Club a try.
Of the ordering process, Spanjers said "It was easy! These products were fun and unique, and everyone that we worked with were so flexible and helpful. They custom designed the socks for us, with a few redesigns and tweaks throughout the process gladly welcomed."
When asked if they would consider working with Sock Club again in the future, Spanjers said "We would definitely recommend Sock Club! They produce a great product that can help build company spirit. We plan to order more in the future! Keep up the great work."
We are so excited that we can help such a great company engage their team, and hope to get an invitation to the wine tasting in the future! 🙂
To get your own employee swag started, click the link below or email us at custom@sockclub.com.