Sole-Mate Stories
Custom Wedding Socks for Blakeley & Brett - With Their Dog, Brock!
Would you say that your personalized wedding socks were a sock-cess?
They were a huge sock-cess! Everyone got a kick out of Brock being on them. Who doesn't love bulldogs and socks? We still get texts from guests saying they wore their party socks out or to another wedding they attended. 


It's one of the best decisions we made for our wedding! 100%!
How did the two of you meet?
We were both attending Eastern Washington University, but we had a big party school about an hour away. My bestie went there, so I'd visit on the weekends. I was there for their homecoming football game and so was Brett! 


He recognized me at the bar, so approached me and struck up a conversation! At the end of the night, I pretended I couldn't remember where my friend's apartment was so we could hangout longer.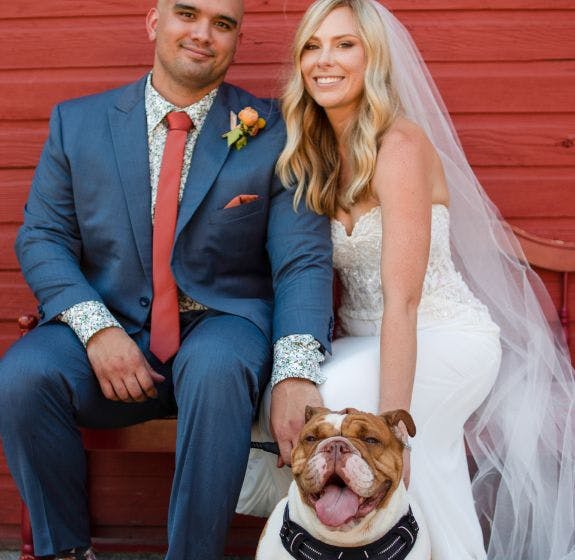 Blakeley and Brett on their wedding day with their dog, Brock
What are some challenges that you faced when picking party favors for your wedding guests?
We struggled with selecting what to put in wedding favor bags that we thought our guests would all equally love. Luckily, everyone can appreciate a nice pair of custom dress socks, and the one-size-fits-most option made it easy.
What was important to you in the customization of your wedding favor ideas? What impression did you want them to leave on your guests?
We wanted the custom dress socks for our wedding to have a fun flair to them, because that is representative of our relationship. Our furbaby, Brock, is a huge part of our life, so he had to be on the fun socks design with a wedding theme surrounding him. We added our names and wedding date at the toe for a bigger statement.
How did you distribute your fun wedding socks at your wedding?
We had Brett's little nephews take baskets with the personalized dress socks around to guests during the reception to make sure everyone had one. One had a basket with the socks, the other had a basket with hershey kisses. Everyone loved it! Custom socks aren't just good for fun wedding socks for groomsmen!
What is the process of making custom wedding socks like?
Easy peasy! I loved working with our designer, Maureen. She somehow read our minds and knew exactly the vibe we were trying to go with the socks. After a few mockups to get us rolling, we narrowed in on our perfect design. 


It executed great and we had the socks in-hand way before the wedding. I wish every other piece of the wedding planning had been that easy!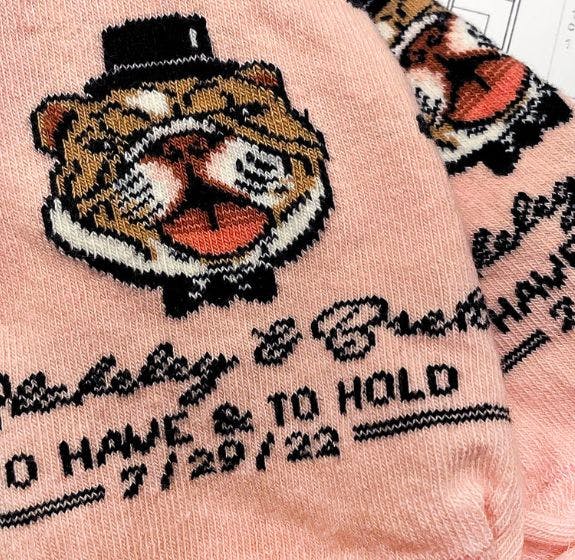 What advice do you have for couples who are considering making fun socks for weddings?
Do it! It will last long after the wedding, so people will remember their experience for months and even years after. Be prepared for lots of texts and photos to follow with guests wearing their wedding party socks in everyday life!
If you're going to do a wedding favor, do it right! Opt for something that guests will actually love and wear. TIP! Order more than you think, because you'll have other people pop in your mind that you'll want to share them with. Keep at least 5 extra pairs for yourself!
Want to make your own fun dress socks for your wedding?
Sock Club is a team of experienced designers who specialize in creating custom socks for various occasions, including weddings. They understand the importance of a wedding day and how couples want to make it special and memorable. That's why they offer their expertise to create custom bride and groom socks that are tailored to fit each couple's needs and style.
One of the best things about working with Sock Club is that they can help people design custom socks for their wedding favors and order as few as 30 pairs. This means that couples don't have to worry about ordering more socks than they need or breaking the bank when choosing what to put in wedding favor boxes.
The process of designing custom wedding socks with Sock Club is simple and straightforward. Couples can work with a dedicated designer to choose the colors, patterns, and designs that best match their wedding theme, wedding colors, and style. They can also add their names, wedding date, or any other personalized message to the socks to make them truly unique and special.
Once the design is finalized, Sock Club's team of skilled craftsmen will bring the socks to life using high-quality materials and advanced manufacturing techniques. The end result is a pair of custom wedding socks that not only look great but also feel comfortable and durable.
The best thing about Sock Club's custom wedding socks is that they work for so many purposes! One order of  funny wedding socks can be used for men's wedding socks, groomsmen dress socks, bridesmaids socks, socks for wedding party, and even socks for the happy couple themselves. With their expertise and attention to detail, Sock Club is the perfect partner for couples looking to add a touch of personality and style to their wedding day.