Published August 9, 2021
3 Easy Ways to Design the Best Custom Logo Socks
Are you trying to figure out how to put a logo on socks? Here are three easy ways we recommend as a professional custom sock company!
1. Use a Professional Custom Socks Manufacturer
-
We may be tooting our own horn, but we wouldn't be if it wasn't the best way to put your logo on socks! At Sock Club, we are experts at making all types of designs for custom socks with logo of any kind! There are a lot of considerations when you customize socks with logo- such as sizing of the logo, how the design will look stretched over the foot, and how well the design will stitch into the socks. That's why we always recommend going with a professional socks supplier like us to take care of it for you.
-
Our in-house team of professional sock designers are also your best resource to bring your imagination to life! Being creative is super fun, but not always the easiest to put on paper. That's why people love relying on our team to come up with the coolest customized socks with logo. Especially when it comes to corporate socks and promotional socks where you want to make sure the design really speaks to your brand identity and doesn't end up in a trashcan or hidden away in the drawer! Custom branded socks are the new trending swag item that can excite anyone. As an added bonus you can always get your custom sock designs from us free!
-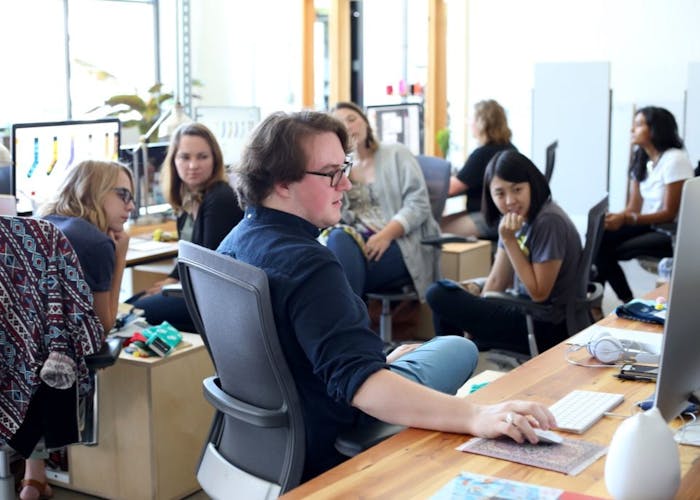 -
2. Custom Design Your Own Socks Online
-
There are a few websites and custom sock manufacturers out there that let you design your own branded socks and promo socks. These design tools make it easy for you to play around with patterns, templates, and color options to see what works with your logos on socks! We think this is a great way to start drumming up ideas and getting inspiration of what your custom socks could look like or easily get those logo socks if your dream design isn't too complex for the tool. Plus being able to create custom socks online means you can access your work 24/7 and complete your order whenever you're ready- super convenient! If this sounds like what you're looking for, try our online design tool to customize your socks!
-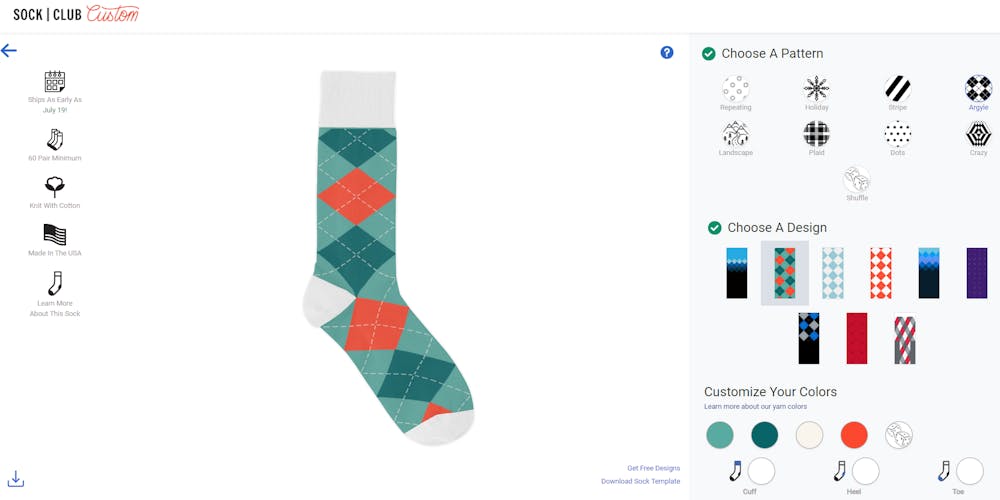 -
3. Customize Your Socks Using a Template
-
If you're tech-savvy or know your way around Adobe Photoshop and Illustrator. This is a great easy way to get exactly what you're looking for in your ideal company logo socks. Our design template includes a step-by-step guide to help you through the process of getting logos on socks while ensuring that they will look great after they've been knitted. Using a template is definitely best for those who aren't having any trouble coming up with cool ideas for custom socks. Not only do you have full control over the creative process, but you'll probably have a lot of fun doing it!
-
We also recommend using additional resources to make sure you can be as exact as you want. For example at Sock Club we publish our yarn colors which are all labeled with their HEX, PMS, and Real Life Example. We also encourage DIY designers to check on the size charts to better visualize what the end result will look like!
-

-
Now you know our recommended ways to design the best custom socks with logo! We think we are the best custom sock company to work with, you won't regret giving our process a try- whether you submit your logo, try our online design tool, or download our template! Being easy to work with, providing great customer service, and getting socks made fast is part of our core values! Our custom knit socks are made of 100% cotton and are perfect for your brand, company, event, or team! If you want more information about how to get started or have any other questions about custom socks, give us a call today at 512.981.6437 or reach us by email at custom@sockclub.com.