Published October 4, 2022
Best Employee Appreciation Gifts of 2023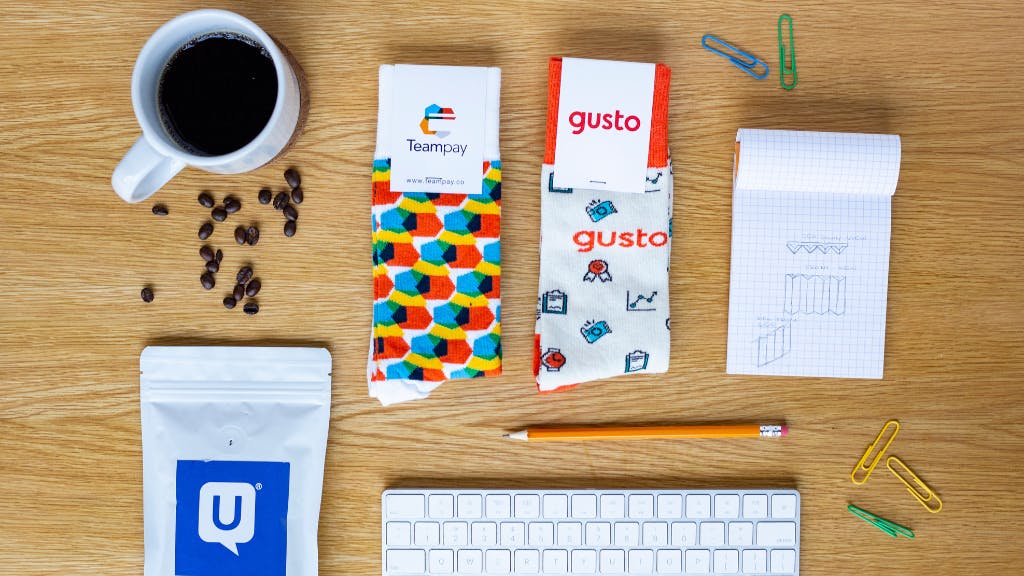 Today businesses are facing lots of challenges from employee turnover to adapting to remote work. To remain successful, different organizations are looking for new strategies to retain employees and keep them engaged.

Below, we will discuss some of the best employee appreciation gifts in 2023 to help keep employees engaged and happy. But first, let's talk about National Employee Appreciation Day 2023. 


When is Employee Appreciation Day 2023?
Employee Appreciation Day 2023 will be observed on Friday, March 3rd, 2023. The goal of employee appreciation day is to give companies an opportunity to show their employees appreciation for all their hard work. This can be done through special events, company outings, and even employee appreciation gifts.

Here are some of the most popular gifts for board members, gifts for remote employees, and everyone in between in 2023. 


Custom Logo Socks
Custom socks with logo are among the best executive gifts used to show appreciation to your employees. Logo socks are the perfect gift for any organization because they can be utilized as new hire gifts, birthday gifts, workaversary gifts, and so much more! It's a simple singular appreciation gift with many use cases. 

Working with a custom sock manufacturer like us here at Sock Club can make the ordering process quick and easy. Whether you have a creative team that would like to design the custom socks themselves using our free downloadable sock design template or send us your logo for free designs, anything is possible! You can also create corporate gift boxes by ordering custom sock packaging perfect for 1, 2, or 3 pairs.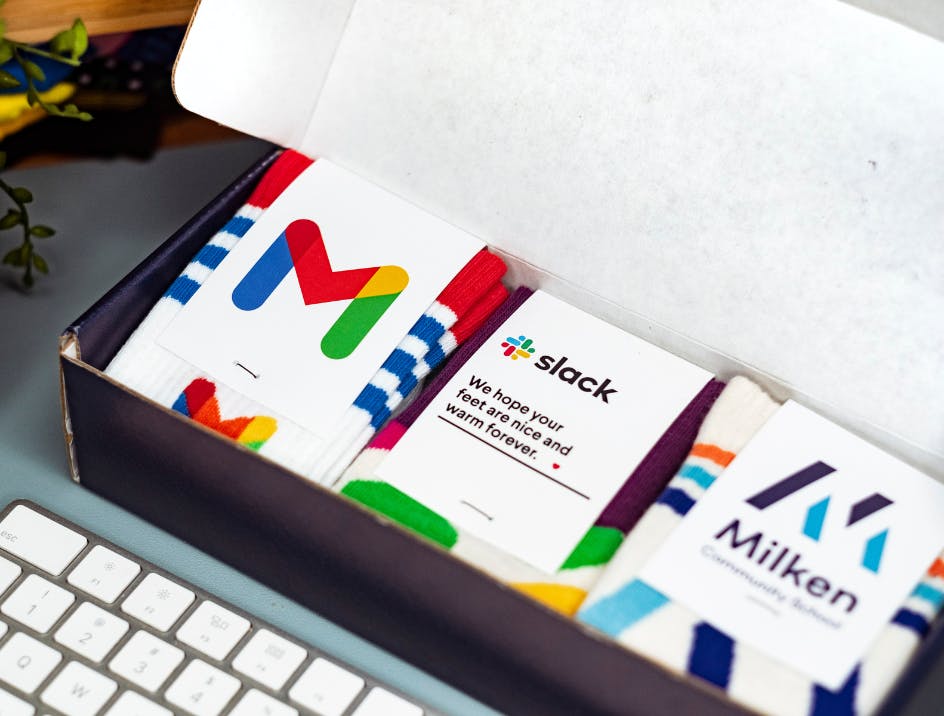 Coffee Cup Slippies and Gift Card
We've all heard of koozies, but the biggest pain point is they only fit around a certain type of beverage container and are not universal. However, custom-knitted koozies (Slippies) are perfect for cups of all shapes and sizes. Slippies can fit around a regular can, slim can, water bottle, coffee cup, and even a wine glass! With our custom slippy packaging that looks like a coffee cup, you can also slip in a gift card to an employee's favorite coffee place. This is the perfect small appreciation gift that will allow you to say, "Coffee is on me." In order to see what a Slippy would look like with your company branding, send us your logo.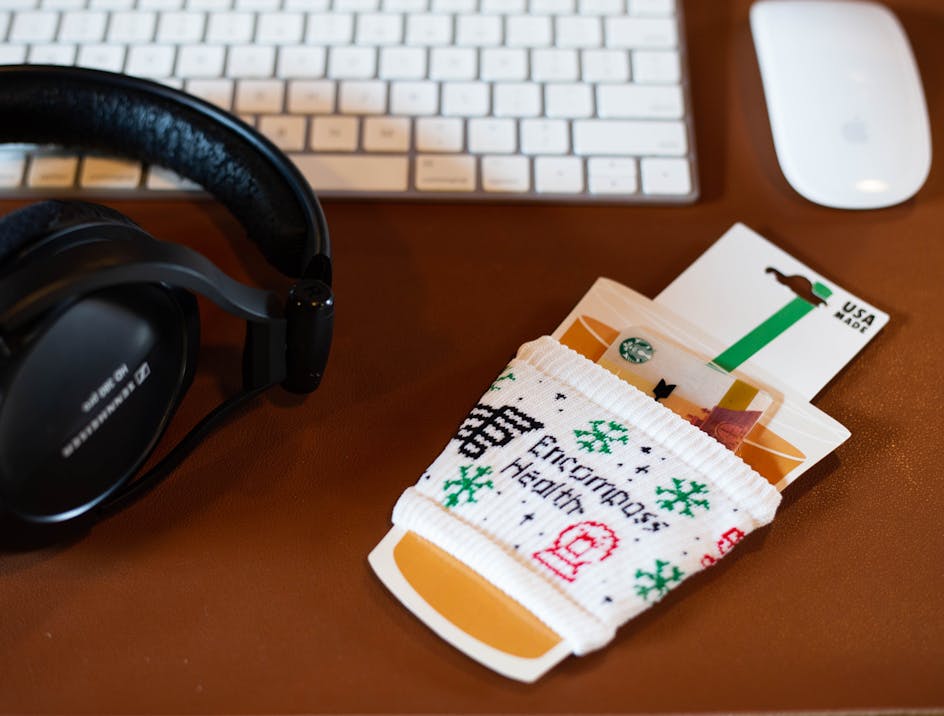 Sofia's Cookies 
Sofia's cookies are another gift idea for Employee Appreciation Day 2023. These cookies are always freshly baked with 100% all-natural ingredients using real butter for a rich flavor. 

Sofia's offers chocolate chip, oatmeal raisin, key lime pie, vanilla pecan, and sugar mini cookies, and each taste has a unique flavor that keeps you 100% satisfied. Do you prefer something a little less sweet? Sofia's offers a variety of snacks including various nut mixes, popcorn, pretzels, and candy. The best part is, all treats from Sofia's are packaged in fully customizable air-tight canisters. Once the treats are gone, the containers can be re-used for storage. 

Sofia's promotional products are a great addition to any corporate gift box for employee appreciation day 2023.


Why Employees Need Appreciation Gifts
Besides increased engagement and retention, employee appreciation gifts have many benefits. Here is why you should be customizing thoughtful gifts for your employees and even client gifting.


Appreciation gifts increase teamwork and productivity within an organization 
Recognized employees are productive employees. If employees feel like their work matters and are valued then they are more likely to be motivated to continue working with their teammates to achieve company and team goals. The perfect gift for a group is branded socks for a team. These can be gifted in employee gift boxes for employee appreciation in 2023.  


Appreciation gifts keep a team excited 
Most people love the joy and excitement of receiving gifts. Appreciation gifts can make a team feel like they're valued and thought of. There's something special about giving your employees custom logo socks even as simple as it is that makes them excited to be a part of the organization. These unique gifts for executives can be used to remind employees that the work they are doing is making a positive impact on the organization.


Conclusion 
Employee Appreciation Day 2023 is March 3, 2023. This means it's time to start thinking about employee appreciation gifts for your team. Employee appreciation gifts can lead to more productive, engaged, happy, and excited team members. Some great gifts for employee appreciation are custom dress socks, Slippies with a gift card, or Sofia's cookies. If you're looking for custom crew socks for your team or Slippies, then our team here at Sock Club can help you! The process is as easy as sending us your logo and our expert sock designers will return free custom designs to you in as soon as 1-2 business days.