Published September 19, 2024
Best Employee Appreciation Gifts 2024
Show your team how much you appreciate them. We put together a list of some of the most popular gifts for board members, gifts for remote employees, and everyone in between in 2024.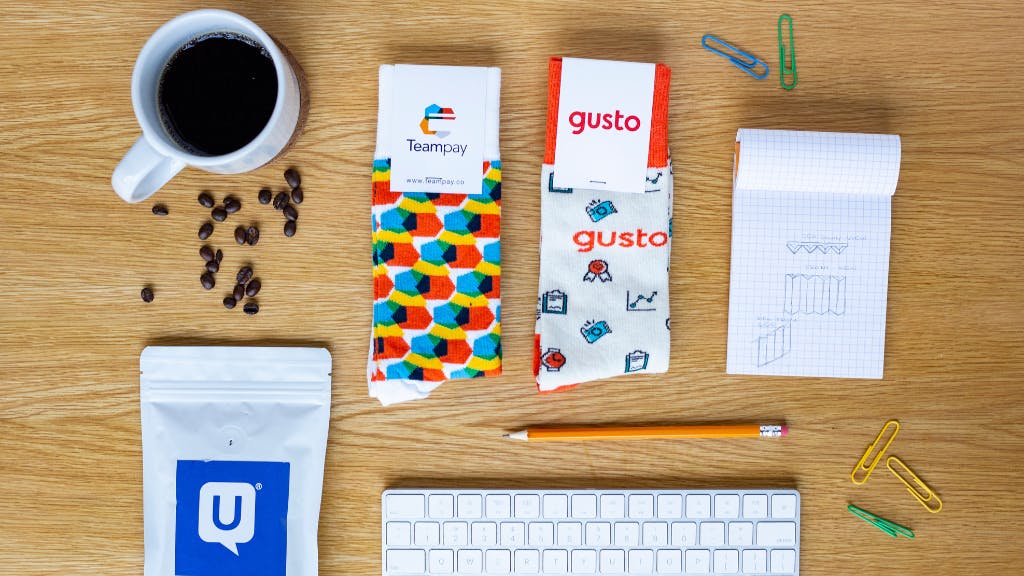 Today businesses are facing lots of challenges from employee turnover to adapting to remote work. To remain successful, different organizations are looking for new strategies to retain employees and keep them engaged. Below, we will discuss some of the best employee appreciation gifts in 2024 to help keep employees engaged and happy. But first, let's talk about National Employee Appreciation Day 2024. 


When is Employee Appreciation Day 2024?
Employee Appreciation Day 2024 will be observed on Friday, March 1st, 2024. The goal of employee appreciation day is to give companies an opportunity to show their employees appreciation for all their hard work. This can be done through special events, company outings, employee recognition like Employee of the Month, and even gifts. Read more about the history of Employee Appreciation Day at our blog here.


What are the best gifts for employees?
There are a lot of different staff appreciation ideas, but one of the most popular and effective ways is to give them employee recognition gifts. This can be anything from a handwritten note to a gift certificate to a gift card. 

It really depends on the individual and the relationship that the employee has with the company. However, some general tips, according to hoppier, for giving appreciation gifts to employees include: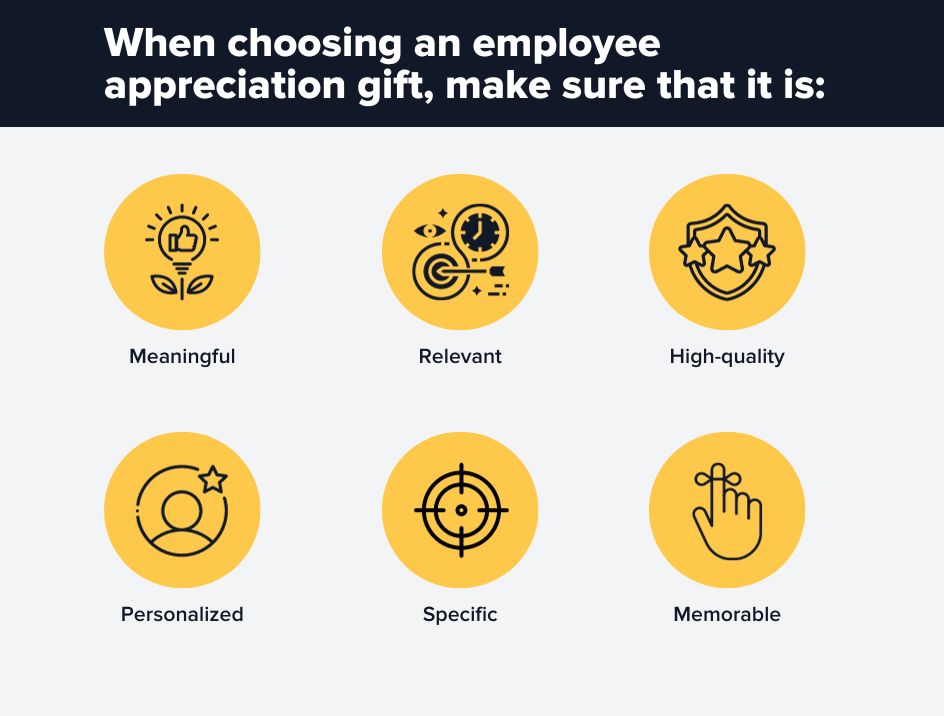 Best Employee Appreciation Gift Ideas 2024


Educational classes or learning experiences
Learning anything is a lot of fun, whether it's how to make the perfect pasta or how to code. Employee Appreciation Day is the perfect opportunity to invest in your employees' passions, interests, and futures with the gift of extended learning. Invest in their learning by giving them a budget that they can use to study anything they want, class, or course. 


This could be an online or in-person class, or even a course you all take as a team for team building. To show your gratitude for their hard work and enjoy the things they enjoy, you can offer them a payment to take a class or learn something new.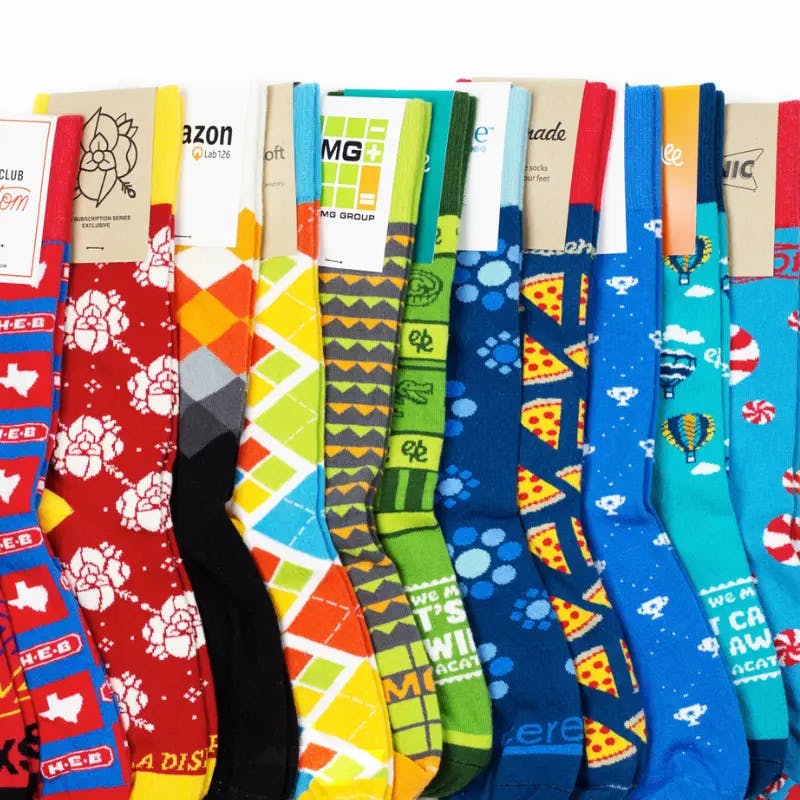 Custom Logo Socks
Custom socks with logo are among the best executive gifts used to show appreciation to your employees. Logo socks are the perfect gift for any organization because they can be utilized as new hire gifts, birthday gifts, workaversary gifts, and so much more! It's a simple singular appreciation gift with many use cases. 


Working with a custom sock manufacturer like us here at Sock Club can make the ordering process quick and easy. Whether you have a creative team that would like to design the custom socks themselves (free downloadable sock design template here) or send us your logo for free designs, anything is possible! You can also create corporate gift boxes by ordering custom sock packaging perfect for 1, 2, or 3 pairs. 


Personal gratitude budget
Studies have indicated that acknowledgement from leadership is beneficial, yet recognition originating from co-workers can be even more powerful. Grant your personnel a small amount of money that they can utilize to purchase presents for their colleagues for a co-worker gift, for whatever rationale they pick. 


Set a sum that is within your budget and make your employees feel heard and empowered with this new policy. Urge them to send thank you gifts to team members for their participation in projects, being helpful, and making progress in their work or individual objectives. It doesn't have to be overly elaborate, even custom-made t-shirts and keychains will do! This is a great method to invest in your team and establish a culture of thankfulness and admiration.




Coffee Cup Slippies and Gift Card
We've all heard of koozies, but the biggest pain point is they only fit around a certain type of beverage container and are not universal. However, custom-knitted koozies (Slippies) are perfect for cups of all shapes and sizes. Slippies can fit around a regular can, slim can, water bottle, coffee cup, and even a wine glass! 


With our custom slippy packaging that looks like a coffee cup, you can also slip in a gift card to an employee's favorite coffee place. This is the perfect small appreciation gift that will allow you to say, "Coffee is on me." In order to see what a Slippy would look like with your company branding, send us your logo.


Extra vacation days
Providing a bonus of extra off-days from work to staff on top of the already-existing company-funded time off (PTO) is an incredible way of showing appreciation and increasing job satisfaction. This not only alleviates stress and burnout, but also augments morale and allows them to spend time with their families outside of work.


A thing to consider about this present (as well as the following one) is the tension that can accompany it. Employees might feel scrutinized for taking the time off. Even if it is just in their mind, leadership should be proactive and take measures to ensure that all the time offs are accepted without any judgment.


At places of work where taking a break is encouraged, personnel are more likely to use the days off and not worry about being evaluated for it. In addition, they are more relaxed, concentrated and content with their job. If you are not about to implement this staff appreciation gift, giving your employees an extra work-from-home day might have the same effect.


Sofia's Cookies 
Sofia's Cookies are another gift idea for Employee Appreciation Day 2024. These cookies are always freshly baked with 100% all-natural ingredients using real butter for a rich flavor. Sofia's offers chocolate chip, oatmeal raisin, key lime pie, vanilla pecan, and sugar mini cookies, and each taste has a unique flavor that keeps you 100% satisfied. 


Do you prefer something a little less sweet? Sofia's offers a variety of snacks including various nut mixes, popcorn, pretzels, and candy. The best part is, all treats from Sofia's are packaged in fully customizable air-tight canisters. Once the treats are gone, the containers can be re-used for storage. Sofia's promotional products are a great addition to any corporate gift box for employee appreciation day 2024.


Personalized Thank you Note
A simple "thank you" note can go a long way in helping an individual recover from a stressful situation and feel appreciated and motivated. By customizing the design with their name, job title, and photo, you can make it more valuable. You can easily do this through Canva or another online software, or even use personal stationery and hand-write the note.


Digital Rewards
You may provide thank you vouchers to your employees using a smart device in the same way that they communicate. They can go shopping, dine in fancy restaurants, and exchange movie tickets or theme park tickets based on their preferences whenever they want. Platforms like Tremendous make this incredibly easy.


Why Employees Need Appreciation Gifts
Besides increased engagement and retention, employee appreciation gifts have many benefits. Here is why you should be customizing thoughtful gifts for your employees and even client gifting.


Appreciation gifts increase teamwork and productivity within an organization. 
When staff members are acknowledged for their efforts, it creates a productive work atmosphere. According to a study by Deloitte, it could increase productivity up to 14%. If they feel their efforts are respected, then they are more likely to stay motivated to work together to accomplish organizational and unit objectives. The ideal present for a group is logoed socks as part of a worker appreciation package in the upcoming year.  


Appreciation gifts keep a team excited. 
Most people love the joy and excitement of receiving gifts. Appreciation gifts can make a team feel like they're valued and thought of. There's something special about giving your employees company swag like custom logo socks even as simple as it is that makes them excited to be a part of the organization. These unique gifts for executives can be used to remind employees that the work they are doing is making a positive impact on the organization.


Conclusion 
Employee Appreciation Day 2024 is March 1, 2024. This means it's time to start thinking about employee appreciation gifts for your team. Employee appreciation gifts can lead to more productive, engaged, happy, and excited team members. 


Some great gifts for employee appreciation are custom dress socks, Slippies with a gift card, or Sofia's cookies. 


If you're looking for custom crew socks for your team or Slippies to celebrate Employee Appreciation Day, then our team here at Sock Club can help you! The process is as easy as sending us your logo and our expert sock designers will return free custom designs to you in as soon as 1-2 business days.