Published August 4, 2022
Employee Spotlight: Blakeley Gaudina Sales
A series dedicated to meeting the minds behind Sock Club's best-selling custom socks. We want you to meet one of our incredible Sales reps, Blakeley Gaudina!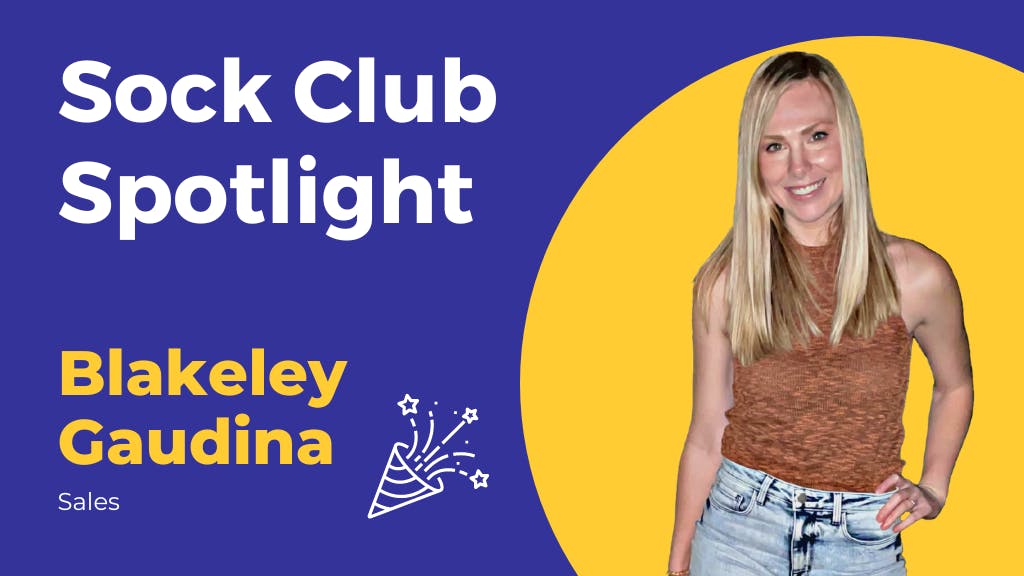 Let's Get Right to It!
Our Sales team is a group of extremely friendly and intelligent individuals. They know all when it comes to our custom socks and specialty products. Working with clients, they will make sure all your needs are met and that you have nothing short of a positive experience.

Not only is our Sales team working with clients, but they are actively engaged with all other internal Sock Club teams. They communicate with Customer Service to send specific samples to their clients, consult with Development to update the client portal, talk with Design to provide design requests from their clients, engage with Marketing to create client-friendly materials and branded catalogs, and speak with Operations to rush orders. 

Introducing Blakeley!


On our 10th Anniversary, taking a look back at how far we have come with the relationships we have fostered, and the amazing custom socks that have been produced is quite exciting. Our Sales team has done an incredible job managing clients and offering top-level customer service that we wouldn't be where we are today without them.

One of the most vibrant, outgoing, and passionate members of our Sales team is Blakeley Gaudina. As Blakeley's clients know, she is a true pleasure to work with, her smile is contagious and her bubbly personality brightens anyone's day.

Blakeley has set a high bar for what a Sock Club Account Manager should embody. Not only is she surpassing goals and deepening relationships with clients, but shows up every day as her best self and brings positive energy and excitement. Sock Club is beyond lucky to have her for almost 4 years, and we hope for many more!

When asked to describe Sock club in three words, she said, "Inspiring, Challenging, and Unique." Blakeley has contributed tremendously to the company culture here at Sock Club, instilling the importance of hard work, a growth mindset, and always aiming to push the limits. When asked who or what inspires her, she said, "My dad - he's the hardest worker I know with a big heart!" Just like her dad, Blakeley is a sweetheart with a killer work ethic. Blakeley puts her best foot forward, contributing to the positive and supportive company environment.

What you may not know about Blakeley is that she has always LOVED cars, classics and exotic! Her current dream car is the Porsche Taycan. *insert heart-eyed emoji* The last book she read was The Seven Husbands of Evelyn Hugo by Taylor Jenkins Reid, and the first concert she ever went to was Hillary Duff. The next place on her travel bucket list is the beautiful Amalfi Coast in Italy.

We asked Blakeley what her favorite pair of socks (thus far) have been and she said, "The custom socks we recently did as my wedding favors!" Blakeley recently got married and as a wedding favor, she handed out custom socks featuring her adorable dog Brock all over. Brock was featured wearing a top hat and bow tie, and in true Blakeley fashion, the base color of the sock was light pink.

We hope you enjoyed getting to know Blakeley a bit more, and the value she not only brings to Sock Club professionally but personally. If you have Blakeley as an Account Manager you are in good hands. She is a bright light and isn't afraid to spark a conversation. All of us at Sock Club are lucky to have her and we are excited to continue watching her grow and accomplish whatever she puts her mind to!  
Why Sock Club?

We are proud to make our socks in the USA, as we believe it is essential to support American workers and do our part to reduce our carbon footprint.

We also have a strong giveback program where we are dedicated to matching orders 1 for 1. With every custom sock purchased, we will donate a pair to an organization of your choosing. We are happy to deliver donations to our local partner organizations and will ship to any other organization as long as shipping is paid for. Please reach out to your Account Manager to let them know you are interested in having us match your order!

We pride ourselves on offering the fastest turnaround times in the custom sock game, with a 5-day turn. We even offer no rush fees to be as convenient as possible for those projects that need to be completed in a hurry. Just let your dedicated Account Manager know what your needs are and we will do our best to accommodate.
What Socks Should I Get?

When it comes to starting a custom project, there are lots of different sock styles and specialty products that Sock Club offers. Our Sales team is extremely well versed in all our products and is trained to guide you towards styles that fit your or your client's needs. For example, our Athletic styles are great for clients looking for more comfort as well as socks for an active group of individuals.

Your dedicated Account Manager is your prime source of information so make sure to ask about the range of possibilities for your project, and any questions you may have, they are more than happy to help!