Published January 4, 2023
How To Create A Quote In Your Account
A guide to getting the most up-to-date pricing in the quickest way.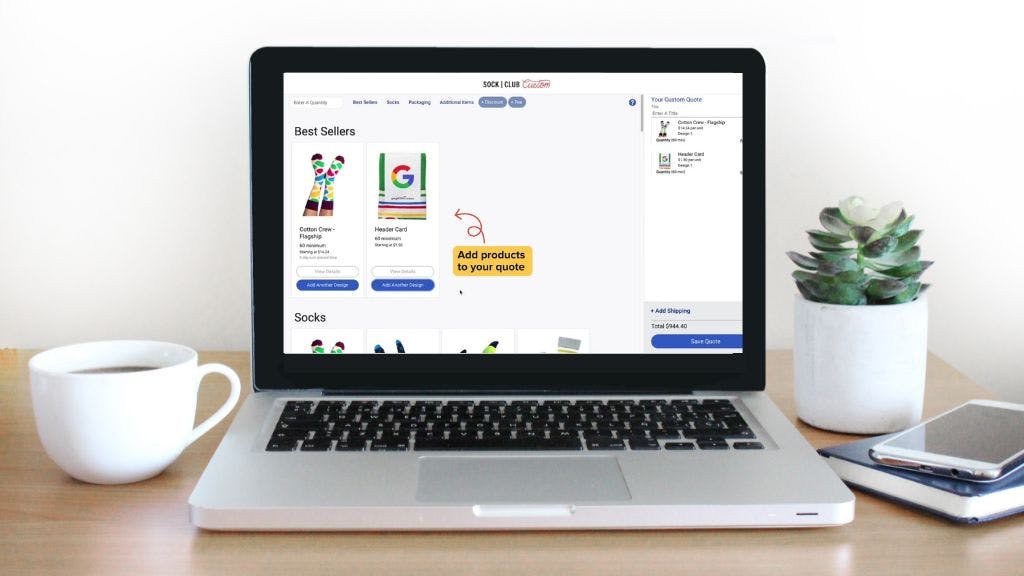 Our user accounts allow you to keep track of past and current projects, easily reorder, quickly start new projects, and much more!

Getting the most up-to-date pricing in just a few clicks is a great benefit of our user account system. This eliminates the need to email one of our Account Managers each time you need a quote, and allows you to get that quote back in seconds. Our Account Managers are pretty quick responders, but nothing beats a calculator!

Step #1: Login
Login to your user account here.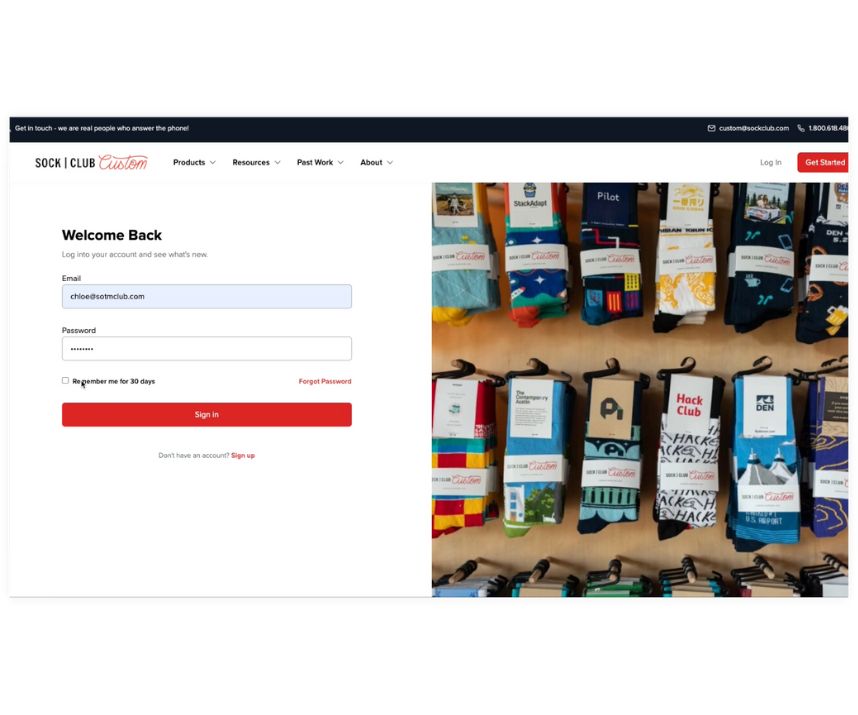 Step #2: Navigate to the profile tab in your account and find your quotes.
Once you are logged in to your account, you should see the tabs "Designs", "Orders", and "Profile" on the left hand side under a large welcome message featuring your first name. Click on the "Profile" tab.

Once you are in your profile, you will see the options "Profile Details", "My Quotes", and "My Samples." All of these are useful in our process, but we are focusing on quotes in this tutorial. Click on "My Quotes."

This will bring up a screen that says "Your Quotes." Once you are there, click on the grey plus sign in the middle of the white circle to start a new quote.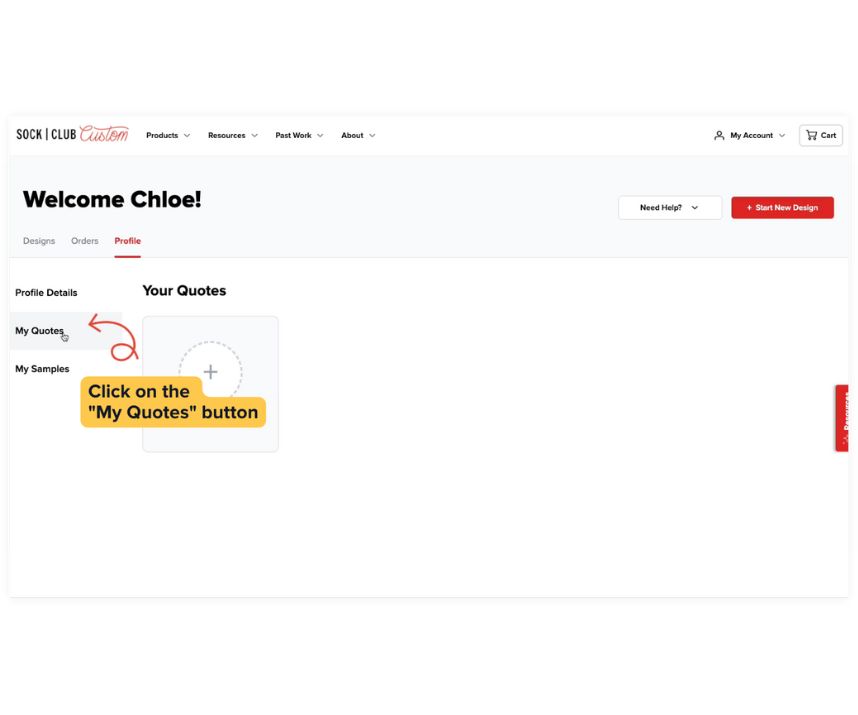 Step #3: Create a quote!
Once you see the quote tool, start adding products to your quote. When you click on the blue "Add Design" button, the item you select will be added to the quote panel on the right. You can add as many items as you would like to your quote. Keep in mind - if you want to see what pricing looks like at different quantities, it might be helpful to keep those comparisons in separate quotes.

Once you have your products and quantities selected, it is recommended to name your quote. If you are comparing different quantities, you might want to name it something like "60 Pair Cotton Athletic Ankle Quote" so you can see that total price compared to a "120 Pair Cotton Athletic Ankle Quote."

We have the fastest ship times in the custom sock industry, however, sometimes you might need socks shipped overnight rather than ground. At the bottom of the quote panel, you can add a postal code and calculate your shipping costs.

Finally, click the blue "Save Quote" button at the bottom of the quote panel to store this quote in your account.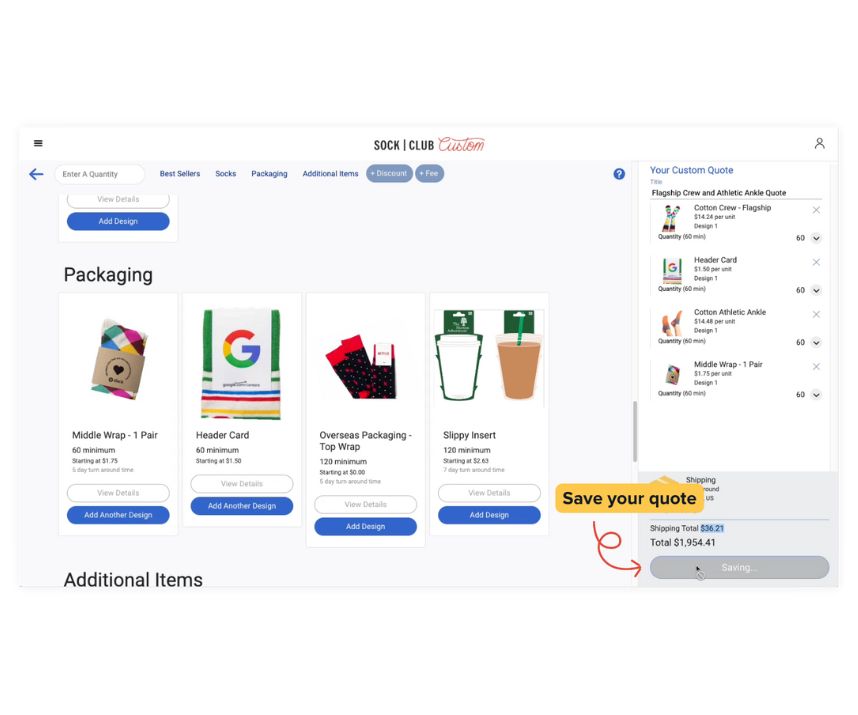 How do I download my quote?
A lot of our clients need to show a quote to their team, or download it to keep with other items related to the project. No problem!

Simply click the "View PDF" button on your completed quote. Once your PDF pops up in your browser window, navigate to the top right hand corner, and click the downward arrow to download a PDF copy of your quote.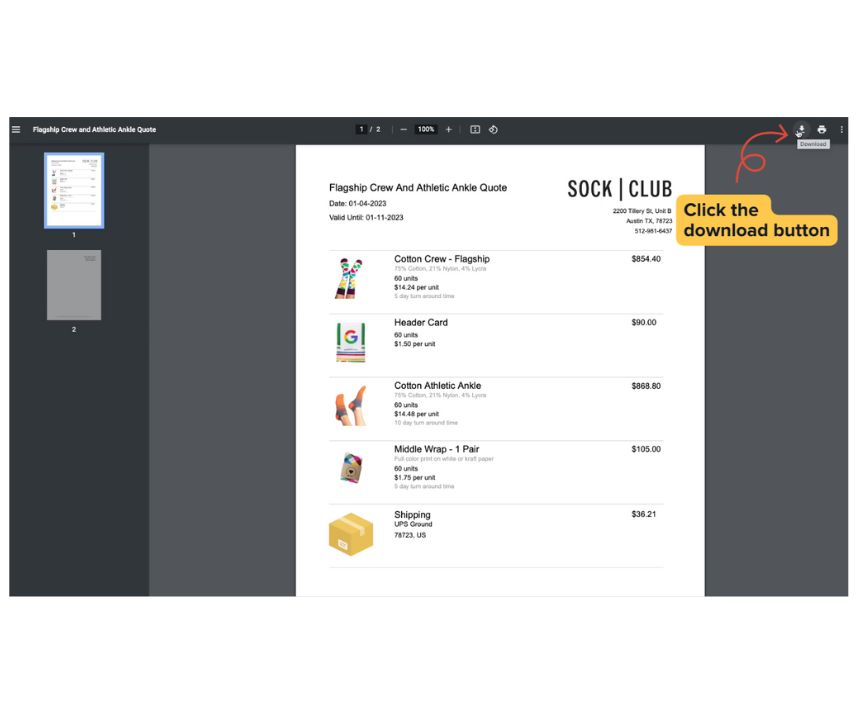 How do I edit my quote?
If you wait 6 months to a year between creating your quote and ordering, it is a good idea to check back on your quote and see if our prices or shipping rates have changed. The best way to do that is to edit your quote.

When you have your quote open, click the blue "Edit Quote" button below your quote total. This will bring you back to the quote builder screen. Once you are there, you can change shipping methods, add or remove items, or simply resave the quote to get the most up-to-date pricing.


Questions?
If you have any questions, you can use our Live Chat feature within your user account, or you can always give us a call at 1-800-618-4861 and a real human will provide you with assistance. We also welcome any and all feedback! We are consistently working to improve these tools so you can get custom socks faster and easier. We look forward to working with you and helping you design the coolest socks possible for your business!