Published June 16, 2022
Welcome Sock Club's Newest Hire, Austin!
Our team continues to grow! Learn more about our new hire, Austin Van Vark, and his transition from a previous Product Manager role to being a Product Manager on Sock Club's Development team.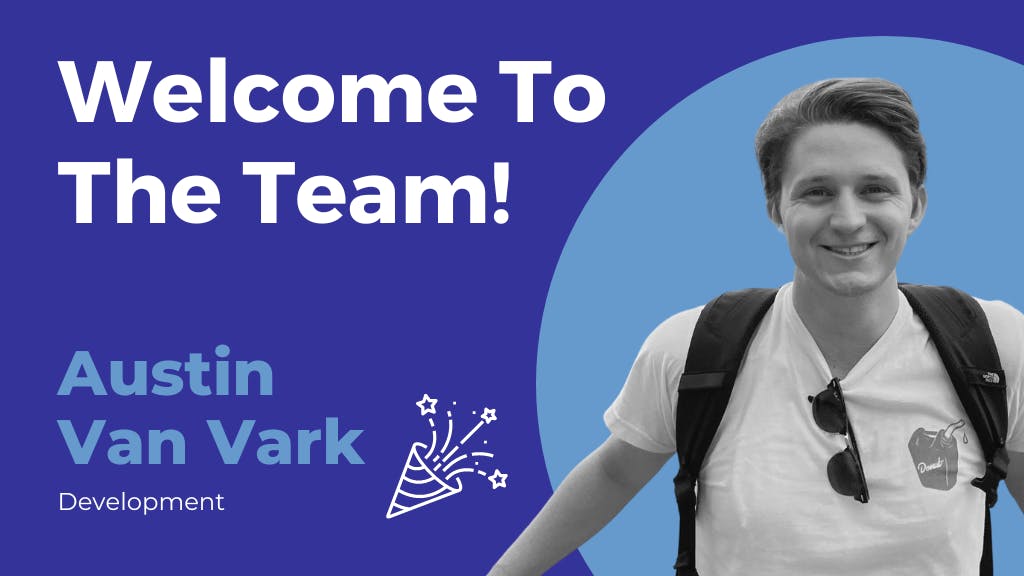 Who Is Sock Club's Newest Hire?
Sock Club is moving quickly to become the leading company for delivering experiences through well-designed socks. In order to share Sock Club socks with every foot in the world, we have to let the world know about us. With the worldwide web, we have a platform to do just that, and with our incredible, tech-savvy Development team, we have the ability to do it.

Without our incredible Development team, our ability to reach customers and be front runners in the custom sock game would be nearly impossible. Our developers are working hard to create an easy, exciting, and smooth online experience for our customers. Whether you are visiting Sock Club for custom branded socks, or to be a part of our awesome subscription club, our Development team crafted the very site you are accessing.

That awesome custom-built portal that allows you to start, create your own sock, and place an order without even speaking to someone, is all coded by our Development team. That 3D mockup of your sock design? Created by our Development team. The create your own quote tool? Created by our Development team. Pretty wicked technology has been hand-coded by our very own Development team.

Not only are our Developers creating new systems and tools that make custom socks easily accessible to you, but they are also managing and continually updating our internal systems and tools in order to keep up with the forever-changing times, continual software updates, and new features. Listening to feedback from clients, customers, and our internal team members, our Developers work on updating our technology to make the digital Sock Club experience better for all. (Better, faster, and stronger as I would say.)

With our unique, easy-to-use portal our clients/customers are blown away by what abilities they have to create their own custom socks. This keeps our client base coming back from more, knowing how easy it is to create and sell socks when provided with all the tools in one place. In order to keep up with technology and product innovation, Sock Club hired (and is continuing to hire) talented developers that can ideate, problem-solve and execute technological solutions.

This year, on our 10th Anniversary, Sock Club is growing at a rapid pace. But we still want to keep our small business roots at heart. And that begins with our people. Continuing our new weekly employee spotlight series to showcase all of the new faces around Sock Club, we are excited to introduce our newest employee, Austin Van Varkl!

After working part-time as a Project Manager at Riot Games and graduating with an MBA at Carnegie Mellon, Austin is now a Product Manager on our Development team. His previous experience collaborating with various internal teams to increase fan affinity, as well as help build long-lasting partner relationships, has prepared him to work cross-functionally with Sock Club teams and utilize technology to better our platforms and efficiency.

Coming to Sock Club, Austin is most excited to learn from Sock Club's various departments and help level up the user experience across all platforms. He also aims to learn, grow, and make a tangible and significant impact here at Sock Club. What you may not know about Austin, is he loves to travel. So much so that he has lived internationally 4 times! He has lived in Ireland, Luxembourg, Canada, Singapore, Iowa, Colorado, Pennsylvania, and now ATX- how does it feel to be living my dream!? What's the next place on his travel bucket list you might wonder? It's Peru!

Want to hear some more fun facts about Austin? Well, his first concert was the Black Eyed Peas and the last book he read was Weapons of Math Destruction by Cathy O'Neil. When asked who or what inspires him, Austin answered creative thinkers that see problems differently. It's refreshing to know Austin finds how others think and reason inspiring, it shows he truly wants to understand different mindsets and learn from others. We are grateful to give Austin a place to carry on his ambitions and establish a successful and meaningful career.

Austin loves to dive into new challenges, sort through ambiguity, and identify the true underlying problems. He has found that project simplification, clarification, and communication are the keys to getting team goals aligned, and ultimately, a successful deliverable. We are beyond excited to have Austin on board and cannot wait to see all he accomplishes here at Sock Club!