Published May 12, 2022
Welcome Sock Club's Newest Hire, Casey!
Our team continues to grow! Learn more about our new hire, Casey Cantrell, and his transition from the music industry as a Recording Engineer to the promotional products industry as a Software Engineer on Sock Club's spectacular Development team.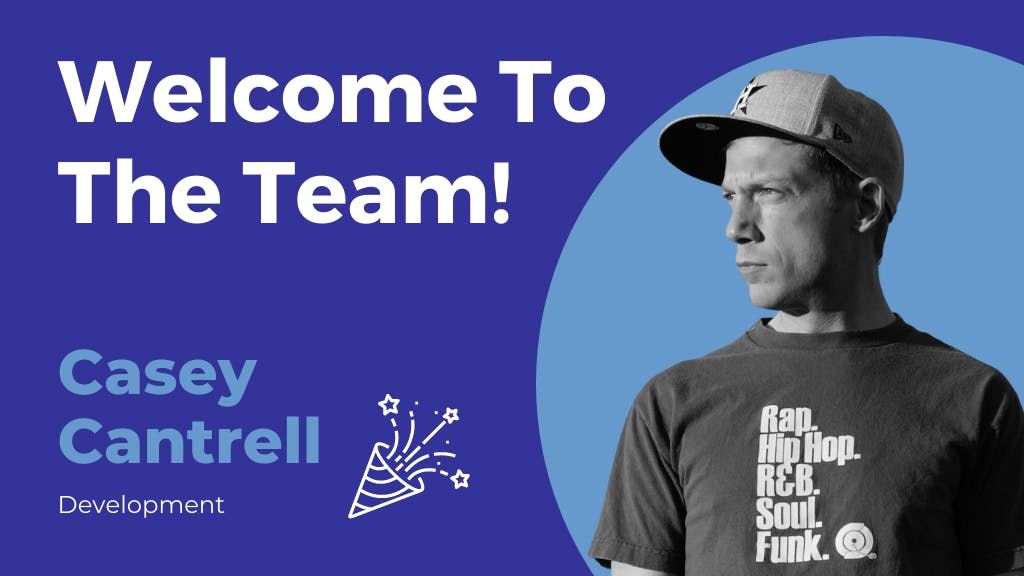 Who Is Sock Club's Newest Hire?
We are moving quickly to become the leading company for delivering experiences through well-designed socks. Through doing this, we have developed three core competencies: service, design, and pull-based manufacturing. Those core competencies empower us to build a meaningful, lasting, and scalable company that has set out to change textiles forever. It is very possible that we will put a Sock Club sock on every foot in America- and we aim to do so. The retail landscape is shifting along with textile manufacturing, and we want to be the catalyst for that change. A key component that influences our ability to succeed is our technology. We must be on top of technology changes, manage our systems, and have a team that thinks with a growth mindset.

In order to keep up with the consistent changes in modern technology and upgrade our user's experience, Sock Club hired (and is continuing to hire) talented developers that can both conceptualize and execute backend code to frontend design. Managing and bettering our systems and platforms is essential; the faster we can produce new updates to our platforms, the better experience our clients/customers will have, the faster we can produce socks, the better conversations our team members can have, and the more people will wear our socks. Without our development team, we wouldn't have a way to communicate with you- you wouldn't even be able to read this right now! Pretty crazy to think about.

This year, on our 10th Anniversary, Sock Club is growing at a rapid pace. But we still want to keep our small business roots at heart. And that begins with our people. Our philosophy behind growing our team is that we hire smart and creative people, and then find the right spot for them. Continuing our new weekly employee spotlight series to showcase all of the new faces around Sock Club, we are excited to introduce our newest employee, Casey Cantrell!

Casey is nothing short of electric; he brings his vibrant energy, funky hats, terrible yet funny puns, killer beats, and wizard tech skills to the Development team at Sock Club. Coming from the music industry, Casey wore a multitude of hats (figuratively AND literally) being a Recording Engineer, Producer, DJ, and Instructor- WHEW. His previous experience sets him up perfectly for his Software Engineering role. Understanding the back-end of our platforms is one challenge that Casey tackles like a champ, but transforming ideas into concrete and functional visuals is where Casey really shines. Essentially, Casey is a computer whisperer. Casey looks forward to continuing to make a positive impact at Sock Club by working on large projects such as designing our front-end new custom website and our soon-to-come new Sock Club homepage. Pretty big and cool stuff if you ask me!

Originally coming to Sock Club, Casey found the people to be "his kind of vibe" when translated means, "talented, ambitious, energetic, passionate, kind, creative, and pretty cool". He is most excited to be at a company where he can take on more responsibility, and see his work come to life (we are pumped to see it too!). Casey is here to make sure our websites and portal are up to date, fast, intuitive, aesthetically pleasing, and helpful so we can get socks on anyone and everyones feet.

What you may not know about Casey is he owns more shoes than what should be considered reasonable by anyone and the next place on his travel bucket list is Indonesia. Want to hear some more fun facts about Casey? Well, his first concert was the Wu-Tang Clan, and the last book he read was Snow Crash by Neal Stephenson. Snow Crash is an influential cyberpunk book and, fun fact, was where the term "metaverse" was first coined. If I could guess what Casey daydreams of, I would imagine something similar to this book. When asked who or what inspires him, Casey answered, "I draw most of my inspiration by daydreaming about the future." Poetic. We are grateful to give Casey a place to seek out and bring to life his dreams about the future.

Casey is an extremely talented developer and Sock Club is lucky to have him on board! So what are you waiting for? Check out our custom website and search around, knowing everything that pops up, highlights, and slides down was put there by Casey and our Development team. Casey wanted this blog to end with a pun, and I used to have great jokes on pairs of socks, but I lost one.

I hope that knocked your socks off.