Published June 3, 2022
Welcome Sock Club's Newest Hire, David!
Our team continues to grow! Learn more about our new hire, David Harper, and his transition from Administrative Support for Universities to Office Manager on Sock Club's Customer Service team.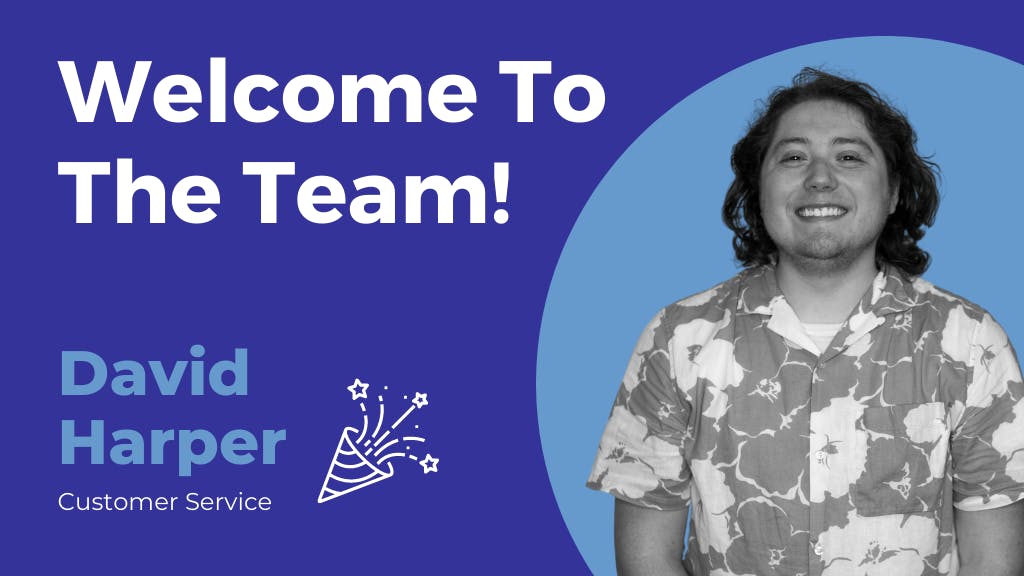 Who Is Sock Club's Newest Hire?
Sock Club is growing at a rapid rate and in order to keep up with the demand for our socks, we need a powerhouse team behind us. Our team is filled with creative, hardworking, and smart individuals, aligned with the holistic vision to become the leading company for delivering experiences through well-designed socks.

We strive to provide the best custom gift buying experience with free professional design resources, the fastest production time, and an obsession with customer service. We may look like a company that makes socks from the outside, but inside we are a team of developers, designers, and builders on a mission to change the entire promotional product industry.

Our obsession with proper customer service runs deep. We train all our employees on what it means to deliver exceptional customer service, with the notion that we must always put the customer first and help them with their needs- socks or not. Our customer service team truly embodies this and leads the charge by making sure our customers are satisfied. It's their goal to foster an easy, exciting, and smooth customer experience. Whether you have a question about Sock Club, your custom order, want to purchase socks in order, or anything in between, our customer service team is here ready to help!

Without our incredible customer service team, our ability to communicate with customers and be front runners in the custom sock game would be nearly impossible. Our customer service team works hard to manage the phones, our inbox, and live chat, so you can always speak to a real, living, and breathing person that is ready to help you. After listening to feedback from clients, customers, and our internal team members, our customer service team shares their insights with the entire Sock Club team to make sure we are always focused on providing the best experience for our customers.

When our customer service team isn't speaking to customers, they are packing and shipping sock samples to our clients and putting together sock boxes filled with hundreds of socks for upcoming trade shows. We understand that it's preferable to try on something before you buy it, so we proudly offer FREE samples of all our different sock types. Our customer service team makes sure to pick out socks in the specific style you are looking at and colors and patterns that align with your vision.

This year, on our 10th Anniversary, Sock Club is growing at a rapid pace. But we still want to keep our small business roots at heart. And that begins with our people. Continuing our new weekly employee spotlight series to showcase all of the new faces around Sock Club, we are excited to introduce our newest employee, David Harper!

After working as administrative support for various Universities, David is now an Office Manager on our Customer Service team. His previous experience with filling new faculty positions, supporting events and workshops, and creating memos and letters in support of departments' initiatives, has prepared him to work with Sock Club teams and help customers with their needs.

David was initially drawn to Sock Club from seeing our office culture and "overall vibe". Seeing inside bits of the team and office culture through our Instagram and reading more about our purpose as a company and who we are as a collective through our website, he saw Sock Club as a place he wanted to be a part of. He already finds Sock Club refreshing, working with people that are bright and friendly. He also sees immense potential to grow professionally, as he is eager to help out with the hiring process and HR side of things, Sock Club is excited to support him in his ambitions.

What you may not know about David, is he has an approximate knowledge of most things- which is pretty incredible when you think about it. I swear, whenever I have a conversation with him I learn something new! Want to hear some more fun facts about David? Well, his first concert was Bob Schneider and the next place on his travel bucket list is Greece or Iceland. I say, why not both? The last book he read was The Hocus-Pocus of The Universe by Laura Gilpin and when asked who or what inspires him, David said his friends' ambitions in their jobs. We are grateful to give David a place to carry on his ambitions and establish a successful and meaningful career working alongside fellow hardworking individuals.

David is truly a bright light in the office, bringing smiles and laughs wherever he goes. He is always listening to others' needs and going above and beyond in his daily duties to make sure everyone feels heard. Working hard to succeed, while maintaining a positive attitude, David is an amazing addition to the Sock Club team and we are lucky to have him on board!