Published June 9, 2022
Welcome Sock Club's Newest Hire, Mallory!
Our team continues to grow! Learn more about our new hire, Mallory Haines, and her transition from Event Marketing and Account Manager positions to Field Marketing Specialist on Sock Club's Marketing team.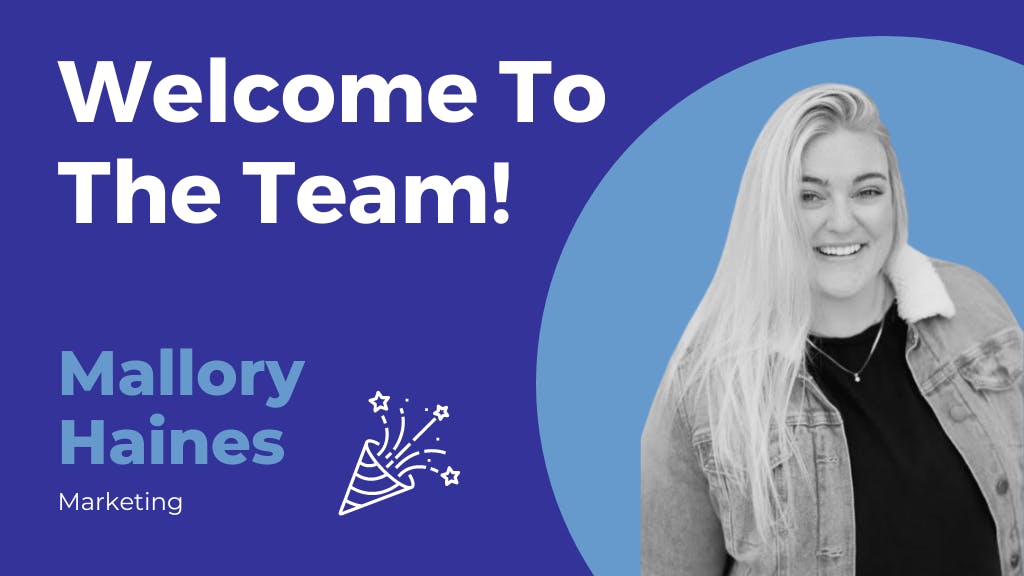 If I were to ask you what makes a business successful, you would probably say, a unique and high-quality product with excellent customer service. 

And you would be totally right!

These factors are crucial to the success of any business, and at Sock Club, we intentionally build these factors into our business mentality. We strive to be the leading provider of delivering experiences through well-designed socks with an emphasis on providing the best customer service to our customers. By prioritizing making our customer's experience the best, we believe that we will in turn succeed as a company.

It's with this mentality that we consider ourselves to be in the relationship business. We want to form new relationships and continue to maintain positive relationships with our customers. Having a great product, such as our custom made-in-USA socks, is all fine and dandy, but our ability to connect with customers and truly be a partner in creating experiences through custom socks is where we thrive.

Sock Club is proud of the relationships we have built and continue to foster with our clients. Don't just take my word for it though, check out our client spotlights to hear why clients keep ordering with us!

The beginning of any client relationship can start in numerous ways, but one of my personal favorite ways to meet someone is through in-person trade shows. A goal of the Sock Club Marketing team is to always be one of the most popular booths at a show- no matter where we go and what size our booth is. I may be a bit biased, but I think we do a pretty great job at accomplishing this.

I mean, a wall full of bright and fun designed socks, a claw machine filled with our specialty socks and surprise boxes, and FREE pairs of socks being handed out sounds like a booth I would want to go to if you ask me. Not to mention that the Sock Club employees working the booth are wearing their favorite pairs of Sock Club socks (no shoes, just socks) which is pretty rad.

Besides our booth being essentially a mini carnival, I feel that now, more than ever, we crave human interaction and connection. This is why I think trade shows are so great. We have the chance to meet hundreds- if not thousands- of people from all walks of life. In having conversations with some awesome people, we can on-the-spot ideate how custom socks can be of value to them. Then together, we can create some amazing socks that share an experience.

As we continue to go to more and more trade shows, our customer base continues to grow. And this year, on our 10th Anniversary, Sock Club is growing more than it ever has before. But we still want to keep our small business roots at heart. And that begins with our people. Continuing our new weekly employee spotlight series to showcase all of the new faces around Sock Club, we are excited to introduce our newest employee, Mallory Haines!


Who Is Mallory?

Mallory comes from an exciting background in Event Marketing and Sales, making her perfect for the role of Field Marketing Specialist. Mallory was initially drawn to Sock Club to get back into planning and attending events, but once she started the interview process, she felt the whole energy of Sock Club was special, and she knew she wanted to be a part of it. With her positive energy and determination to innovate, she is already fitting right in!

In her new role, Mallory is most excited to streamline the events process, add more new and unique events, and increase the impact of events. We are grateful to give Mallory a place to carry out her ambitions and we can't wait to see what she accomplishes!

What you may not know about Mallory, is she moved to Austin by putting a bunch of cities into a hat and picking out Austin, then she moved a few weeks later after she graduated. How adventurous and fun? We are SO glad she picked Austin! Want to hear some more fun facts about Mallory? Well, her first concert was The Chicks in the early 2000s (P.S. they are headlining at ACL this year). The next place on her travel bucket list is the Amalfi Coast in Italy and the last book she read was Verity by Colleen Hoover (a crazy read she reports!). When asked who or what inspires her, Mallory said her mom inspires her through just being who she is and that she is a self-proclaimed mama's girl!

Mallory is energetic, thorough, and an absolute workhouse. Plus, her outfits are always on point, inspiring the rest of the marketing ladies to up their fashion game. She is always coming up with new ideas and helping problem-solve when other team members have questions. Already changing the way events are streamlined, Mallory is making waves at Sock Club. Going above and beyond in her daily duties to make sure everything is done to the best of her ability, Mallory is an amazing addition to the Sock Club team and we are lucky to have her on board!