Published August 30, 2022
Why Companies are Sourcing Swag from USA Sock Manufacturers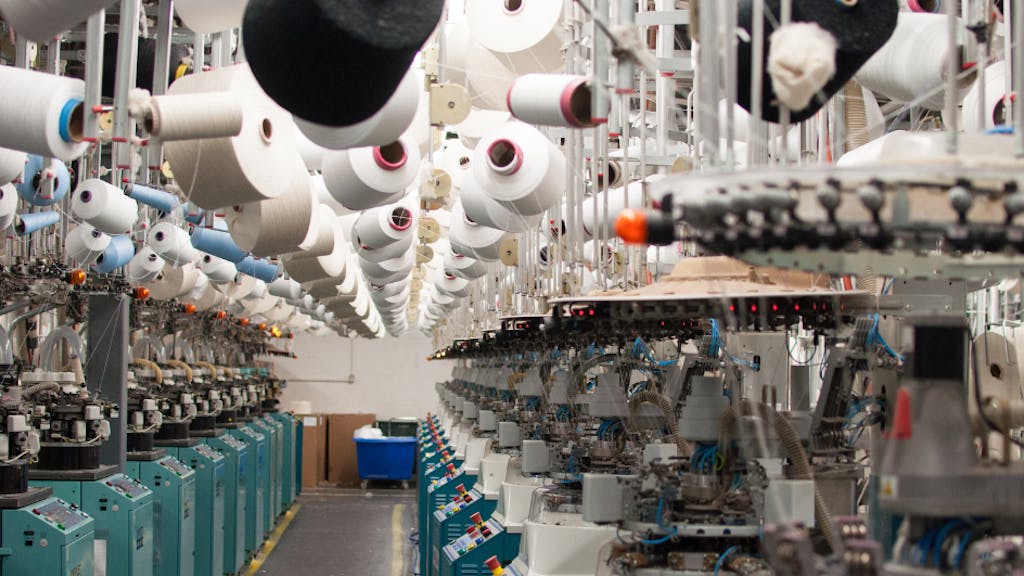 Businesses made and born in the USA have a story because they represent an American identity. Not only will you get unique high-quality products, but you can also trust these brands to deliver. 

In this article, we will discuss everything you need to know about swag and the reason why companies are sourcing swag from USA manufacturers. 


What is Swag?
Generally, swag is used to define promotional items and merchandise that businesses give freely to customers, potential customers, and the public. Swag is used by different brands as part of their branding strategy for different types of events.

For instance, different wholesale sock companies design custom socks as swag to help businesses promote their brand, generate goodwill, and reward loyal clients. These branded socks then help to boost these companies' visibility in the marketplace because it provides people with something tangible to remember them. 

Businesses look to wholesale sock manufacturers to customize socks with logo as swag for every event they attend. It is therefore important for companies to design custom socks in bulk for a quick turnaround time.
Why USA Custom Swag Manufacturers Are Better
Purchasing your swag product in the USA helps to strengthen our local small businesses, bolster the economy, and create more jobs here at home. At Sock Club, we've partnered with mills in North Carolina to make our high-quality custom socks in bulk, resulting in a faster turnaround time for our customers.

Sock Club's mission is "... to deliver the highest quality products, in the shortest turn times, at competitive prices." These offerings are what sets us apart from our competitors, and none of it would be possible if our products weren't manufactured here in the U.S.A. 

While overseas production can be a cheaper option, the quality of products is often sacrificed. When a product is labeled as "Made in the U.S.A.," there is a universal expectation that the product will be of high-quality, and that the shipment a buyer receives will be true to how it was marketed. Ultimately, the unparalleled quality of USA-made products compensates for the often higher costs. 

Not to mention, shipping times are reduced drastically when products are made, fulfilled, and shipped domestically. Our production team, located in North Carolina, has been knitting high-quality socks for some of the world's finest and most well-known brands for over two generations. Because of our US-based manufacturing, we are able to send custom sock orders to our customers in as soon as 5 business days, whereas overseas it can take anywhere from 15-30 days. 

In addition, we have partnered with numerous vendors that supply American cotton, spin that cotton into usable yarn, dye the cotton, then knit and finish the socks. We're proud of the partnerships that make up our supply chain and make our socks possible. We're also proud that our products are marked by the sticker that reads "Made in the U.S.A."

You can design customize socks with logos from custom sock manufacturers in the USA that are unique and brings you a step closer to connecting with your customers in a meaningful way.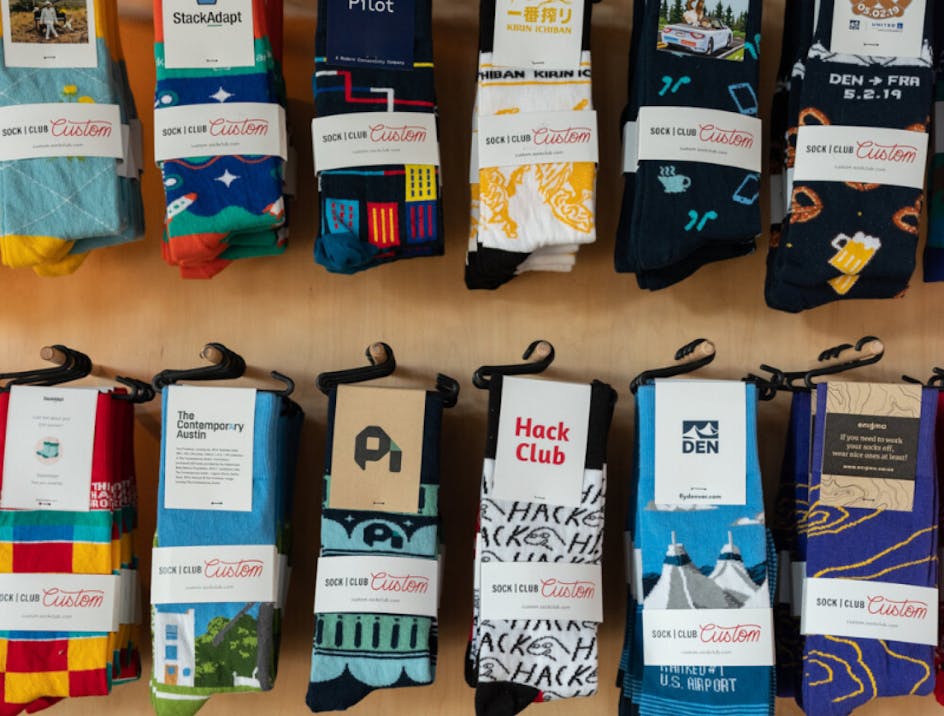 Why Custom Socks With Logo Make Great Swag
As the marketing world increasingly becomes competitive, businesses and brands are looking for new ways to stand out. To achieve this, we usually recommend that you customize your socks with logo as giveaways during events.

Unlike key chains, pens, or lip balms, branded socks are one of the best swag options. They're not size, gender, or age specific. And unlike other sock brands, Sock Club socks are designed completely unique to your company. 

Here are other reasons why customize socks with logo make great swag. 

Custom Logo Socks Make a Great Impression
Everyone loves a comfortable, great-looking pair of socks and high-quality custom socks are something everyone can appreciate. 

72% of consumers say the quality of a promotional item impacts brand reputation (PPAI). 

Logo Socks Are Unique and Novel
Previously, custom logo socks were not identified as a common giveaway item, which means they are still a novel swag. In 2019, the Advertising Specialty Institute (ASI) listed writing instruments, t-shirts, and desk accessories as their top 10 promotional products.

Even though the list did not contain custom socks with logo, these promotion socks are less likely to be ignored compared to the 15 other logoed pens people receive.

Custom Branded Socks Have Unique Designs
Each pair of custom designs socks is completely unique to that company. Our sock design team designs custom socks that are creative, compelling, and colorful. They create designs that are non-gender specific and that everyone will look forward to wearing. These custom-designed socks will become your prospect's new favorite pair.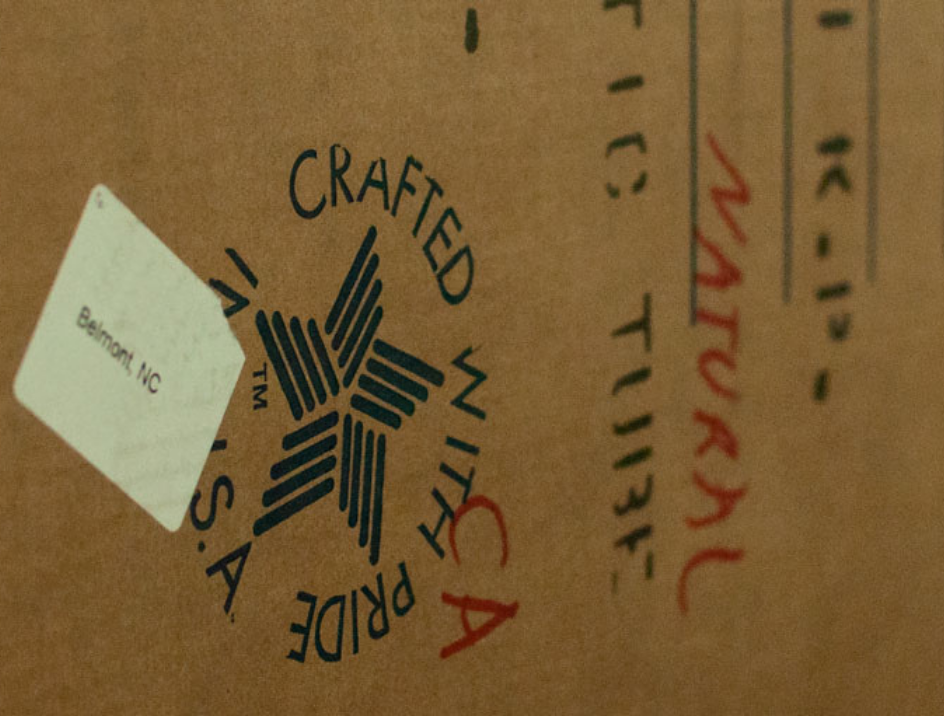 Who is Sock Club?
If you're looking for a custom socks manufacturer to purchase custom socks in bulk that can be used as swag for trade show giveaways or event promotions, Sock Club is your go-to place for high-quality custom socks. 

Sock Club is one of the best custom sock companies that are  U.S. based and specialize in branded knitted socks. All you need to get started on a custom logo sock project is to submit your logo and you'll receive fully custom designs in as soon as 1-2 business days.

As a wholesale custom sock manufacturer, Sock Club also offers fast shipping and the quickest turnaround times (as little as 5 days!).