Published September 15, 2022
Why Custom Socks are Perfect Holiday Appreciation Gifts
59% of employees would be more likely to stay with their job if their employers provided them with "meaningful" holiday gifts (Snappy). What is a meaningful holiday gift you ask? According to Snappy, "56% of respondents said that they have either forgotten to use or lost a gift card before redeeming it - meaning that those types of investments don't always translate to happier teams!" Therefore, you should be looking for holiday gifts that won't be forgotten about and can be used again and again. 

One of the best holiday gifts for board members, gifts for executives, or employees gifts is custom logo socks. Branded socks are gender and size-inclusive and ship easily. Custom sock designs can be more holiday themed, or they can be designed to be worn year-round and just be utilized in a corporate gift box during the holiday season.  


Why are custom dress socks the perfect holiday appreciation gift for clients?


1. Helps Strengthen Client Relationships
It's customary to give your clients thank you gifts either during the holidays, at the start/end of a contract, or after completing milestones. Giving clients gifts show them that you appreciate their business and are grateful for your professional relationship. A strong client relationship can reduce turnover and even increase client retention. Custom logo socks are a unique and practical gift that will stand out.


2. Can Be Shipped Directly To Your Client List
In a post-COVID world, you may not routinely see your clients in person. They may be dispersed all over the world and your meetings may be routinely virtual. This is why it's important to look for client gift ideas that don't cost a fortune to ship. 

Custom logo socks are the perfect solution due to their lightweight nature and foldability. They can be shipped in a traditional soft-sided mailer or you can opt for a fully custom box to create corporate gift boxes. Sock Club offers direct shipping to your clients for a small fee. Ask an account manager for more details.


3. Easy to Design and Customizable 
Designing holiday socks in bulk is simple and free. You can choose to send us your logo and our in-house design team will return free virtual designs to you in as soon as 1-2 business days. You can use our free 3D Guided Sock Design Builder. Lastly, you can use our free downloadable Illustrator and Photoshop sock design templates. 

Unlike other holiday gift options, these customized holiday socks are one of the most cost-effective gifts for a group because you can order custom socks in bulk. They're also one-size-fits-most so you only have to order one size.


Why are custom dress socks the perfect holiday appreciation gift for employees? 


1. Employee Appreciation Gifts Increase Employee Retention 
Earlier, we noted that over 50% of employees are more likely to stay at their job if they receive a holiday gift from their employer. Employees who feel appreciated are more likely to stay and will therefore help you decrease overall employee turnover.

Custom logo socks are the perfect employee appreciation gift because they can be customized with your company branding and fun sock puns. Our personal favorite is "You are my Sockstar!". These customized socks can be paired with a custom box to create employee gift boxes for a complete gifting experience. 

This small gesture of appreciation can be utilized for any employee on any occasion. Custom socks with logo can be gifted to employees when they do a good job, on their workaversary, or even for their birthday. 


2. Most Employees Prefer Non-Cash Incentives
In a recent study by the Incentive Marketing Association, 65% of employees prefer non-cash incentives. Gifting an employee appreciation gift like custom logo socks can feel a lot more personable and thoughtful. 

Branded socks can also be a great addition to an employee gift box containing other treats, presents, and branded swag.

You can also involve your employees in the design process by using our 3D-guided custom sock builder. Let employees design their favorite sock and incentivize the winning sock designer with an even bigger prize. This activity can help build team culture and create a sense of camaraderie.


3. Custom Branded Socks Can Create a Tradition
A great way to increase your company culture is to make a tradition of your custom dress socks. Every year before the holiday break, gift your employees a new pair of holiday socks that can help keep them warm. You can even include a few pairs for them to give to their family members. When you show an employee that you not only care about them but that you also care for their family it can help increase overall employee satisfaction. We even have baby socks for the little ones! This can be a great opportunity to connect and create custom gifts for remote employees. Executive gifts like custom socks are also a great way to celebrate work milestones.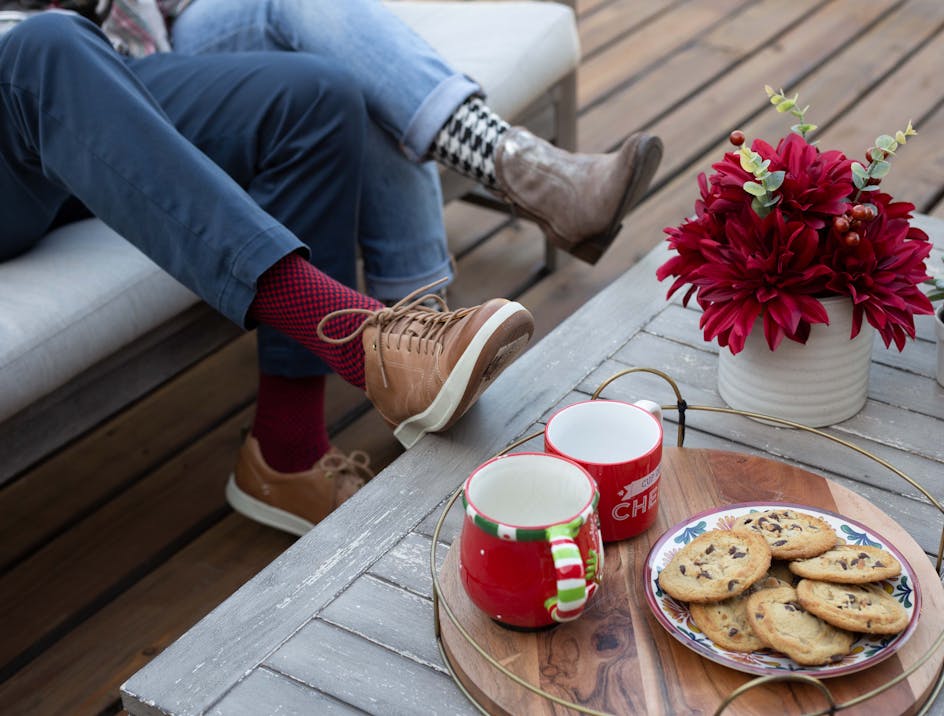 Conclusion 
To get started designing holiday socks in bulk send us your logo! Our in-house design team will send you free virtual designs in as soon as 1-2 business days. We have over 50 different yarn colors that allow us to match almost any branding guidelines! 

If you prefer to be more hands-on with the design process or want to involve your employees in the creative process of their employee appreciation gift, then you can utilize our brand new 3D guided sock design builder. Be sure to visit our Sock Drawer for design inspiration. 

Lastly, for graphic designers, you can download our free Illustrator and Photoshop templates to design your custom dress socks from scratch. 

Once you submit your logo or design our sock experts will review it. Once you approve your virtual proofs, your logo socks can be shipped to you in as soon as 5 business days! Ask an account manager for the most up-to-date lead times and make sure to order in time for the holidays!