Client Spotlight
How we Helped Bozz Prints Add Custom Socks to their Product Line
Brand designed custom socks attracted new business for Bozz Prints.
Bozz Prints was founded by John Bosley (Bozz) in Des Moines, Indiana in 2015 with the vision of paying homage to the cities and landmarks widely known and loved through thoughtfully designed art, apparel, and other goods. The idea took off and Bozz Prints quickly transitioned from a one-man enterprise operating out of John's basement to a full-blown brick and mortar shop in West Des Moines' Historic Valley Junction. 

As the company's popularity continues to rise, John has not lost sight of the importance of building brand awareness in scaling for long-term success. He recognized the potential to attract a new set of eyes by adding a new product to the store and initiated a partnership with Sock Club to create high-quality custom socks that would be sure to generate a buzz. 

It became clear that the new product was a hit following the initial launch in the Summer of 2020 when socks were suddenly flying off the shelves. The demand was so high, in fact, that Bozz Prints has now partnered with Sock Club to manufacture fourteen design variations of the fan-favorite product to offer their customers.

Bozz Prints is not in the game of selling fast fashion. The brand was founded upon the principles of creating high-quality, well-designed items that customers would be able to enjoy for years to come. Unfortunately, a commitment to quality often comes with a hefty price tag – an especially prevalent challenge for smaller retailers.

John and his team understood that expanding Bozz Prints' existing product line was a strategic move to grow their revenue and market share. They also understood, however, the importance of maintaining their reputation of delivering quality products at a reasonable price point. When sourcing a new product, Bozz Prints needed a supplier they were confident would deliver on both of these key value propositions.

Custom socks have been rapidly growing in popularity over the past few years, as consumers are becoming more interested in personalized items that give them an outlet for expressing themselves. The product is unique in its ability to resonate with niche markets by featuring designs that represent the audience's style, interests, and/or identities.

The Bozz Prints brand embodies the same notion of personalization in design and encompasses a product line that connects with its audience through a love of travel, architecture, and scenery. The team had been thinking about adding socks to their collection for a while and saw an opportunity to grow their customer base to achieve business goals by launching custom-designed socks as a new product offering.

While researching custom sock manufacturers, John learned about Sock Club from an online recommendation. Upon reading reviews highlighting the company's emphasis on quality, he was sold: "Sock Club is a quality product and the fact that they're made in the USA is a huge deal. That and their customer service team is top-notch and help you every step of the way."

Bozz Prints is unique in that John designs every product found in the store, and the socks are no exception. Using our custom sock design template, John created a handful of designs, each one uniquely capturing the essence of life in Iowa.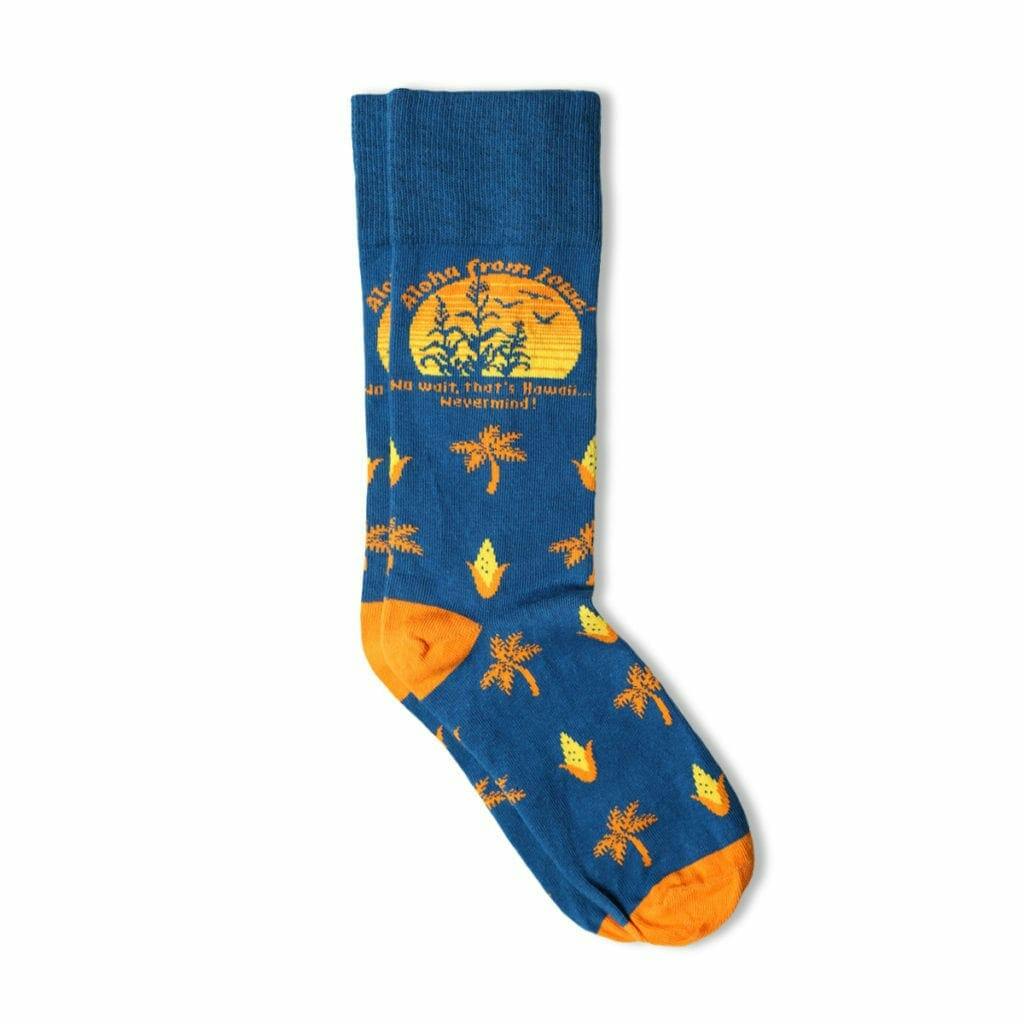 After adding socks to their product inventory, Bozz Prints saw a significant increase in brand visibility as the audience of potential customers widened. This has given the company the market share needed to continue growing profit and sales volume at a steady rate just like they set out to do.

In addition to boosting brand awareness, the product launch (and the subsequent additions of several design variations to the store) has also allowed Bozz Prints to maintain brand loyalty among existing customers. By expanding the product line, previous customers now have a fresh opportunity to engage with the brand and enjoy the timeless, art-centric designs they came to love in a fun, new way.

"We're a small design studio and retailer based out of Iowa. We're just trying to have fun making cool things and socks were next on our list. Having Sock Club there to make that reality made all the difference. They've been selling well and we can't wait to make even more!"