Client Spotlight
Custom Socks for Freshmen a Hit at St. Francis High School
St. Francis High School was founded under the leadership of the Very Rev. Justin Figas, OFM Conv., who had long desired to establish a secondary school for young men in the Niagara Frontier area.
From its inception, St. Francis High School has been administered and staffed by the Conventual Franciscan Friars of the Province of St. Anthony of Padua, USA. It is governed by a Board of Trustees and directed by a School Board composed of lay and religious professionals who oversee the policy and management of the school. The school's faculty includes dedicated lay men and women and religious sisters.
They opened their doors in 1927 and look forward to celebrating their 100th anniversary in a few years. They aim to set themselves apart from other all-boys catholic schools in their market.
According to Sue Schaffstall, Vice President of Marketing & Communications, setting themselves apart has become increasingly difficult over time. 
"There are several all-boys schools in our area, and as our population has declined, completion for students has increased," said Schaffstall. "In addition, the closure of our Catholic feeder's schools over the past several years has made it more difficult to attract students who have no other option but to enter the public school system."
Part of that competition is definitely the amenities and programs offered by schools with more reliable resources. "As a non-profit organization, we do not have the resources to compete on the same level with the public school districts and other catholic and private schools that have deeper pockets," said Schaffstall.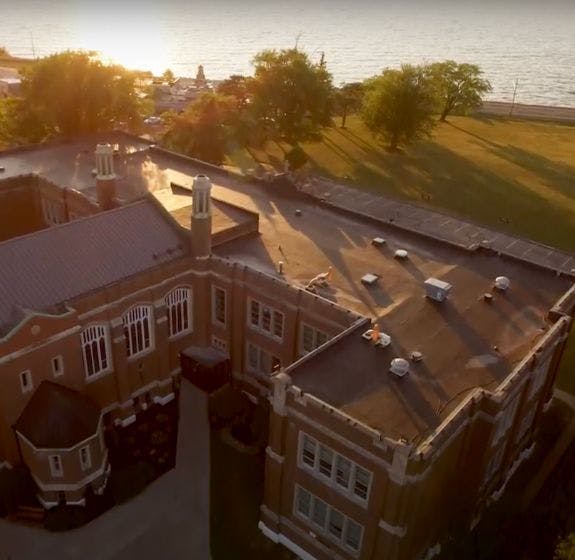 The St. Francis team discovered Sock Club when looking for a quick ship custom product at a good price. "We had a great experience with Sock Club. The buying process was very efficient and smooth. Even though we were in the midst of Covid, that was not a factor," said Schaffstall.
The socks were a piece of a welcome package that St. Francis put together for their incoming freshmen. Sure said, "we promoted the 'Welcome Box' through our social media channels to encourage participation in an accepted students day. This year we had the best attendance we've seen in 5 years!"
Not only was the initial promotion successful, but the school was able to channel that excitement into more success for their socks.
"Our students really like the product and we know that they are wearing the socks," said Schaffstall. "We ordered extra socks and sold them in our campus store. This has been very successful. We are excited to have something else to offer the students that give them the chance to show off school spirit in a unique way!"
The St. Francis team has become a raving fan of our socks! "Sock Club will always be an option when we are looking for new promotions," said Schaffstall.
Want to create a special gift for your incoming freshmen? Click the button below or email us at custom@sockclub.com to get started.