Sole-Mate Stories
Custom Wedding Socks Are The Stars of the Dance Floor at Kellen and Kevin's Wedding
Would you say that your personalized wedding socks were a sock-cess?
Absolute sock-cess. It was our favorite wedding favor and a fun display of our personal styles!


How did the two of you meet?
We met at my best friend's wedding! He asked to take me on a hike.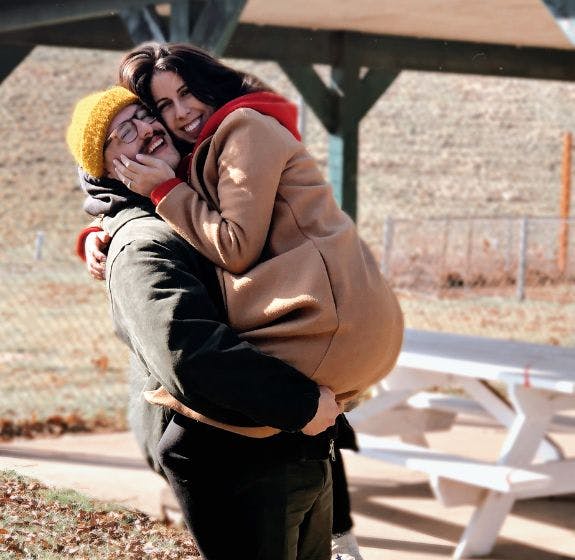 What are some challenges that you faced when picking party favors for your wedding guests?
We wanted to select a favor that was unique and that the guests would enjoy long past the wedding. The custom socks were PERFECT.
What was important to you in the customization of your wedding favor ideas? What impression did you want them to leave on your guests?
It was important to us that the socks were comfortable (which they were!!) and that they were a reflection of our personalities. We incorporated our interests and personalized them so that our guests would always remember the fun that they had at our wedding when wearing our socks! A few of our guests wore the socks during the reception on the dance floor! 


How did you distribute your fun wedding socks at your wedding?
We had them nicely arranged in a large wooden planter at the entrance of the reception.
What advice do you have for couples who are considering making fun socks for weddings?
Do it! It was so much fun for my husband and I to create our custom socks based on our interests and style, and Sock Club was super easy to work with and really impressive in bringing our ideas to life. Our guests still talk about our socks to this day and send us pictures of them wearing the socks at different events. They're so comfortable I wish we would have bought more!!
Want to make your own fun dress socks for your wedding?
Sock Club is a company that specializes in designing custom socks for various occasions, particularly weddings. They aim to create unique, tailor-made bride and groom socks that reflect each couple's style and preferences. 
Working with Sock Club is great because they can help design custom dress socks for wedding favors, and you can order as few as 30 pairs. 
Collaborating with a dedicated designer, couples can select wedding colors, patterns, and designs that match their wedding theme and style. They can even add personalized messages such as their names and wedding dates to make the socks even more special. 
Once the design is finalized, Sock Club's skilled craftsmen use high-quality materials and advanced manufacturing techniques to bring the socks to life. The custom wedding socks not only look fantastic but also feel comfortable and durable. 
Sock Club's custom wedding socks can serve multiple purposes, including men's wedding socks, groomsmen dress socks, bridesmaids socks, socks for the wedding party, and even for the happy couple themselves. 
With Sock Club's expertise and attention to detail, they are the perfect partner for couples who want to add a touch of personality and style to their special day. They understand the importance of a wedding day and aim to make it memorable for everyone involved.