Client Spotlight
Photogenic Supply Orders Custom Wholesale Socks from Sock Club for their E-Commerce Store
Photogenic Supply was launched in 2016 in Philadelphia, PA by a photographer who wanted to make high-quality t-shirts about Photography.


Since then, they have designed and launched over 100 high-quality products including gifts, accessories and apparel, all for people who are passionate about Photography.


Their mission is to help everyone Celebrate A Passion for Photography, and they do that by maintaining very high standards in the design, manufacturing, photography and marketing of all of their creations.


Over the past 6 years, they have shipped our products to thousands of customers in 48 countries around the world. Some of their most famous creations include the 35mm Pint Glass and The Photographer's Coloring Book.


They have also done collaborations with large film photography accounts such as Expired Film Club (1.4 Million TikTok followers), Japan Camera Hunter, and more.


When Pano Kalo, Founder at Photogenic Supply, was looking to add items to their line, it was challenging to find new items that met their standards.


"Finding high-quality US manufacturers for all of the wide range of products we design and offer has been challenging at times," said Kalo. "We try very hard to use only domestic manufacturers as much as possible - the product quality tends to be higher, and we can work closer with them on product design and manufacturing to ensure a very high-quality final product."


Additionally, it is important to the Photogenic team that they are able to test products at a relatively low risk before investing fully. 


"We like being able to order a relatively small MOQ when launching new designs so that we can offer our customers several different designs at once," said Kalo. "We then re-order the most popular designs as they sell out."


For both of those reasons, when Kalo found us through an internet search in 2017, Sock Club met the criteria of a new vendor, and the Photogenic Supply team placed their first order. 


"We first ordered from Sock Club back in 2017 and were very impressed with the quality of the product we received," said Kalo. "We love that it's made in the USA from US grown cotton. In addition, the excellent design work that Sock Club provides is wonderful, and the super high level of customer service is really unique and hard to find these days. Also, the ultrafast turnaround is amazing."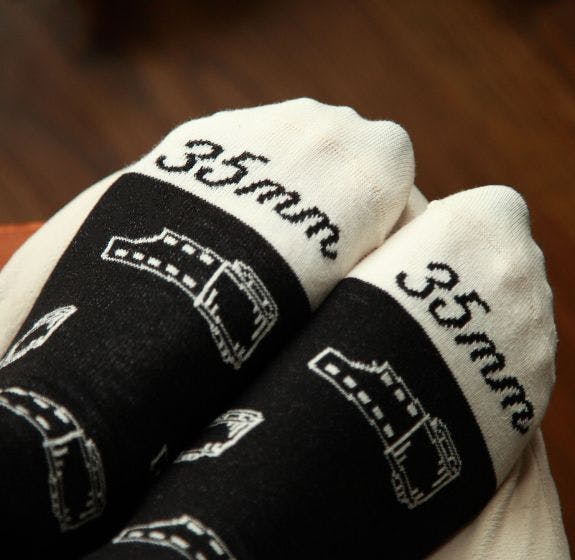 Since their first order in 2017, Photogenic Supply has ordered and reordered, and continues to be impressed with the quality and ordering experience.


"If anything, ordering this time around is much easier than our very first order over 5 years ago, since everything is done through the portal now," said Kalo. "Definitely going to come back and make some more new designs next year when we sell through these."


We are honored to be a part of this meticulously sourced and design-focused line, and are excited for the future!


To create your own unique merch for your online store, click the link below or email us at custom@sockclub.com.