Client Spotlight
Frostburg's Socks With Logo Become an Instant Hit With Alumni and Students
Frostburg State University has a unique, valuable education for everyone! No matter what major students pick, they'll enjoy high-quality, active learning experiences that prepare them for the real world. FSU is also one of the most affordable 4-year colleges in the state of Maryland. 
The FSU Foundation hosts Bobcat Giving Day, which is a 24-hour online fundraising event that brings the FSU community together. Alumni, students, parents, faculty, staff and Bobcat fans all over the world can make a difference for Frostburg on this special day! 2023 marked the 2nd Annual Giving Day event.
Every donation helps important programs at FSU. Participation in the Annual Giving Day shows that you believe in FSU and the different programs it offers. Participation encourages the participation of others. In addition, Giving Day is a way to engage FSU alumni to remain committed to their alma mater and to help future Bobcats pursue their dreams.
"As with most higher education institutions, the budget is always a challenge," said Stephanie Loar, Annual Giving Specialist at the Frostburg Foundation. "Coupled with declining enrollment, especially as a result of COVID, FSU is always looking for ways to promote our students' academic accomplishments while increasing enrollment."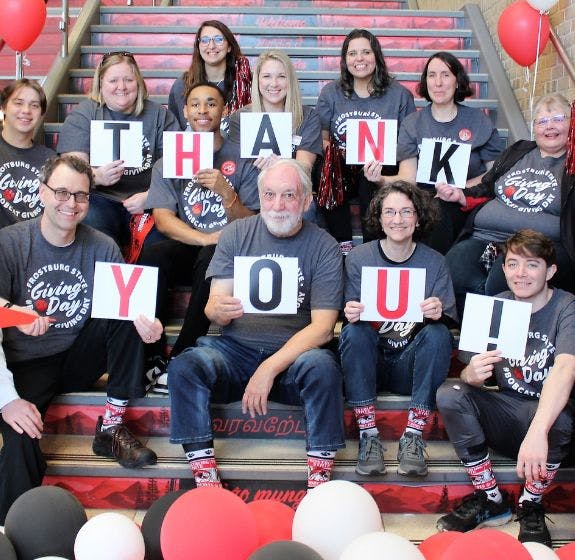 Custom socks were just one of the options that Frostburg considered for their alumni gifts, but after getting sock designs from us, the Frostburg team was sold. 
"The buying process was very seamless. The orders were placed online and were very affordable for our budget," said Loar.
Loar and her team used branded socks to create a program that was designed to get donations up to an ideal level, and to be proactive about giving.
"For our Annual Giving Day, FSU offers a pair of customized, limited-edition Bobcat socks for donors who make a gift of $60 or more, while supplies last. This also encourages donors to make their gifts early!"
FSU ordered 500 pairs of socks for this year's Giving Day, and by halfway through the 24-hour event, all of the socks had been claimed by donors making at least the minimum $60 gift. 
FSU's next Giving Day is scheduled for March 6, 2024. This fall, the Frostburg team plans to reach out to Sock Club to place a repeat order. FSU would highly recommend Sock Club to others interested in using customizable socks as gifts for donations.
According to FSU's Annual Giving Specialist, Stephanie Loar, "We received very positive feedback from the community on the look of the sock as well, especially the attention to detail within the design. The socks were such a hit that we have noticed alumni wearing them at other events on campus. I look forward to working with our design team on next year's Giving Day sock design!"
Want to see how custom swag from Sock Club can power your fundraising efforts? Click the button below or email us at custom@sockclub.com.