Published May 3, 2023
10 Creative Band Merch Ideas
Investing in high-quality, custom merchandise is essential for artists as it generates income, promotes their brand, and engages fans. By implementing effective merchandising strategies and offering diverse and unique fashion merchandise, artists can maximize sales, strengthen their brand identity, and stand out in the industry.
Rebecca Palomares
Senior Account Manager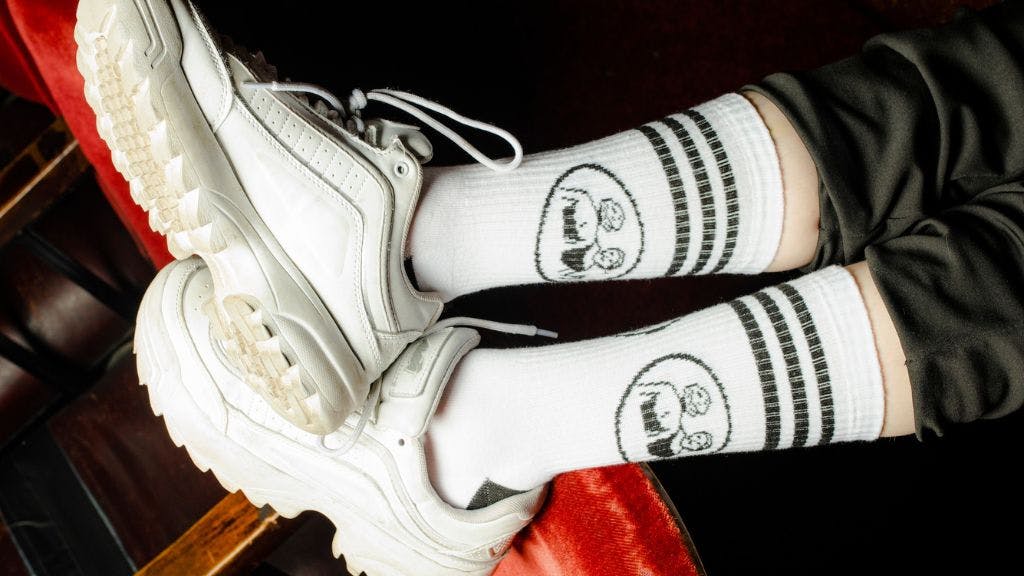 In today's competitive music scene, having eye-catching and unique merchandise is essential for both established artists and emerging talents. Merchandise, or merch, not only helps to generate income but also serves as a promotional tool and a way for fans to connect with their favorite artists. 
In this comprehensive guide, we will explore a wide range of fashion merchandise and corporate merchandise ideas, from the tried-and-true classics to innovative and niche offerings. By leveraging these ideas and implementing effective merchandising strategies, you can create a thriving online merch store, boost your brand awareness, and increase your fan base.
1. Custom Socks: A Trendy and Comfortable Band Merch Idea
One of the hottest trends in tour merchandise right now is custom socks. Not only do they offer a comfortable and practical option for fans, but they also provide a unique and eye-catching way for artists to showcase their brand. With the growing popularity of statement socks, incorporating your band's logo, lyrics, or artwork onto a pair of high-quality, custom-designed socks can be a great addition to your merch store.
When choosing a supplier for your custom socks, look for a company that offers high-quality materials, low minimum order quantities, and quick turnaround times. This will ensure that you can create a product that fans will love and be proud to wear, while also keeping your costs and inventory risks low.
2. Creative T-Shirt Designs for a Timeless Classic
T-shirts have long been a staple of band merch, and for good reason. They are a versatile and universally appealing fashion item that fans of all ages can enjoy. However, to stand out from the crowd, it's essential to offer unique and creative t-shirt designs that not only feature your band's logo but also incorporate elements of your music, lyrics, or album art.
Consider experimenting with different styles, colors, and materials to cater to a wider audience. For example, you could offer vintage-inspired designs, eco-friendly materials, or even limited-edition collaborations with other artists or brands. By continuously updating and expanding your t-shirt offerings, you can keep your fans excited and engaged with your merch store.
3. Caps and Beanies: A Head-Turning Merchandise Idea
Headwear is a popular and versatile merch option that can appeal to a wide range of fans. From snapback hats and baseball caps to cozy beanies, offering branded headwear can help increase your merch sales and give fans another way to show their support for your music.
When designing your custom hats or beanies, consider incorporating your band's logo, colors, and style. You can also experiment with different materials and embroidery techniques to create unique and high-quality music merch that fans will be proud to wear.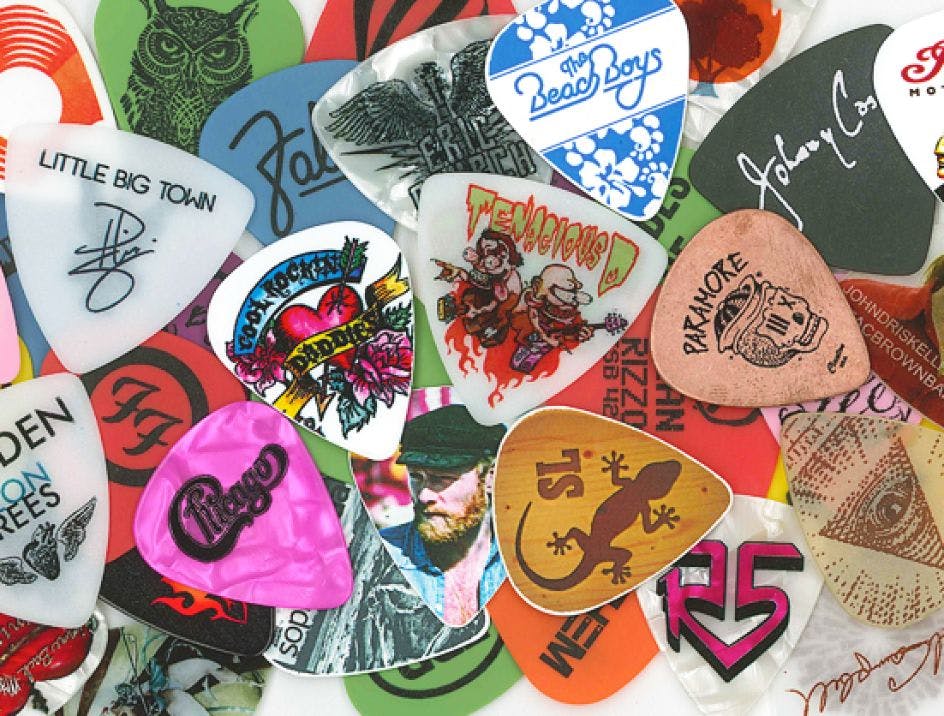 Custom guitar picks as band merch from Clayton Guitar Picks (image: Clayton USA).
4. Unique Promotional Merchandise: From Guitar Picks to Coffee Beans
In addition to traditional band merch like clothing and accessories, consider offering unique promotional merchandise that showcases your band's personality and creativity. This can include items such as:
Custom guitar picks featuring your band's logo or album art
Limited-edition colored vinyl or special edition album releases
Signature coffee beans or tea blends, paired with branded mugs or tumblers
Custom-designed artbooks, lyric books, or poetry collections
One-of-a-kind, hand-crafted art pieces, such as paintings or sculptures
By offering exclusive and unique promotional merchandise, you can further engage your fans and provide them with memorable, conversation-starting items that celebrate your music and brand.
5. Concert Merch: Commemorate the Live Experience
There's nothing quite like the energy and excitement of a live concert, and offering exclusive concert merch can help fans remember and cherish that experience long after the show has ended. This can include:
Limited-edition tour t-shirts, featuring concert dates and locations
Signed posters, vinyl records, or setlists from specific shows
Exclusive merch bundles, available only at live events
Photos or artwork inspired by memorable performances or tours
By offering concert-specific merch, you can create a sense of exclusivity and connection for fans who attend your shows, while also encouraging others to catch you live in the future.
6. Gaming Merch: Connect with Fans Through Their Other Passions
As the worlds of music and gaming increasingly intersect, offering gaming-related merch can be a great way to connect with fans who share both passions. This can include items such as:
Custom-designed controller skins or console decals featuring your band's logo
Collaborations with popular video game franchises or characters
Limited-edition collectible figurines or statues inspired by your music or persona
Apparel or accessories featuring gaming-inspired designs or references to popular games
By tapping into the gaming community, you can expand your audience and create unique, conversation-starting merch that appeals to a broader range of fans.
7. Sports Merch: Score Big with Athletic-Inspired Offerings
For fans who love both music and sports, offering sports-themed merch can be a winning combination. This can include items such as:
Custom-designed jerseys or athletic wear featuring your band's logo or colors
Collaborations with popular sports teams or athletes
Limited-edition collectible items, such as trading cards or bobbleheads
Fitness-inspired accessories, like branded water bottles, gym bags, or sweatbands
By incorporating elements of sports and athleticism into your merch offerings, you can appeal to a wider audience and give fans another way to showcase their support for your music.
8. Celebrity Merch: Leverage the Power of Star Power
Collaborating with well-known celebrities or influencers can help boost your brand awareness and increase the appeal of your merch offerings. This can include:
Limited-edition capsule collections designed by or in collaboration with popular celebrities
Exclusive meet-and-greet experiences or VIP packages for fans
Social media partnerships and promotions featuring your merch
Co-branded merchandise with other influential artists or brands
By tapping into the star power of celebrities and influencers, you can elevate your merch offerings and create buzz around your brand.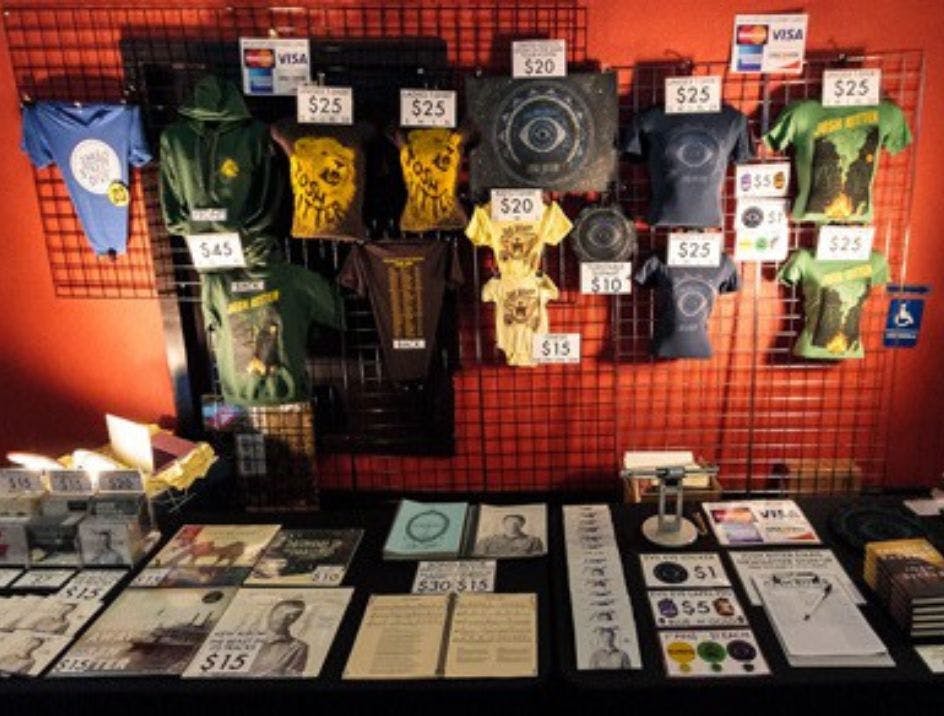 Josh Ritter's tour merchandising display (image: Music Industry How To).


9. Merchandising Display: Showcase Your Merch in Style
An eye-catching and well-organized merchandising display can make all the difference in attracting fans to your merch table or online store. Consider investing in professional-quality display materials, such as:
Custom-designed banners or signage featuring your band's logo and branding
Modular display units, such as collapsible shelves or racks, for easy transport and setup
Creative lighting solutions, like LED strips or spotlights, to highlight your products
Themed or branded packaging, such as custom-printed bags or boxes
By creating a visually appealing and cohesive merchandising display, you can showcase your products in the best possible light and entice fans to make a purchase.
10. Merchandising Strategies: Maximize Your Sales and Fan Engagement
In addition to offering unique and eye-catching merchandise, it's essential to implement effective merchandising strategies to maximize your sales and fan engagement. This can include:
Offering limited-time promotions or discounts on your merch
Creating seasonal or themed collections to generate excitement and anticipation
Utilizing social media and email marketing to promote your merch and drive traffic to your online store
Encouraging fans to share their merch purchases on social media, using a dedicated hashtag or tagging your band's account
By continually refining and updating your merchandising strategies, you can ensure your merch store remains fresh, engaging, and profitable.
Conclusion
Merchandise plays a crucial role in the success of any artist, providing a valuable source of income, promotion, and fan engagement. 
By offering a diverse range of creative and unique fashion merchandise, implementing effective merchandising strategies, and showcasing your products in an eye-catching and professional manner, you can maximize your sales and strengthen your brand identity. 
Whether you're a seasoned artist or just starting out, investing in high-quality, custom merch that reflects your style and appeals to your fans is a surefire way to set your band apart and achieve lasting success.