Published August 11, 2022
Employee Spotlight: Alex Methvin Marketing
A series dedicated to meeting the minds behind Sock Club's best-selling custom socks. We want you to meet one of our incredible Marketing team members, Alex Methvin!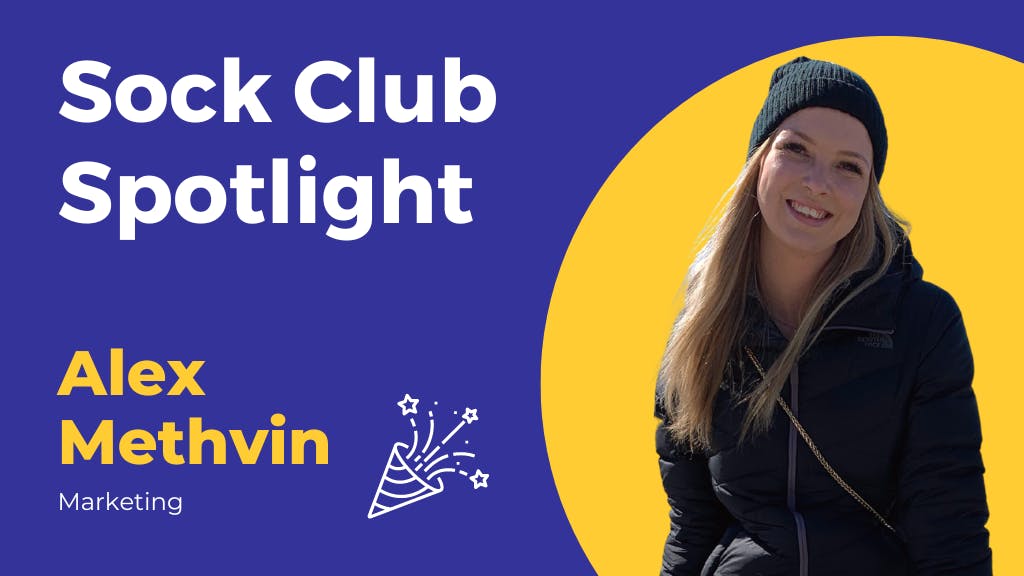 Let's Get Right to It!


Our Marketing team is a group of extremely friendly, ambitious, and hardworking individuals. Through various initiatives, they bring in potential clients, share Sock Club's products and offerings, and work hard to make sure content on all channels is aligned and reaches our target audience. They are always up to date, if not ahead of the curve, with all things trending and happening in the world, helping keep Sock Club in the know.

Creating and modifying content to appear on our socials, emails, website, online channels, and trade show booths, our Marketing team makes sure our brand is presented to users clearly and timely. Our Marketing team makes sure to plan out our events, content, and SEO strategy months ahead, so when the time comes- we nail it.


Why Sock Club?


We make custom socks fast and easy while maintaining high-quality products and customer service. Our socks are grown and sewn right here in the USA and made with premium quality materials that will make your socks feel as good as they look. Being fully woven, your designs won't fade out, standing the test of time with each wash.

We take the stress and complication out of ordering custom socks, providing FREE boutique quality designs that are created by our talented in-house design team. Simply upload a logo and we will send you virtuals in 1-2 days. The best part? Your order will ship in as soon as 5 days! 

We want to make ordering easy peasy! Not only will we provide you with client-friendly marketing materials to share, but we will guide you into our custom-built portal where you can automatically create an order, see the designs, use a quote tool, and place an order. With a message system set up to speak directly with your dedicated Designer and/or Account Manager, you have help along the way if you need it.

How we go about producing and distributing our products is also of the utmost importance. We are proud to have our socks made in the USA, as we believe it is essential to support American workers and do our part to reduce our carbon footprint. We also have a strong giveback program where we are dedicated to matching orders 1 for 1. With every custom sock purchased, we will donate a pair to an organization of your choosing.

We are happy to deliver donations to our local partner organizations and will ship to any other organization as long as shipping is paid for. Please reach out to your Account Manager to let them know you are interested in having us match your order!


Who Is Sock Club?


Not only do we stand by our products, but we stand by our incredible team members who bring their best selves to the table.

Sock Club is a team of hustlers and learners, we are motivated to get the job done the best and most efficient way possible. When you speak to a Sock Club member, not only are you speaking to a real person, but you are speaking to someone who is passionate about their job and genuinely wants to understand you and your needs to learn how we can best assist you. Needless to say, we are here for you every step of the way, from idea creation to rushing orders without a charge, and even if you want to just talk to someone on the phone- we'll be here.

Our company thrives by continuing to establish deeply rooted relationships with our clients. We want to establish a relationship with you. Learning about your needs, upcoming events or projects, and pain points can help us better understand you and how we can bring value to you. No matter where our clients come from, be it trade shows, word of mouth, online traffic, etc., our clients will always come first. We will do everything in our power to make sure they have nothing but the best experience possible. Get started on a custom sock project today and learn why we truly are the best in the business.


Introducing, Alex!


We have been in the custom sock industry for over 10 years. Within that time, we have grown as a company, learning, scaling, and bettering ourselves. Taking a look back at how far we have come with the relationships we have fostered, and the amazing custom socks delivered is quite exciting. Our Marketing team has done an incredible job bringing in clients and creating materials and content to assist them in their custom sock journey. We wouldn't be where we are today without them.

One of the savviest, most intelligent, and most thoughtful members of our Marketing team is Alex Methvin, and I am excited to have you get to know her! As a co-worker of Alex, I can personally tell you she is a true pleasure to work with, her smile is contagious and she is always there to help a fellow team member out.

Alex is a tech-wiz, grinding out methodical SEO strategies for various platforms, she brings knowledge backed by research to the table. Understanding what needs to be done and when, Alex uses research and analysis to improve our website's ranking on search engines like Google. She seeks to create a positive user experience and grow our website traffic, lead volume, and brand awareness. Besides ensuring our site and channels are performing to the best of their ability, she shows up every day as her best self and brings positive energy and excitement. Sock Club is beyond lucky to have her for almost 10 months, and we hope for many more!

When asked to describe Sock Club in three words, she said, "Growing, Innovative, and Friendly." Alex has contributed tremendously to the growth mindset here at Sock Club, instilling the importance of hard work, ambition, and never settling. When asked who or what inspires her, she said, "Numbers" I laugh, because knowing Alex, numbers are her best friend. She loves to know what keywords are ranking, what number our site is, and our traffic, not just the current position, but the average and how it compares. Tracking numbers and their performance shows her what is indeed working or not. Numbers don't lie, so understanding them and learning how to get them to turn your way is right up Alex's alley.

What you may not know about Alex is that she has 100 5-star reviews for walking/sitting dogs. So, if you live in Austin and are ever in need of a dog sitter, Alex is your girl- seriously this girl is a dog whisper. The last book she read was How to Do the Work by Nicole LePera, which was definitely worth the read. The first concert she ever went to was Jordan Sparks for Arizona's Centennial Celebration. The next place on her travel bucket list is gorgeous Switzerland, but said she would take anywhere that's cooler than 100 degrees right now - the summers are really hot in Austin!

We asked Alex what her favorite pair of socks (thus far) have been and she said, "My Barilla Pasta Socks. They're very on brand for me" They truly are. Alex absolutely loves pasta, I swear she eats it almost every day. She loves it so much that whenever she's eating lunch she has a pasta emoji next to her name. Last but not least, Alex gives amazing recommendations. Whether it's a restaurant, a show to watch, or where to get your nails done, you best listen, her recommendations are A1.

We hope you enjoyed getting to know Alex a bit more, and the value she not only brings to Sock Club professionally but personally. Alex is a bundle of positive energy with a high work ethic and is always there to lend a helping hand. All of us at Sock Club are lucky to have her and we are excited to continue watching her grow and accomplish whatever she puts her mind to!