Published September 6, 2022
Employee Spotlight: Drew Hund Development
A series dedicated to meeting the minds behind Sock Club's best-selling custom socks. We want you to meet one of our incredibly intelligent Developers, Drew Hund!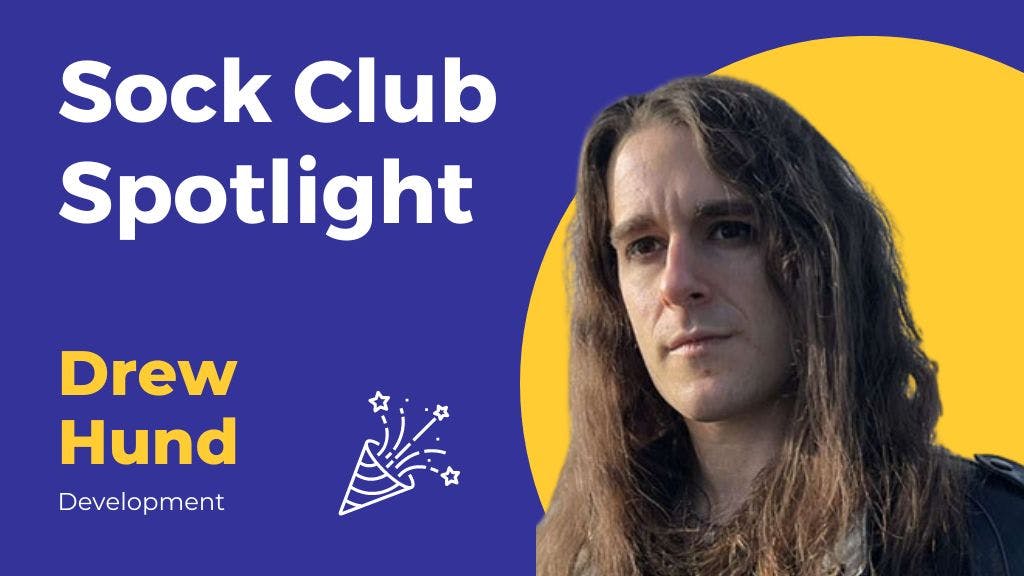 Our Development team is a group of extremely smart and hardworking individuals. They are responsible for creating tools that make our and our clients' lives easier. The Development team helps our clients order the coolest most high-quality socks in the shortest amount of time. They've worked on projects like our website, 3D builder, portal, design system, operations system and so much more!

Not only is our Development team deeply involved with our technology, but they are actively engaged with all other internal Sock Club teams. They collaborate with Marketing to build high-converting user experiences, work with Design to give them the tools to create socks even faster and strategize with Operations to decrease our lead times and improve our production efficiency.


Introducing, Drew!


On our 10th Anniversary, taking a look back at how far our technology has come is truly eye-opening. Sales used to have to manually submit deals to design. We used to not have a user account or even a client management system. Our Development team has transformed the way we do business, communicate with our clients, and manufacture custom socks.

When asked who or what inspires him, he said, "My partner - I learn more from her every day than I could ever imagine. She is a constant source of inspiration for me and I honestly don't know where I'd be without her." 

The last book he read was The Sleep Experiment by Jeremy Bates. The book is about a Cold War Soviet experiment that offered four political prisoners their freedom if they participated in an experiment. The experiment required them to remain awake for 14 days while under the influence of a powerful stimulant gas. I don't want to ruin the results for you, but it is very interesting!

Drew's first concert he ever attended was Korpiklaani - amazing folk metal! The next place on his travel bucket list is Hamburg, Germany. Lastly, something people might now know about him is he loves to cook and experiment with new recipes.

"Drew is so sweet and easy to work with! He is really smart and always gives 100% on every project he works on." - Abbey G.

"Drew is one of our true full-stack developers. It's always reassuring when Drew takes on a project thanks to his extensive research skills and hunger for innovation, Despite being remote, his communication skills emulate an in-person collaboration." - Ryu W.

"Drew brings a ton to the Dev Team - his professional skills are obviously fantastic and inspiring, but I think even more than that, his attitude and personality are always uplifting. He's easy-going yet hardworking, plus his music recommendations are fantastic. He's just a really fun person to work with." - Austin V.

We hope you enjoyed getting to know Drew, and the value he not only brings to Sock Club professionally but personally. He is a reliable, hard-working, and intelligent developer. All of us at Sock Club are lucky to have him and we are excited to continue watching him grow and accomplish whatever he puts his mind to! Keep an eye on our portal as we have some exciting changes coming and are excited for you to see them!  
Want to work at Sock Club?
Check out our open roles! We are hiring in every department and we can't wait to meet you!