Published July 22, 2022
Employee Spotlight: Lee Van Pelt Operations
A series dedicated to meeting the minds behind Sock Club's best selling custom socks. We want you to meet one of our incredible Operations team members, Lee Van Pelt!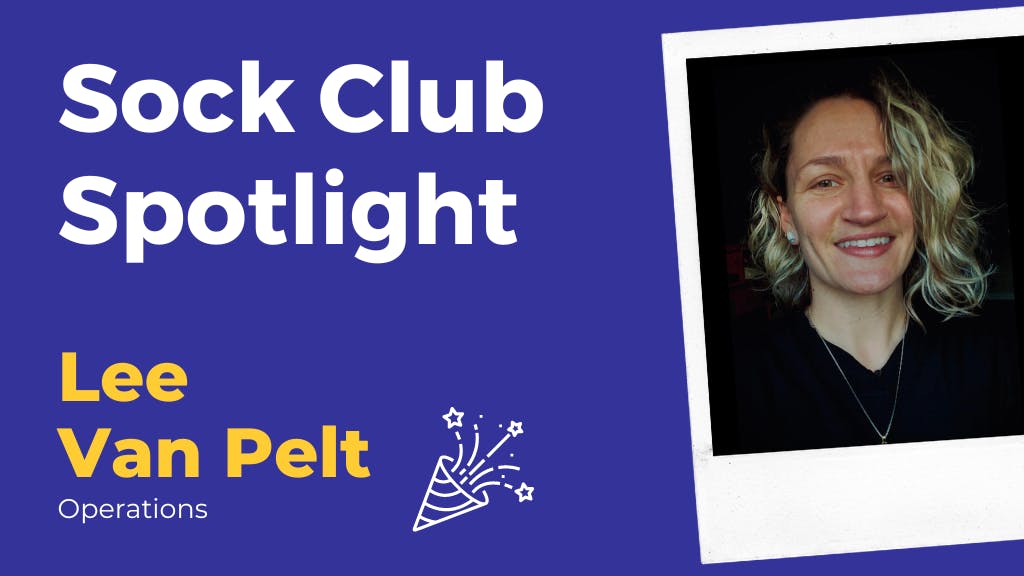 Let's Get Right to It!


For any business to run, you need an Operations team to make all the magic happen. For any successful, growing business to run, you need a kick a** hardworking Operations team. Gratefully, Sock Club falls on the latter, with an incredible Operations team, moving fast pace and methodically to ensure the logistics of producing our socks, packaging, and delivering to customers runs as smoothly as possible.

We pride ourselves in offering the fastest turn times in the custom sock game, with a five-day turn. Our Operations team is dedicated to making sure we can indeed deliver socks on a five-day turn and sooner if needed (at no extra charge). Growing as the leader in custom socks, we have our Operations team on their game to make sure we produce and package socks as quickly as possible.

To accomplish our fast turn times, without sacrificing our high quality, our Operations team works diligently to partner and establish relationships with top-of-the-notch mills located in the USA. We believe having our sock manufacturers in the USA is essential to achieving our high-quality products and morally aligns with our company's goals to do our part in reducing carbon emissions.


By choosing to have our custom socks made in the USA, we can offer overnight shipping and rush orders to our clients. Being in a relationship business not only with our clients but our mills, our head of Operations makes sure to visit our mills regularly to ensure our connection is strong. We also need to make sure the facilities have everything they need to continue producing orders- especially as we grow as a company. To keep up with our growth we recently added 10 new knitting machines!

Our Operations team works diligently to make sure all custom orders are on track to be produced and arrive to our clients in a timely manner, while also meeting our high standard of quality. On our 10th Anniversary, taking a look back at how far we have come and our ability to continue lowering our turn time while maintaining our high standard of quality is quite exciting. 

One of the most hard-working members of our Operations team is Lee Van Pelt, and I am excited to have you get to know her a bit more! Besides bringing a smile to everyone's face when she's in the office and instantly replying with emojis to make you feel heard, she is able to tackle anything thrown her way. Not afraid to step out of her comfort zone or help a coworker out, Lee is a top-notch problem solver and a team player through and through. Sock Club is lucky to have her for a little over 4 months, and we hope for many more!

When asked to describe Sock club in three words, she said, "Passion, Focus, and Engagement." Lee embodies all three, determined to make a positive impact not only on Sock Club but in everyone's life. When asked who or what inspires her, she said, "My Dad inspires me. He was my best friend, and the kindest, most genuine human I ever met. He was such a huge influence in my life. He curated me into the human I am today. My hope is that people get to see his love and light through me, and that I can make an impact as deep and wide as he did. He taught and showed me grace, love, purpose, and legacy, reminding me that life is all about the journey. He spoke of how we can impact others' lives in a positive way. That we should help and support people, not because we expect them to reciprocate, but because that's who we are because we have high character. He taught me to do what is right even when no one is watching. I've had so many people reach out and tell me how he changed their lives or went the extra mile for them for no reason other than out of kindness. That is what inspires me. To be my best. To be better." I didn't personally know Lee's father, but I can tell you that I see the tremendous positive influence he had on her and the world through knowing Lee. Lee is such a kind and genuine human with high character that it's a blessing to know her.

What you may not know about Lee is that she has been to 20 out of the 30 Baseball Stadiums in the MLB- 12 of them were with her partner in one year (Covid stopped her from finishing it). She loves getting a baseball hat from each stadium to commemorate it! Fun fact: Lee and her partner recently  Lee is also a cross-fit beast, pushing her body and mind to the limit to, as you may have guessed, better herself. 

After months of sending over various sock designs to the mills to be produced, Lee's personal favorite pair of socks (thus far) is a pair we made for Taco Bell, where the socks were designed as their hot sauce packet. Yes, their hot sauce is the bomb, but our custom branded socks for them were FIRE.

The last book she read was The Shadow of Kyoshi by F.C. Yee and the first concert she ever went to was Maroon 5 at the Houston Livestock Show and Rodeo in 2003. One last fact is, that the next few places on her travel bucket list are Okinawa, Japan or Petra, and Jordan.

We hope you enjoyed getting to know Lee a bit more, putting a story and personality behind the gal that makes sure your socks are the best they can be. Learning more about Lee personally and professionally has made me have such an appreciation for her and all that she does for Sock Club. I hope you have the chance to meet Lee in person or virtually, she is truly a great person to have in your life. All of us at Sock Club are lucky to have her and we are excited to continue watching her grow and accomplish whatever she puts her mind to!