Published September 19, 2022
Employee Spotlight: Lizzie Stratton Design
A series dedicated to meeting the minds behind Sock Club's best-selling custom socks. We want you to meet one of our incredibly talented Designers, Lizzie Stratton! Her superpower is combining data and creativity.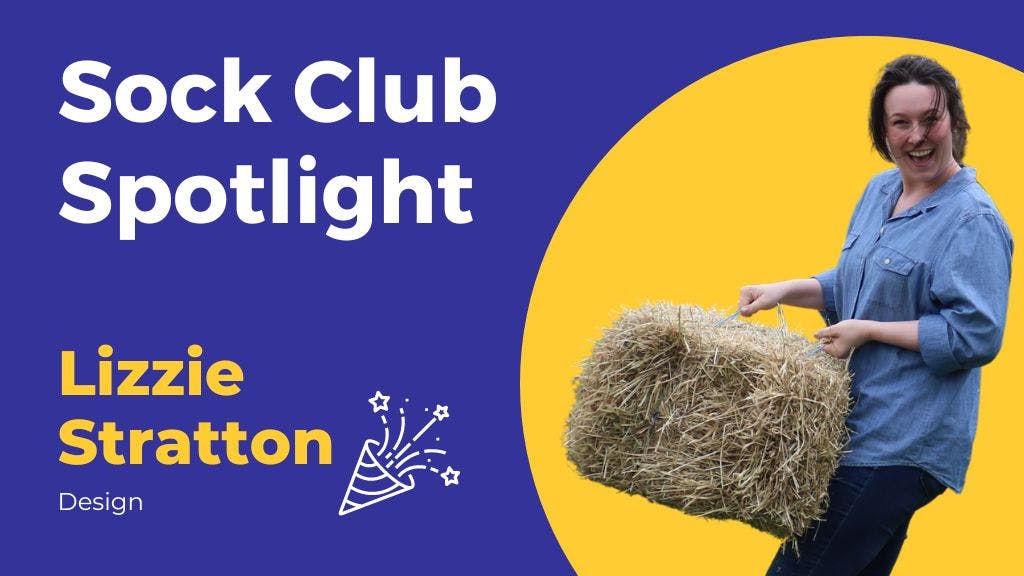 Our Design team is a group of extremely talented and creative individuals. They create all of the beautiful, fun, and unique sock designs for every client. Without the design team, we wouldn't have custom socks. They've created Sock Designs for some of the largest companies in the world including; Netflix, American Airlines, Starbucks, Ford Motor Company, and even the United States President! On our 10th Anniversary, taking a look back at how far our designs have come is amazing. Our sock designers have designed socks for over 10,000 companies!


Lizzie Stratton's Superpower: Combining data and creativity

When our Director of Design, Layla, was asked what Lizzie's superpower would be she said, "From where I sit, Lizzie's superpower occupies a special slice of the venn diagram where her love of data and analytics mix with her creative point of view. An incredible magic happens there!"

Over the 3 years Lizzie has worked at Sock Club she has worked on building awesome tools to give clients the best experience possible and to allow our designers to reach their full creative potential. She's always working on innovation for the design team such as new tech and optimized processes! Just this year, Lizzie was able to work with our Development team to design all of the templates for our new 3D Sock Builder. This new builder will allow clients to order socks even faster and choose from over 70 of Lizzie's sock design templates!

When asked to describe Sock Club in three words, she said, "Innovative, Relentless, Humble". One of our founders, Noah,  always shares a Steve Jobs quote with us that is, "Stay hungry. Stay foolish". Lizzie perfectly captures Sock Club's DNA and what it means to work here. Lizzie herself is relentless in her own pursuits.

Layla said, "It's hard to imagine the Design Team without Lizzie! Lizzie is a joy to work with, she loves problem-solving and brings a lightness to taking on even the most frustrating challenges. Not only is she multitalented in her work at Sock Club, but she is also a maker on her own time too. If you love a dress that she's wearing at work, there's a good chance she made it herself! She makes a killer vegan bundt cake too."

She even knew some of our amazing sock designers before her journey at Sock Club! "Lizzie and I took the same design classes at The University of Texas and I was always in awe of her talent. Working alongside her at Sock Club, I've been able to see not only her amazing designs but also her brilliant mind at work. Each day I look forward to her colorful outfits and joyful, positive energy!" - Michelle

When asked who or what inspires her, she said, "I am so inspired by moments of vulnerability from my teammates! Hopes, dreams, goals - I want to work hard for people I care about and I couldn't ask for a better band of sockstars!" If there's one thing you should know about Lizzie is that she has a HUGE heart and truly cares about everyone around her. She's always willing to help and just wants the best for everyone.

One of our other designers, Hanna, said, "Lizzie is such a bright light not only on the design team but for everyone else in the office as well. Her radiant energy, hard work ethic, and genius brain make all of us better. We wouldn't be the same without her. Be like Lizzie!"

The last book she read was Astrophysics for People in a Hurry by Neil deGrasse Tyson. The book is about the laws of nature, physics, astronomy, and the mysterious inception of our cosmos, the universe, stars, and implicitly our beautiful planet where life thrives and perpetuates.

Lizzie's first concert she ever attended was Randy Travis at the Jay County Fair! The next place on her travel bucket list is Switzerland. Lastly, she says that something people might not know about her is, "I am obsessed with gardening! This year was a garden bed, next year - hydroponics!"

We hope you enjoyed getting to know Lizzie, and the value she not only brings to Sock Club professionally but personally. She is extremely kind, helpful, creative, and innovative. All of us at Sock Club are lucky to have her and we are excited to continue watching her grow and accomplish whatever she puts her mind to! Check out Lizzie's designs in our brand new 3D DIY Sock Builder. 
Want to work at Sock Club?
Check out our open roles! We are hiring in every department and we can't wait to meet you!