Published June 30, 2022
Employee Spotlight: Maureen Jennings Sock Designer
A series dedicated to meeting the minds behind Sock Club's incredible custom socks. Starting off, we want y'all to meet one of our talented and creative sock designers, Maureen Jennings!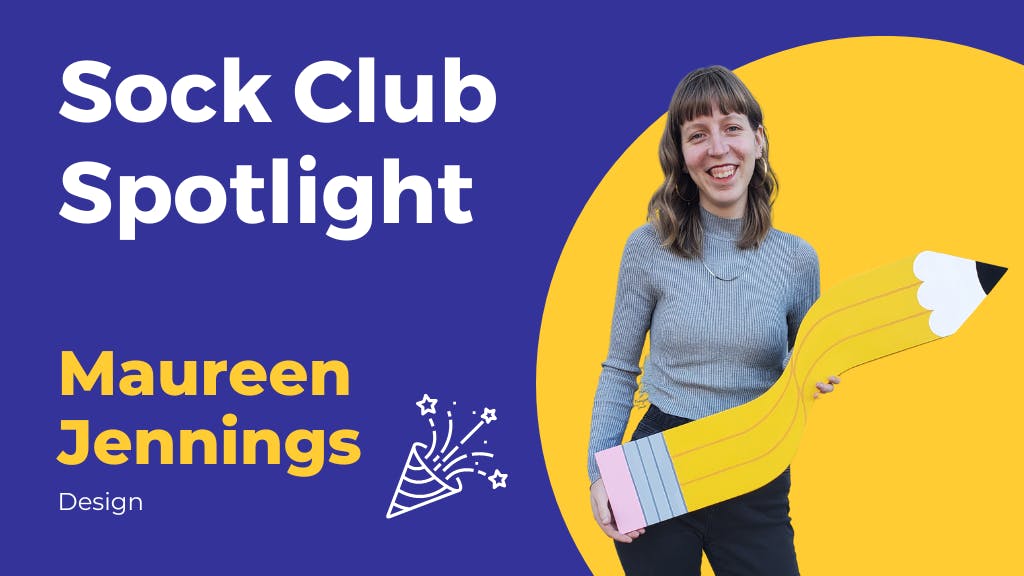 Let's Dive Right In!
Sock Club started out as a dream to make kick-a** socks that people would wear, and has since been moving quickly to become the leading company for delivering experiences through well-designed socks. Starting as an annual sock subscription and growing into a leading custom sock manufacturer, we are beyond proud of how far we have come. However, we continue to look forward, pushing the limits of what's possible and working towards bettering ourselves and our service every day.

This year, on our 10th Anniversary, Sock Club is growing at a rapid pace. But we still want to keep our small business roots at heart. And that begins with our people. This blog kicks off our employee spotlight series to showcase all of the faces around Sock Club. We are excited to highlight one of our top-notch designers, Maureen Jennings!

*Insert round of applause*

Maureen is a Sock Club superstar, designing out-of-this-world socks and photographing them in real life- she is truly one of a kind. Her smile brightens the office, and her work never disappoints. Always there to lend a helping help, or take on a new challenge, Maureen is your go-to girl for just about anything. Sock Club is lucky to have her for a little over 4 and a half years, and we hope for many more.

When asked to describe Sock Club in 3 words, she said, "To Infinity & Beyond! I know that's 4 words, but I am always amazed at how far we've grown in the short time I've worked here and where we've set our sights on." Maureen is inspired by the ladies on the design team, finding it incredibly uplifting to work in an all-female team full of amazingly talented and thoughtful women. (Who run the world? Girls!) Maureen has even taken it upon herself to organize design team dinners, workshops, outings (like goat yoga), and arts and crafts, really bringing the design team together (beyond just work).

Maureen is a talented artist- like wicked talented. Her ability to transform the craziest/wildest of visions into sock designs. Check out some of our previous sock designs for a glimpse of what Maureen and the other design team ladies have created. Maureen is an artist at heart. When she isn't making dope sock designs, she's creating- drawing, crafting, sculpting, painting, you name it! Check out her art on Instagram- you won't be disappointed.

What you may not know about Maureen, is she loves going to antique stores and finding fun odds and ends. "I have a great mug collection because of it. My favorite Miss Piggy mug has upped my morning coffee game. I also secretly wish women's vintage hats from the 30's & 40's were a trend again." Knowing Maureen, she can pull off anything, so I hope I see her rocking the vintage hats next week in the office.

Want to hear some more fun facts about Maureen? Well, her first concert was New Found Glory, and claims, "I was not an angsty teen but I pretended to be." The last book she read was The Hacienda by Isabel Cañasl and the next place on her bucket list is Dublin and the Ireland coastline.

Maureen has designed and seen SO many socks in her past 4+ years at Sock Club, making it fun to find out what her favorite pair of socks are thus far. Any guesses? Well, drum roll please...it is one of our previous subscription socks, The Smorgasbord! "It's a fun sock and always makes me hungry for soft pretzels." They come in three different colors too, so make sure to grab a pair!

Maureen is always pushing herself, learning new skills, crafting intricate designs, and stepping outside her comfort zone. She is a role model at Sock Club, showcasing what it means to put your best work forward, be a team player, and strive to create and innovate. We are beyond proud to have Maureen be a part of the Sock Club team and are excited to continue watching her grow and accomplish whatever she puts her mind to!