Published July 7, 2022
Employee Spotlight: Michael Hintz Operations
A series dedicated to meeting the minds behind Sock Club's incredible custom socks. We want you to meet one of our ambitious Operations team members, Michael Hintz!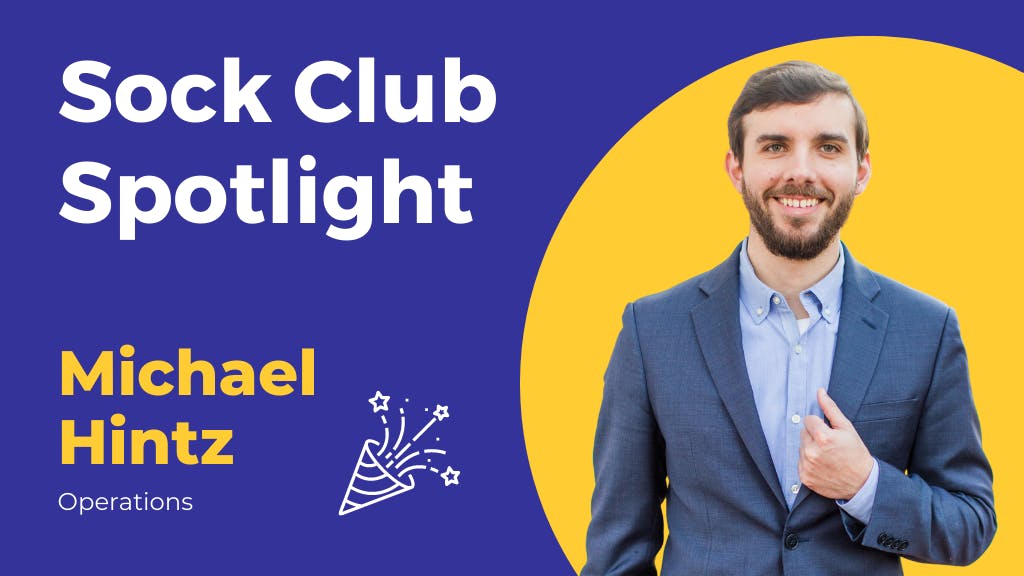 Let's Get Right to It!

To an onlooker, we create phenomenal socks for all. But looking behind the socks, and at how they come to fruition, is a whole different ball game. Our Operations team is the brains behind the logistics of producing the socks as well as packaging and delivering them to our customers.

As we promise as quick as a five-day turn on our custom sock varieties, there is a whole team that is dedicated to making sure we can make good on our word. With hundreds, if not thousands of socks, placed in a single order, we have to make sure we are on our game to produce and package as quickly as possible.

To accomplish fast turn times, without sacrificing our high quality, our Operations team works diligently to partner and establish relationships with top-of-the-notch mills located in the USA. Not only is it important to find a sock manufacturer in the USA, but we need one that is reliable, so we can count on them to produce our socks efficiently and meet our high standard of quality.

Due to Sock Club's close relationship with our manufacturers as well as choosing to solely work with mills located in the USA, we can offer overnight shipping and rush orders to our clients. Our head of Operations visits our mills regularly to make sure our person-to-person connection is strong and that the facilities have everything they need to continue producing orders- especially as we grow as a company.

Our Operations team works diligently to make sure orders are pushed through and our subscription members receive their monthly sock with a personalized letter. Each member of the Operations team truly wants to produce the best quality product as fast as possible for our customers and will do whatever they have to to accomplish that. On our 10th Anniversary, taking a look back at how far we have come and our ability to continue lowering our turn time while maintaining our high standard of quality is quite exciting.

One of the key members of our Operations team, who we surely wouldn't survive without, is Michael Hintz, and I am excited to have you get to know him a bit more! Besides being known as the guy who gets sh*t done, Michael is an incredible problem-solver and team player. Sock Club is lucky to have him for a little over 2 and a half years, and we hope for many more.

Michael interprets his role as "friction reduction." In his own words, "I do this by working with our vendors and other internal teams to create the most seamless production process possible. It's my job to maintain a close relationship with our vendors so that we can produce anything that the sales team sells and get it to our clients as quickly and efficiently as possible." Being constantly on the ball, Michael is able to help relay information between teams and our mills and work his magic to solve any production issues on the spot.

When asked to describe Sock club in 3 words, he said, "Challenging, Encouraging, and Innovating." Michael is for sure a go-getter, working on making processes more efficient for clients as well as other teams. When asked who or what inspires him, he said, "I'm inspired to leave something better than when I found it. That goes for places, but also processes." His statement surely rings true for how he approaches problem-solving at Sock Club. When something is at an array, he isn't afraid to step in, learn what is going on, and come up with practical solutions. Something can always be made better, and Michael is on top of making sure it's accomplished.

What you may not know about Michael is he started and sold a company to help him get through college. I mean- WOW, that is pretty dang incredible! Not only is graduating from college a difficult task in itself but having the determination to graduate from college debt-free says a lot about his character. Plus, starting and selling a business all at the ripe age of his 20s is truly aspirational. With all the knowledge he gained from running and selling his own business, there's no wonder he is able to be the powerhouse employee he is today. Hats off to you Michael!

After 2+ years of sending over many sock designs to the mills to be produced, Michael has seen his fair share of designs. His favorite pair of socks thus far have been a pair made for Cholula. Yes, their hot sauce is the bomb, but our custom branded socks for them were FIRE.

Want to hear some more fun facts about Michael?

*Silent head nod*

Awesome! We do too.

The last book he read was Illogical by Emmanuel Acho and although he's not much of a concert person, the first concert he ever went to was for a band named "Ballyhoo!" One last fact is, that the next place on his travel bucket list is Norway.

We hope you enjoyed getting to know Michael a bit more, putting a story and personality behind the guy that makes sure your socks are the best they can be. Learning more about Michael personally and professionally has made me have such an appreciation for him and all that he does for Sock Club. Although Michael tends to be more on the quiet side, he makes a loud impact. All of us at Sock Club are lucky to have him and we are excited to continue watching him grow and accomplish whatever he puts his mind to!