Published August 18, 2022
Employee Spotlight: Nick Briscoe Sales
A series dedicated to meeting the minds behind Sock Club's best selling custom socks. We want you to meet one of our incredible Sales reps, Nick Briscoe!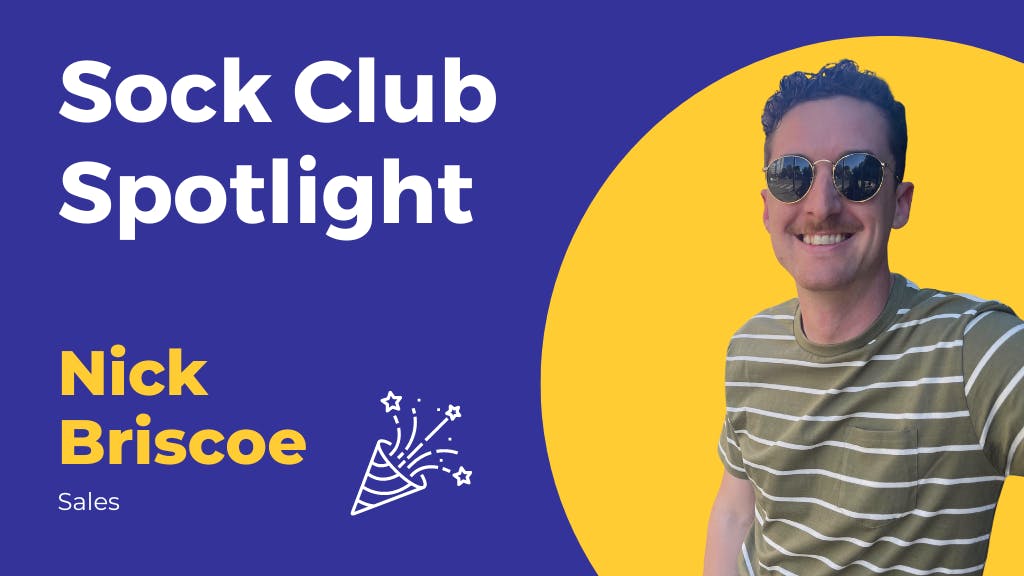 Our sales team is a group of extremely friendly and noteworthy individuals. They come into work ready to take on the day and help clients start or move their projects along. Working directly with our clients, forming and developing relationships, they will make sure all your needs are met and that you have nothing short of a positive experience. They know all when it comes to our custom socks and specialty products as they are the sock experts.

Not only is our sales team directly working with clients, but they are actively engaged with all of our other teams. They communicate with Customer Service to send specific samples to their clients, consult with Development to update the client portal, talk with Design to provide design requests from their clients, engage with Marketing to create client-friendly materials and branded catalogs, and speak with Operations to rush orders.


Introducing, Nick!


On our 10th Anniversary, taking a look back at how far we have come with the relationships we have fostered, and the amazing custom socks we have delivered is quite exciting. Our Sales team has done an incredible job managing clients and offering top-level customer service. We wouldn't be where we are today without them.

One of the most helpful, hardworking, and positive members of our Sales team is Nick Briscoe, and we are excited to have you get to know him! Everyone on the team always speaks very highly of Nick and says he's such a joy to be around.

Nick is a yes man, always lends a hand to team members, and has a positive attitude doing it. He even initiated a company outing to a UT Football tailgate this fall! (Thanks, Nick!)

When asked to describe Sock Club in three words, he said, "Challenging, Rewarding, FUN." When asked who or what inspires him, he said, "good music," in fact, the first concert he ever attended was Van's Warped Tour and Tupac is his favorite artist.

The last book he read was F*ck It I'll Start Tomorrow by Action Bronson (which...#relatable). The next place on his travel bucket list is Vietnam!

We asked Nick what his favorite pair of socks (thus far) have been and he said, "The socks we did for Milk Bar!" Here at Sock Club, we are HUGE fans of Milk Bar. We recently had one of their cakes for an employee's birthday and it was TO DIE FOR.

We hope you enjoyed getting to know Nick a bit more, and the value he not only brings to Sock Club professionally but personally. If you have Nick as an Account Manager you are in good hands, and we hope you take some time to get to know him! He is a positive and energetic spirit and sure to brighten anyone's day. All of us at Sock Club are lucky to have him and we are excited to continue watching him grow and accomplish whatever he puts his mind to!