Published June 8, 2023
Employee Spotlight: Rebecca Palomares
A series dedicated to learning a little bit more about the people that make Sock Club great.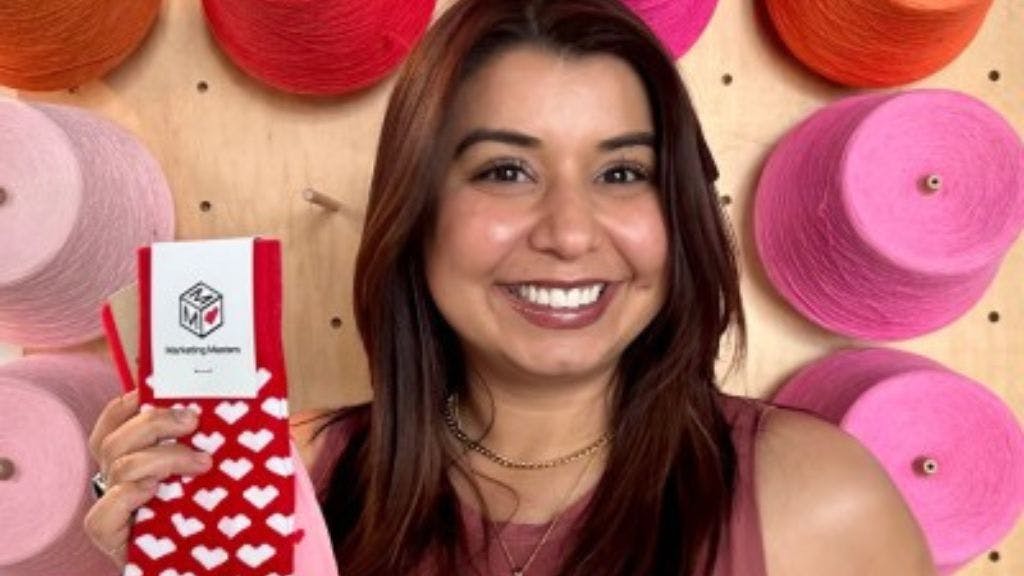 A few years ago, when we were deciding how to make a splash at an upcoming trade show, a team of us got together to talk about what really makes Sock Club different from other companies.


We talked about the amazing quality of our socks, about how talented our designers are, about our quick turnaround time (at the time it was 10 days, now it's 5!), and our low minimums (again, we cut it in half from 60 to 30). We talked about how important it was to provide excellent service to our customers because it's the right thing to do.


However, the thing that really stuck out to us about what united all of those things was "we make s#!t happen." We make things happen that no one else can or is willing to. So, we put it loud and proud at the top of our booth. It was a big hit.


When you ask Rebecca Palomares what she does for Sock Club, she says she "makes s#!t happen" for her clients. We can honestly say that Rebecca lives that principle every day.


Rebecca joined the Sock Club Sales team in January of 2018. Rebecca famously sent the Sock Club team a box of Tiff's Treats after her interview, and working with her has been every bit as enjoyable as a box of those cookies.


Our team sat down with Rebecca to check in with her and learn a little more about Rebecca and her time at Sock Club thus far.


What is your background prior to Sock Club?
Rebecca: I've always worked in sales, but Sock Club was the first company where I was the first company that I was truly excited about the product I was selling - everyone loves socks! 


What's been your favorite thing about working at Sock Club?
Rebecca: My favorite thing about working at Sock Club is collaborating with my clients, our design team, and the production crew on every sock project! It's so fun to see a project from start to finish - plus I'll never run out of socks! 


What's it like being on the Sales team at Sock Club for someone who wouldn't know at all?
Rebecca: Sales is a grind but I love it! I get to work with so many fun clients and collaborate with all of the teams internally. There's never a dull moment - that's for sure! 


Who or what inspires you?
Rebecca: I'm inspired by the strong women in my life (both friends and family) - they are so driven and motivated to build the life they want - from starting their own business, buying a home on their own, or starting a family! They inspire me every day to not only chase my dreams but make them a reality! Thanks, ladies:)


What's the last book you read? Why/what did you learn?
Rebecca: I'm currently reading Think Like A Monk by Jay Shetty! It's about developing the skills to live a rich and peaceful life - I love it! 


What's the first concert you ever attended?
Rebecca: Ricky Martin - Livin La Vida Loca!


What's the next place on your travel bucket list?
Rebecca: I'd like to explore the different parts of Italy and eat ALL THE PASTA! 


What is something people might not know about you?
Rebecca: My first job out of college was working as a field sales rep for a power tool company! It was challenging at first, not knowing how to use a drill, but they had a great training program and I'm a pro now;)


When people talk about the impact you make at Sock Club, what do you want them to say?
Rebecca: I'd like people to say that Rebecca gets shit done, is a hard worker, and really cares about the projects and people she works with on a daily basis.


What initiative on another team are you most interested in learning about currently?
Rebecca: I'd like to learn more about the design team and how they use both technology and their personal creativity to create such amazing designs! 
Want to learn more about our current opportunities and join our team? Check out our careers page for all current open positions. We want to meet you!