Published February 2, 2023
How To Increase Employee Retention with Appreciation Gifts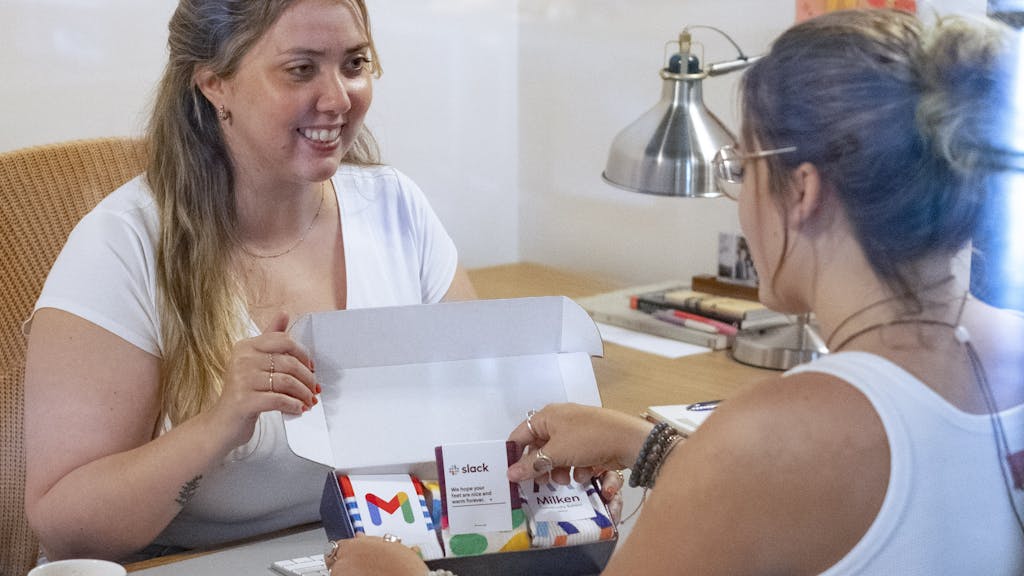 Every organization needs employees to improve its productivity and render services to clients. However, it is more difficult to retain employees and keep them productive than it is to hire them. 

For businesses to be successful, you need to hire and retain the right set of people for a long time. To retain them, you can send employees appreciation gifts showing how grateful you are for their efforts towards the organization. 

This appreciation gift should be one that can be utilized by everybody and can be used as gifts for remote employees too. One gift that ticks all these boxes is custom logo socks. 

In this article, we will discuss a few steps to help you increase employee engagement and retention with employee gifts. 



Create a culture of recognition and continuous feedback.
Creating a culture where your employees feel recognized for their contributions by gifting them corporate gift boxes is one of the ways to increase retention. These appreciation gifts go a long way to make employees know that they are seen and heard within the organization. 

You can design your socks in bulk to create a formal reward system where great ideas and innovation is rewarded. In this reward system, the weekly or regular goals of the organization are reviewed. The employee who goes the extra mile to achieve these goals is then gifted custom socks with logo to encourage and appreciate them.

To create a culture of recognition, you should ensure that your employees are rewarded publicly and privately as they achieve the organization's milestones by giving them appreciation gifts. Custom branded socks are the perfect gifts for a group. Since everyone wants to feel validated for the work they do, your custom design socks can make a huge impact. 

Here at Sock Club, we are a custom sock manufacturer that can help you design your own branded socks. We have an in-house design team to create free unique designs for your organization's employee gifts.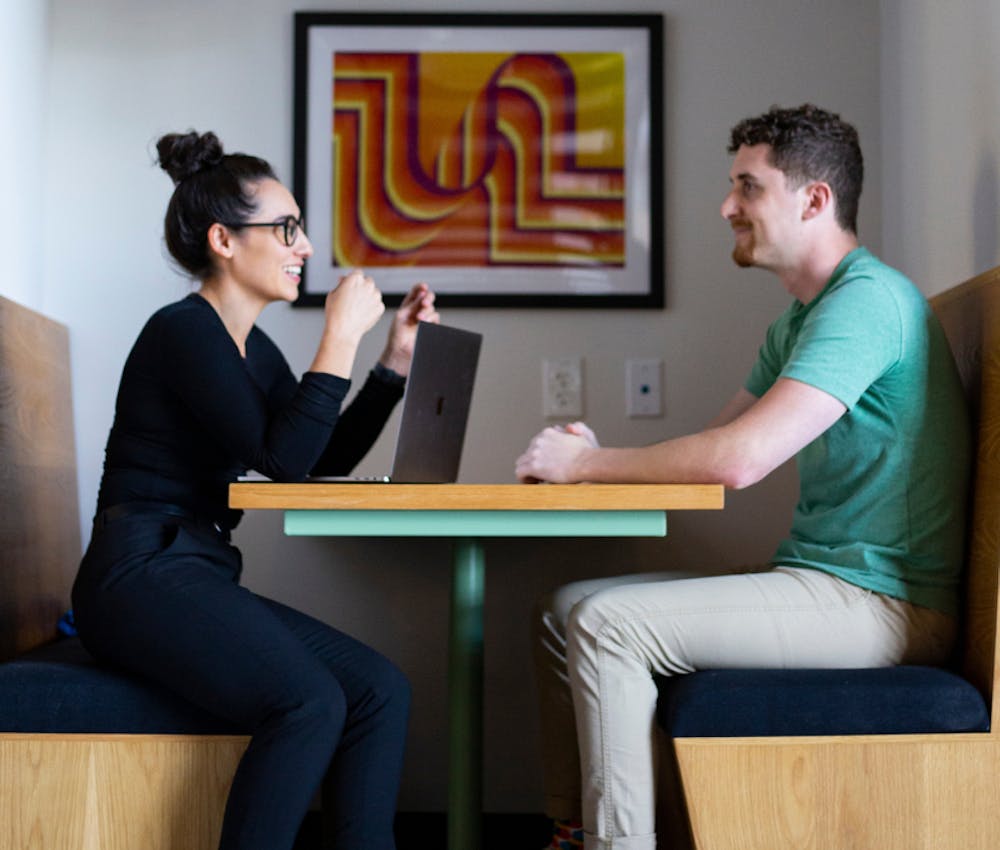 Act on insights from exit surveys
Creating exit surveys and forming actionable plans from the result of the survey is another way of increasing employee engagement and retention within an organization. 

If you don't try to get feedback from your employees, you won't know if your engagement strategies are working.  

To achieve this, use an engagement tracking survey to find out why some of your soon-to-be ex-employees are leaving the organization. From your findings, you will gain insights on how to improve the workplace. 

In the survey, you may decide to ask them:

What they liked or didn't like about the job
What they think should be improved 
Ideas they think should be incorporated to help increase engagement 

Avoid long surveys or using loaded questions in your survey to prevent loads of negative responses or low participation rates. Your survey should poll your employees to figure out what benefits they prefer.  

Suppose the survey shows that they do not feel like they are a part of the company because of the remote working system. In that case, you can incorporate sending gifts to employees working remotely in your organization. After all, thoughtful gifts play a significant role in increasing employee engagement and retention.



Increased communication from top to bottom 
To increase employee engagement and retention, you need to improve internal communication among all your employees. Your employees need to feel like they can express their concerns, ask questions, and share ideas even if it is not their area of expertise. 

Whether your employees work on-site or remotely, they need to feel like they can contribute to the organization at any time. As an employer, it is, therefore, your responsibility to promote positive, constructive, and timely communication from top to bottom. 

You can do this by hosting weekly or quarterly stand-ups where employees can come and voice their opinions or concerns. A great way to increase participation is to offer small appreciation gifts to attendees. A great gift idea for your employee gift boxes is custom dress socks.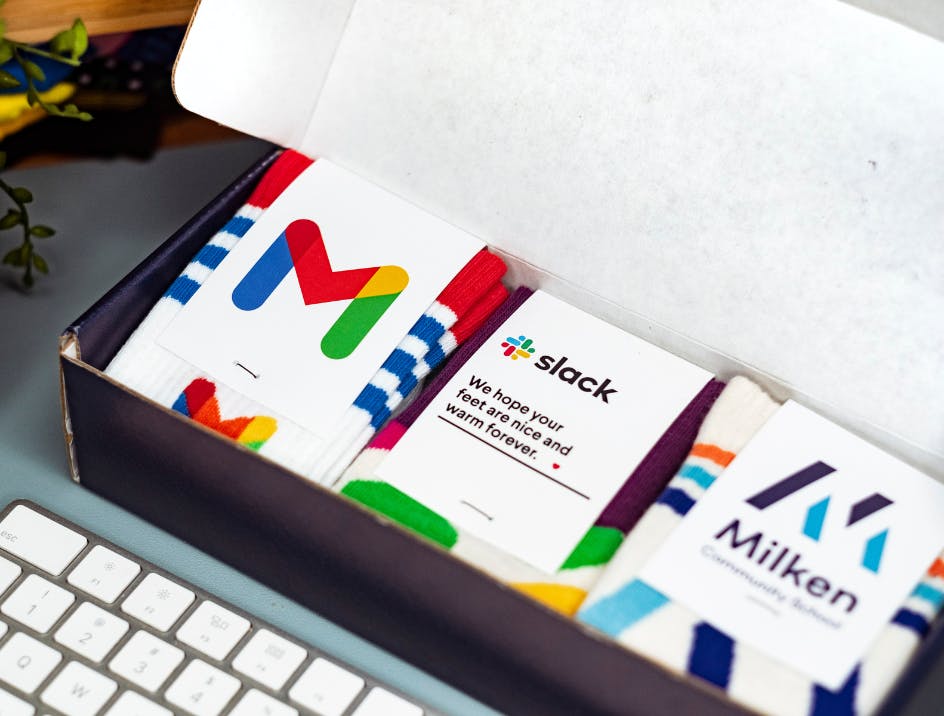 Conclusion
Increasing employee engagement and retention using employees' gifts is a significant way to reduce employee turnover, increase productivity, and grow your business. Corporate gift boxes encourage employees to participate and engage with each other to achieve the company's goals.  

Now that you know how to improve your organization's engagement rate, it's time to get started with just a simple process. At Sock Club, we can help you design your own socks online.

Our in-house design team can help you create incredible custom sock designs that can be used for your logo on socks. Get started by sending us your logo or using our brand-new 3D Guided Sock Design Builder.