Published July 21, 2022
How to Make Your Trade Show Booth a Success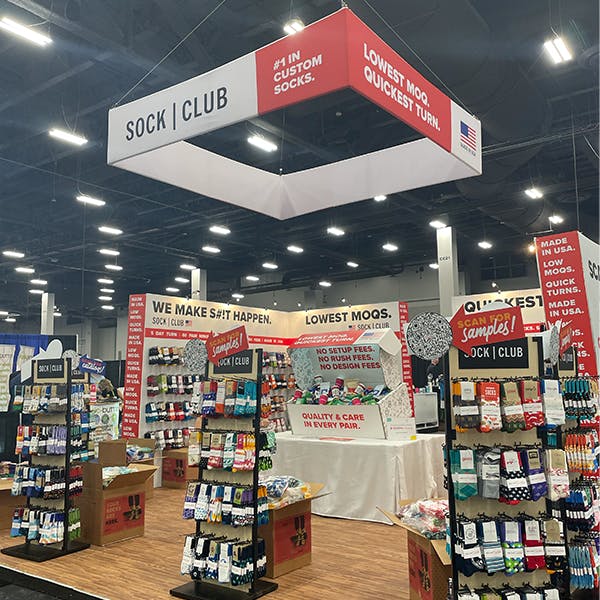 Trade shows are a great way to get your brand in front of a large number of potential customers. A successful trade show booth can be one of the most impactful steps in mastering event marketing But if you're not planning properly, your trade show exhibiting can turn into a huge waste of time and money. There are many ways to make sure that doesn't happen—and that means you'll want to follow these tips and trade show booth ideas for planning an engaging booth for your next trade show event:


Set a goal.
The first step in creating a booth that is successful is to set a goal. There are two kinds of goals: good and bad. A bad goal is one that you don't really care about achieving, or one that you think will be easy. An example of this would be saying "I want to get people interested in my product" or "I want people to remember my brand name after the show." These types of goals are not specific enough, and they make it difficult for you to achieve success because there isn't any clear action for you to take once the trade show ends.
A good goal should be specific and measurable, meaning that there are clear steps for how you can accomplish your objective, as well as criteria by which we measure whether or not your goal has been accomplished successfully. An example might be something like: "I will have five conversations with potential clients by Wednesday" or "I will give out 10 brochures over three days." A good rule of thumb when it comes to setting goals is that they need at least one metric (a measurement) associated with them so we know when we've achieved success!
Once your goal has been set, ask yourself if it's realistic based on what resources are available (time) along with what opportunities exist (people). Make sure this aligns with other priorities before committing resources such as staff time/money/effort because running an ineffective campaign could cost more than just money—it could also damage a company's reputation within its industry!


Designate a leader.
Your booth has to be well organized, and it has to be beautiful. You need someone in charge of making sure that happens. That person must have authority over every aspect of the booth's design and construction. They need to make final decisions about what goes in the booth and everything else related to its appearance. And they will be held responsible for its success or failure at the show—so you better make sure he or she is up for the challenge!


Start planning early.
Before you start, it's important to consider the following:
What are you hoping to accomplish at your booth?
How much space do you have?
What kind of content do you need for your booth?
What kinds of design elements will help support your brand and message?
Who will be staffing the booth? Do they need training beforehand and/or during the show.

Create a great design.
Your trade show booth needs to be eye-catching and memorable. Use a theme for your exhibit design that is relevant to your industry and use a color scheme that is consistent with your brand. Don't forget to employ graphics, signs, and banners to create a visual story. Take advantage of social media by posting pictures of your booth on Instagram and Facebook, inviting people who couldn't make it in person to stop by online once they've returned home from the event.

Create engaging content.
You may be thinking, "But I don't have any content." Not to worry! You can start with what you've got. If you're a marketing agency, for example, look at your existing campaigns or websites and see what content could be brought in from there. You might have old blog posts that can be repurposed to fit the needs of your booth. Or maybe you have information about past projects that would work well as posters hanging around the booth space (or even displayed on monitors or pop-up displays). Maybe there are images from previous print ads that could be printed out large enough to hang up as well.


Provide lots of things for people to do at your booth.

Provide a way for people to get in touch with you after the show is over. People will be swamped with business cards and brochures from other booths, but if yours stands out because it's interactive or fun, they'll remember it.

Provide a way for people to learn more about your products and services. You've invested money in this booth, so why not make sure that everyone who walks by learns something new about what you have to offer?

Offer coupons or discounts (if appropriate). For example, if you're selling cars then customers could get $500 off their purchase when they trade in their current vehicle at the show -- this will help drive more traffic to your booth since word-of-mouth is one of the best marketing techniques!

Give away free samples (if appropriate). For example, we love giving away free branded socks! It helps attract visitors and allows people to try before they buy. 


Make it easy for people to get in touch with you after the show is over.
One of the most crucial pieces of your trade show success is providing a clear call to action that helps attendees reach you after they've met with you. A great way to do this is by providing attendees with something they can take home with them, such as a business card or URL/QR code. You can also make it easy for people to find you on social media platforms like Twitter, Facebook, and LinkedIn by including one or more hashtags in these materials if possible.


You can make your trade show display a success with careful planning and attention to detail!
To make your exhibit booth a success, you need to carefully plan and attend to details. Here are some things you should consider:

Planning your booth. Look at trade show floor plans and talk with other exhibitors about their experiences at different shows. You might decide that it's best for you to have your exhibit set up before the show opens (that way, no one will try to squeeze in between your displays) or after it closes (when fewer people will be milling around). Either way, be sure that there is enough space for all of your display panels, banner stands, and merchandise tables; if possible, reserve an area with other booths so that they can help block out any unwanted traffic.

Getting enough people to man the booth. If there is only one person working each shift at an exhibit hall full of busy attendees, no one will get much attention—and every moment lost could mean missing out on business opportunities! Make sure that there are plenty of people working together so they can rotate turns throughout the day or week. It might also be helpful if some team members stayed behind after hours so they can answer questions from those who missed seeing something during regular hours; this approach provides useful information without slowing down lines on busy days like Friday mornings when trade show attendees want their questions answered before leaving town later that afternoon/evening.


Conclusion
If you follow our advice and display ideas and put in the effort to make your trade show booth a success, then you'll be on your way to creating great memories and good relationships with potential customers. We wish you all the best!

Click here to return to Sock Club's Guide to Mastering Event Marketing