Published October 5, 2022
The Best Holiday Custom Sock Designs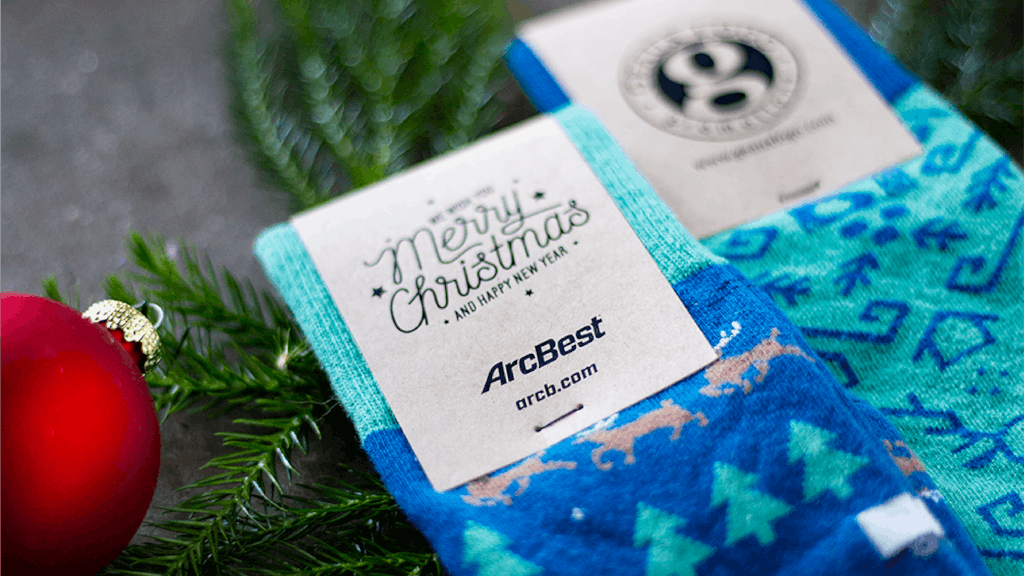 We all know that the ugly Christmas sweater from last year's company holiday party has been sitting in the back of your closet for the last year. A better holiday corporate gift is custom socks because they can be utilized year-round for both employees and clients. 

We put together a list of some of our favorite holiday custom logo sock designs. Whether you're looking for a holiday ugly sweater-themed sock or something more low-key and universal, our expert sock designers can help you create something your whole team will enjoy. Just send us your logo or explore our holiday sock design templates in our 3D DIY Sock Design Builder.

If you'd like to learn more about choosing the perfect corporate holiday gifts for your clients, check out our Guide to Appreciation Gifts!


1. KUT Radio 
KUT, according to Wikipedia, "is a listener-supported and corporate-sponsored public radio station based in Austin, Texas. KUT is owned and operated by faculty and staff of the University of Texas at Austin." 

KUT is also a Sock Club team favorite, and the first public radio station to purchase socks from us! KUT's socks have become an iconic gift for public radio supporters, featuring everything from tacos to Grackles, a ubiquitous bird in the Austin area known for being generally terrible. 

KUT wanted a special premium gift for its holiday drive and charged the Sock Club team with creating a custom sock design that featured both stations' logos, Grackles, the state of Texas, and a sweater design. This branded sock is one of the Sock Club team favorites!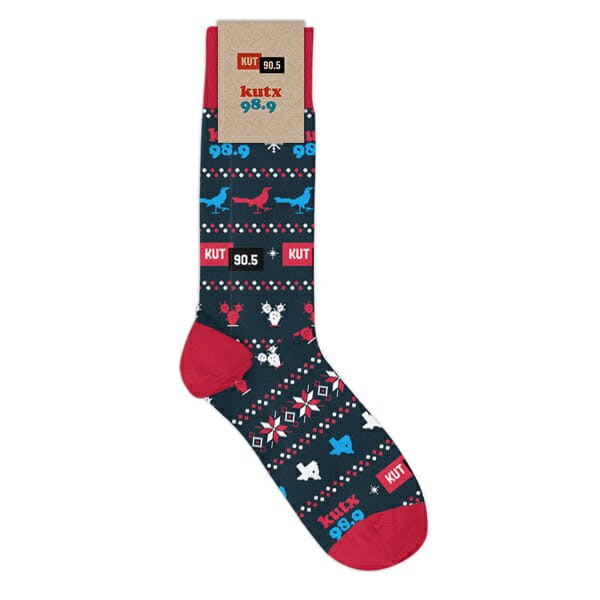 2. Ford
When Ford's marketing company, Helm, was looking for a holiday-themed appreciation gift that Ford can give to their employees, Sock Club was the custom-branded socks company they came in contact with. To be specific, Herm wanted an ugly Christmas holiday sock idea for Ford because she didn't want overly themed customized dress socks. 

The instructions were to design this client gifting idea in multiple holiday colors without including any Christmas or holiday verbiage. With our in-house design team, we delivered these perfect custom logo socks that were used as holiday appreciation gifts for a group of employees.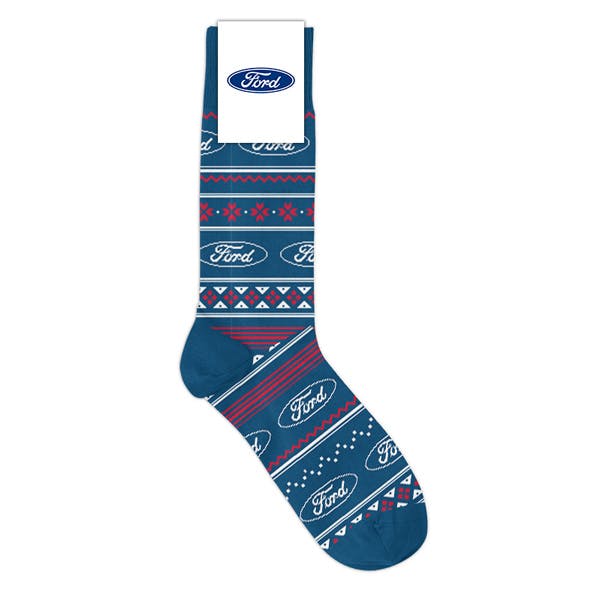 3. Enchant Christmas
Enchant Christmas is the world's largest Christmas light maze. With events in Washington D.C, Seattle, Washington, and St. Petersburg, Florida, Enchant Christmas needed a merchandise item that worked for a variety of different sizes, as well as different climates. 

Janet Abe from Enchant Christmas was familiar with Sock Club's custom socks, and, when it came time to decide on their merch lineup for 2019, knew that our branded socks would be the perfect fit. Our in-house team created unique sock designs that incorporated elements of their events into a Christmas sweater pattern, and the Enchant Christmas team loved them! We were able to deliver shipments to each of their event locations with time to spare.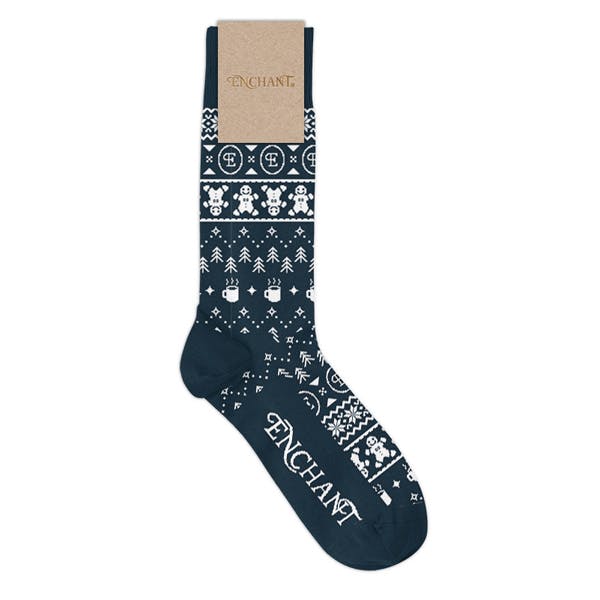 4. Netspend
Netspend, according to their website, is "a leading provider of prepaid debit cards for personal & commercial use." Kelley Knutson, the President of Netspend, met the Sock Club team at the SXSW Trade Show in Austin and connected us with Lynda Lerma, Manager, Employee & Community Engagement – Human Resources. 

Lynda was looking for a holiday gift for Netspend's employees across all of their different offices across the country. It was important to the Netspend team that the gift that they purchased for their employees was high quality, easy to ship, and worked for a variety of sizes. 

Sock Club's custom socks fit the bill on all accounts! Our sock design team was able to create sophisticated holiday-designed socks that incorporated elements of Netspend's business, and we delivered this corporate gift to all of Netspend's branches.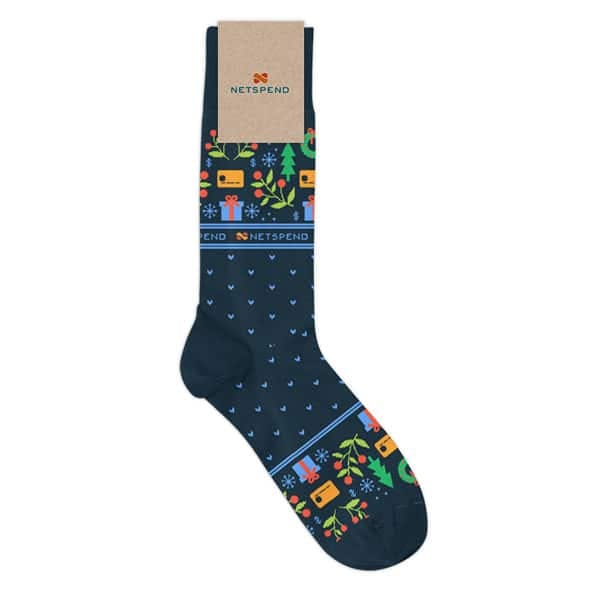 5. Dollar Shave Club
Dollar Shave Club was founded by Mark Levine and Michael Dubin, who met at a party and had a conversation about their frustration with the expense of razor blades. The membership service first launched on March 6, 2012, via a YouTube video (that only cost $4500 to make!) that went viral. 

The YouTube video attracted an incredible amount of traffic, which crashed the company's server in the first hour. Since the membership launch, the company has acquired over 4 million subscribers. The company has grown fast, and its employees work hard, so they wanted a branded employee appreciation gift to show them they care. They turned to Sock Club for custom socks for that purpose.