Branded Socks for Corporate Gifts & Holiday Gifts
Custom socks with your logo are the perfect branded corporate gift, especially for the holidays!
With our fully customizable, fully woven branded socks, you can send your clients and employees a corporate holiday gift that shows off your holiday spirit in a way that is true to your brand.
All we need is a logo to get started - click the button below to get free holiday designs from our in-house team of design elves!
Custom socks are the best branded business gifts. Here's why.

With a low minimum order quantity of only 30 pairs, our custom socks are as perfect for small team gift ideas as they are for Christmas gifts for clients (only your favorites!).

Employees and clients come in all shapes and sizes. Our one-size-fits-most option fits a Women's size 6 to a Men's size 11. No more leftover t-shirts to store!

Custom dress socks can be an affordable branded gift option, especially when ordered in bulk. Ask our sock experts how to keep your per piece cost under $10.

Whether you want your socks shipped in bulk to your office, or mailed individually to your remote employees in gift boxes, we've got you covered.

We are happy to match your corporate Christmas gift order with a 1-for-1 donation match to an organization of your choice. Turn your purchase into a community support initiative!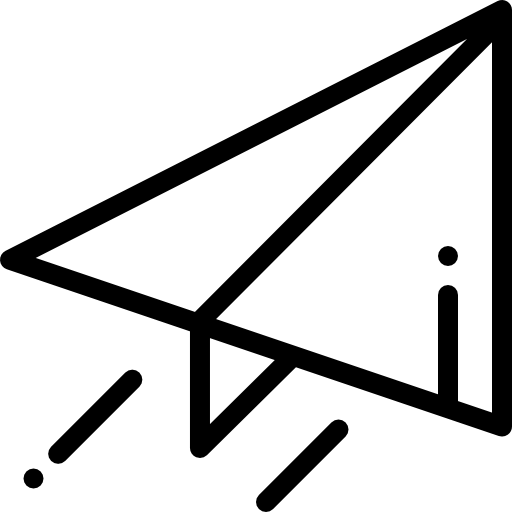 Last-minute celebrations are part of a fast-paced and active company culture. With our 5-day (or fewer!) turnaround, we can be your "in case of emergency" button for quick turn customer appreciation gifts.
A few of our favorite ways that our clients have used branded socks as unique corporate gifts for employees or holiday gifts for clients.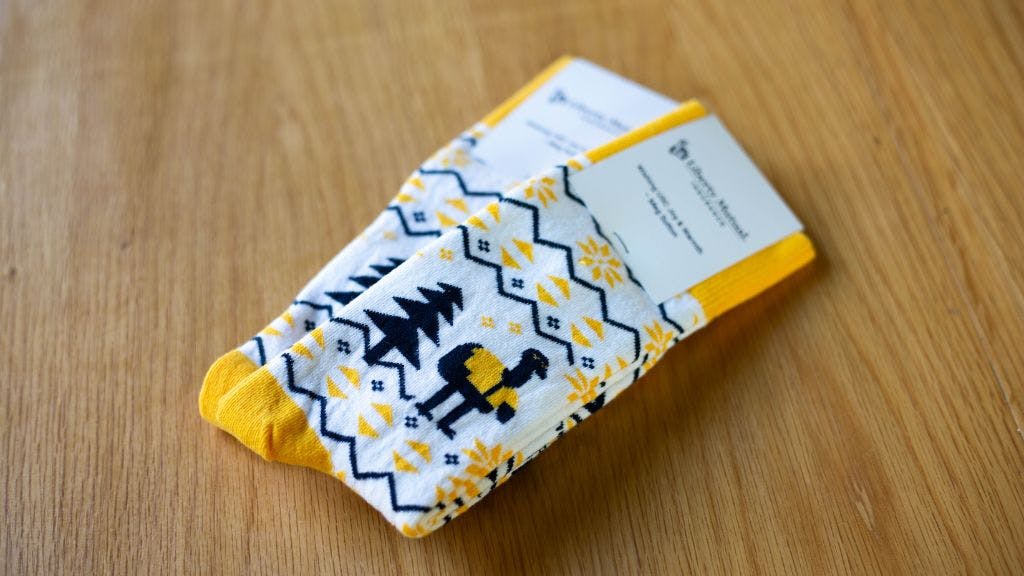 Ugly Sweater Sock Designs
We all know that the ugly Christmas sweater from the company holiday party stays in the back of the closet for 364 days of the year. These ugly sweater-designed socks can be worn all year and make for the perfect company holiday party favor.
Build Your Own Holiday Design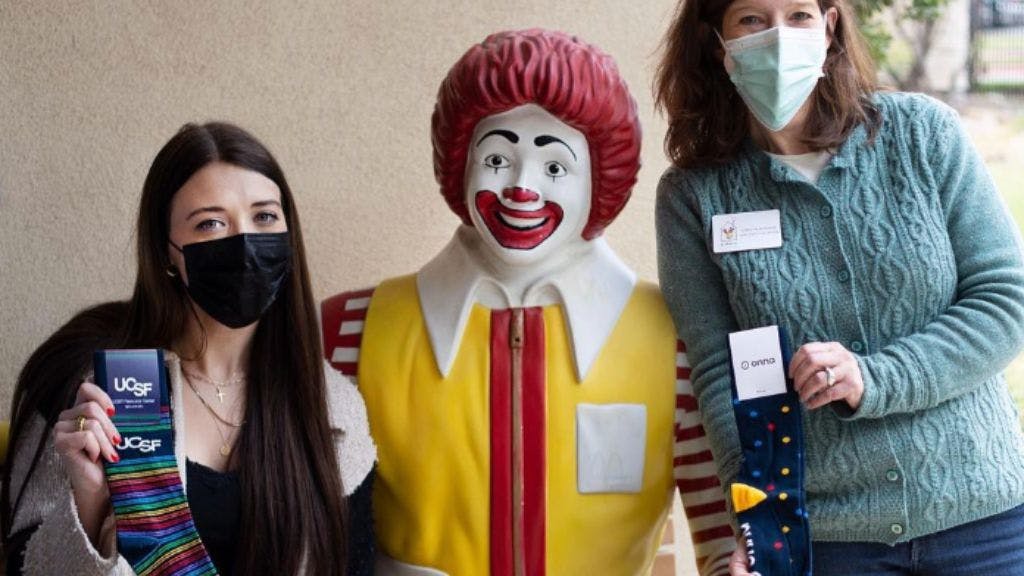 Our 1-for-1 giveback program will match your custom sock order and help you send your match to a charitable organization. Don't have an organization in mind, but still want to help? Let us know! We have an extensive list of local partners.
Learn About Our Give-Back Program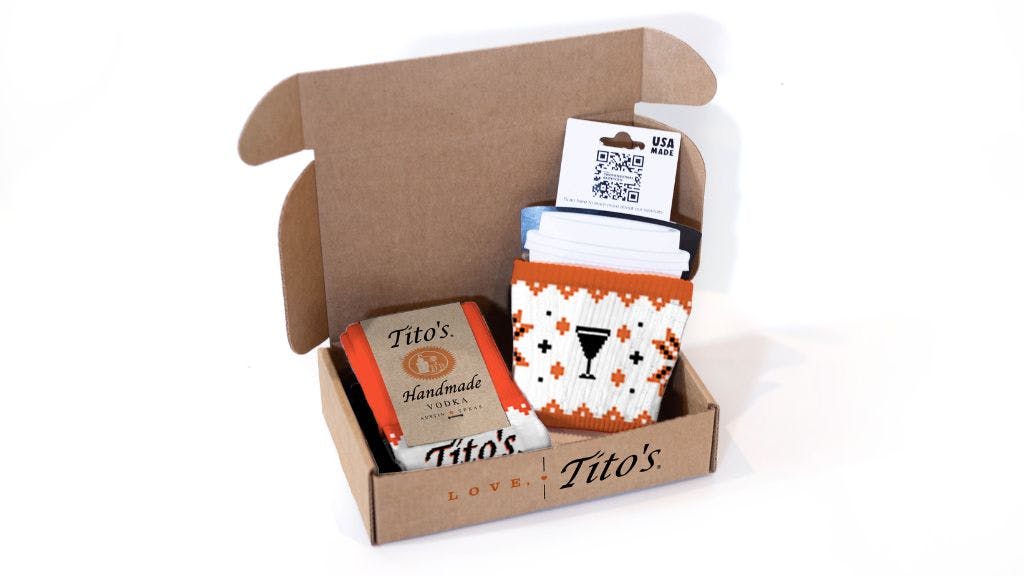 The perfect cold weather gift for employees or clients. A pair of custom branded socks to keep their feet warm paired with a matching Slippie for their favorite coffee or hot chocolate. Easily shipped in a fully customizable gift box.
Learn About Slippies
Want more business gift ideas?
Download our Corporate Gifts Lookbook for more creative ways to use custom socks for executive gifts and corporate gifts for clients.
The most creative ways our clients have used custom socks to achieve their employee and client engagement goals
Our product recommendations (what and why)
Our Favorite Products for Corporate Thank You Gifts
Learn How Companies Like Yours Have Used Custom Socks for Corporate Gifts.
Sock Club Frequently Asked Questions
Have questions about our custom sock design process?
Or how to use custom socks for Corporate Gifts & Holiday Gifts
Look no further! We've got all the information you need to know right here, from designing your own socks to buying them in bulk.
What are the benefits of giving custom socks as gifts?
How do I create my own custom socks design?
What materials are used to make custom socks?
What sizes are available for custom socks?
What is the minimum order quantity for custom socks?
Can I request a sample before placing a bulk order?
How are custom socks packaged? Can I design my own packaging?
Are custom socks eco-friendly?
We Make Custom Socks Fast and Easy and Here's Why:

We get you fully custom, fully woven socks in only 5 days. We never charge rush fees, so we can probably beat that for free - just ask!

Our 60 pair minimum for fully knitted custom socks is one of the lowest in the industry.
Our Flagship socks are 100% made in the USA, from the cotton that the yarn is made from to the boxes that they ship in.

No setups, no rush fees, no design fees. Our pricing is easy and transparent, and you always get the best price.

We've got in-house kitting and fulfillment services to take care of your client's entire order from start to finish in just one PO.

You've got options: Whether you need socks in 5 days or socks for 5 dollars, we've got a sock for that. Any length, no show to knee high, full size range, Baby to Adult Large.
Get Started on Your Free Design
Join over 72,000+ companies who have designed custom socks for their brand.