Published August 9, 2021
Why Are Custom Socks Trending Promotional Products?
Choosing the right promotional products or promotion gifts for your large business or start-up is essential to help reach and make a lasting impact on your target audience, that's why so many people turn to Sock Club custom logo socks!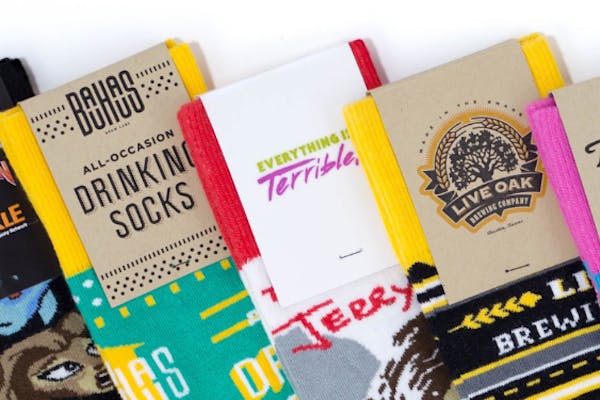 An effective promotional product can drive consumers to your business in a cost-effective way. These products can also increase brand recognition, drive up customer loyalty and give potential customers a fond memory of your brand.
-
These potential benefits are why you need to focus on getting high-quality merchandise and present them properly to get the attention of your target audience. One of the top trending custom promotional gifts in the market is custom socks! In this blog we'll dive into the do's and don'ts of picking the perfect branding merchandise!
-
Why Is It Important to Choose the Right Promotional Product? 
-
Let's first dive into the top three most important factors to consider regarding promotional products:
-
#1. Promotional Products are Cost-Effective
Often when businesses think about promoting their brands, they picture their brand on a billboard and other large-scale media advertisements. 
-
However, you don't have to spend that much to promote your brand while still avoiding cheap promotional products that end up in the trash. With Sock Club's low cost, fully knit, promotional socks, people will want to wear your custom logo socks, showcasing your branding merchandise to a wide audience over and over again. Much more cost-effective than a billboard that will get taken down and forgotten about! Plus with custom bulk socks, the higher quantity that you buy the better your price breaks!
-
#2. Your Swag Logo Creates Brand Recognition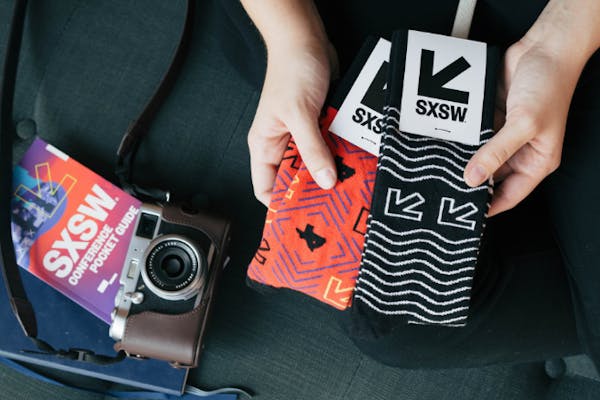 Choosing custom logo socks as a promotional product or promotion gift will quickly build brand recognition for your business as consumers and target audiences will grow to identify your brand as they continue to see your logo on socks!
-
Since everyone wears socks, your fun custom branded socks will be worn for an extended period of time gathering impression after impression to the point where someone sees your custom logo socks they will instantly recognize your brand and keep you top of mind!
-
#3. Promotion Gifts Build Customer Loyalty 
Even when seeking best practices to retain clients for your business, promotional products and custom socks with logo are one of the best ways! Custom promo socks are inexpensive yet high-quality and a high-perceived-value item, and because people are more attracted to quality products that have a purpose, branded socks help retain first-time customers for a long time. 
-
At Sock Club, you can customize your brand socks using different designs and colors- and mockups are always free from our professional in-house design team! It's no wonder people turn to us as their swag store and swag company when they're looking for great specialty items!
-
What Are Some Factors to Consider When Choosing a Promotional Product?
-
#1. Is your promotional product useful to the recipient?
It's important for businesses to understand their target audience, to best satisfy their needs, wants, and desires. Everyone wears socks, so custom branded socks are always welcome. In addition to that, it's important to put yourself in the shoes (or socks!) of your target audience will help with creative custom sock designs that aligns with your brand's aesthetic while showcasing your logo in a memorable way!
-
Consider what type of custom branded socks you would prefer to receive as promotion gifts if you were a member of your audience. Custom crew socks are perfect for any occasion, but are most loved by corporate clients. Custom ankle socks are great for runners but also daily-wear, and our custom athletic socks are perfect for teams, field employees or essential workers! Keeping your audience in mind and how they'll use your brand socks is essential to branding merchandise!
-
#2. Is it a promotional product that will be perceived as added value?
One proof that the promotional socks you used are a success is that your audience loved them and positively responded to them! Another tell-tale sign is that they consider your branded socks valuable.
-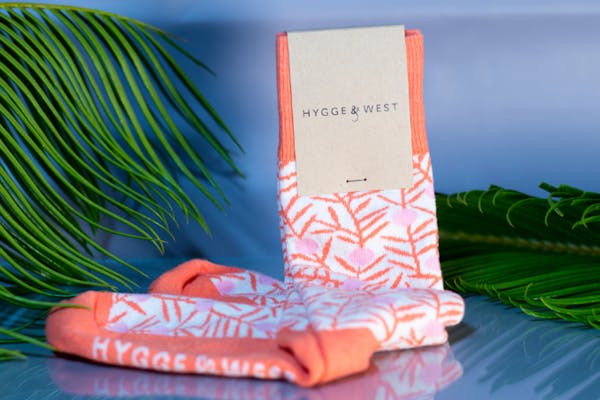 Avoid using low-quality or cheap promotional products as a way to manage cost analysis because without great benefit, it will only repel your target audience and give bad or no brand awareness. At Sock Club, your custom branded socks are made with high-quality materials and made in the USA. And promo socks are naturally high-perceived-value specialty items- commonplace team swag, corporate merch and promotion gifts like pens, t-shirts, and stress balls have been seen and done too many times!
-
#3. Does your logo work well with the branding merchandise?
Your custom branded socks will represent you and your business, that's why it is so important that your logo is pristine! If the logo on socks is not placed properly, there is a high possibility that it will not be seen easily and will not convey your brand's message well. 
-
After all, what is the point of gifting custom socks with your logo if your target audience can't understand it? That's why we have a team of in-house professional designers to ensure your custom socks are perfectly designed to be an impactful promotional product.
-
What Are Some Common Mistakes to Avoid When Choosing a Promotional Product?
-
Even though promotional products are considered to be powerful and effective in creating brand awareness, there are some common mistakes people make when choosing these specialty items.
-
#1. Bad custom sock designs
When seeking promotional socks, the number one thing about great custom logo socks is to ensure that your custom sock designs are great. A great design is the simplest way to attract more customers and since promo socks are swag gear and wearables, people will not want to wear custom logo socks that are not well designed.
-
At Sock Club, the best custom sock company in the USA, that's why we have a team of professional designers who will give you custom sock designs for free, with a quick turnaround time and an easy ordering process.
-
#2. Forgetting about your audience and strategy
The biggest mistake you can make when using promotional products is to order custom socks bulk without having a strategy or thinking about your audience. Yes, everybody wears socks - but custom logo socks can range from type to size to colors and so identifying your target audience before moving forwards with our specialty items is key to making sure your custom promotional socks are impactful!
-
Use your branding merchandise to direct customers to what your brand wants to sell and tell a story about who your business is. Ensure that you keep your strategy simple and smart!
-
#3. Going cheap on your promotional products- if you're gonna do it, do it well.
-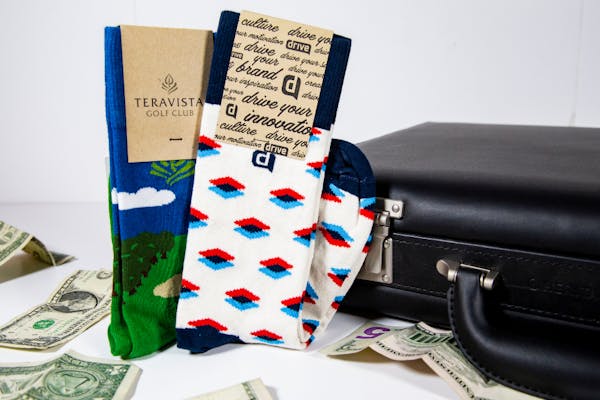 -
The goal in purchasing promotional products and promotion gifts is that you would be happy if it were given to you. Instead of paying attention to every cent and penny involved, invest your money and time to ensure that your products are long-lasting and have high quality. 
-
You do not have to break the bank but if you are gonna do it, do something worth the money! Custom socks appear as premium swag, and depending on your quantities can come at a great price because bulk custom socks are cheaper the more you buy.
-
#4. Playing it safe. No one likes boring branding merchandise.
The purpose of custom branded socks is to attract an audience to your brand. In a world where your competitors are everywhere, keeping a tab on the latest trends, and creating a unique custom sock design for your custom branded socks will help you cut through the clutter!
-
Now that you know all the reasons why custom socks are trending promotional products and how to best bring them to life- you can submit a logo here to get free designs from our professional team!