Client Spotlight
Sock Club's Custom Athletic Socks Help Old Bones Society Stay On Trend
Matt Adamson has been tattooing since 2008. He got his start in Newcastle, which is located in the heart of North East England. Matt confidently tattoos in many styles, however he has developed his own take on Neo-traditional, American traditional, and Japanese tattooing over his career and continues to push these genres.
Initially, Adamson started small with Old Bones Society. 
"I initially started making designs and clothing for Old Bones Society just as a small side project from my tattooing," says Adamson. "I never really expected to gain a huge amount of interest through the brand and that maybe I would just make the occasional t-shirt. However, over the last two years I've found a new passion in building 'OBS' as a brand and have really enjoyed seeing it grow and hearing people's feedback on the products. We've done a few pop ups including artists and fleas in Williamsburg, Brooklyn and really enjoyed getting to meet new customers that may not have found us online."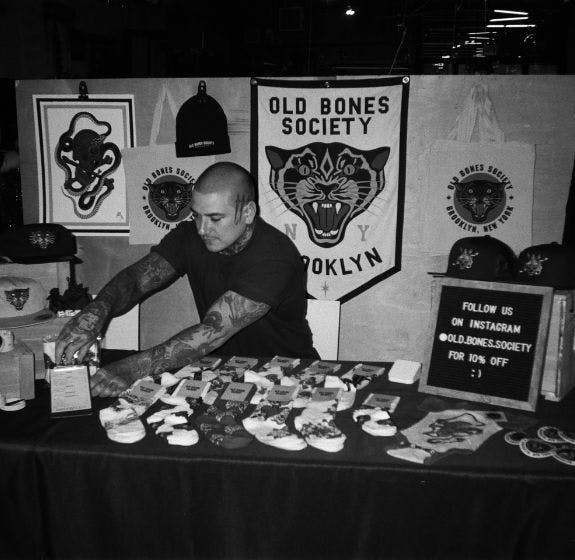 Old Bones Society pop-up shop in Brooklyn with Matt Adamson setting up the booth


Old Bones Society has been up and running for almost two years now. They pride themselves in creating high quality products featuring bold and classic designs inspired by Matt's years of tattooing. 
Says Adamson, "our target audience is pretty much anyone who sees what we do and appreciates the work behind it and basically, thinks it looks cool!"
After having some success with his t-shirt designs, Adamson and the OBS team were looking for the next unique merch item to add to their collection. "I really wanted to branch out into something that I haven't seen as much, tattoo inspired socks! I feel like I don't see a whole lot of socks with classic tattoo inspired designs and we wanted to make that a huge part of our brand," says Adamson.
Since design is Adamson's business and passion, our team had to ensure that the Old Bones Society brand and vision was represented properly.
"Sock Club is great at communication," says Adamson. "Every step of the way I was heard and my design requirements were executed just how I had hoped. They also sent me out samples so I knew the quality would be the best."
Although the fact that the socks were so high quality was what won the initial order, the fact that the socks were such a popular item has kept the OBS team coming back to Sock Club again and again. 
"We keep making them, people keep buying them! Sock Club has been a great experience - we now have over 20 pairs of socks to choose from all with various tattoo inspired designs on," says Adamson. "We're working on a new collection with Sock Club right now and we couldn't be more excited!"
The Old Bones Society custom socks for their retail store are definitely a staff favorite around Sock Club - Matt Adamson is so talented!
You can shop the socks at the link below, and follow Adamson's tattoo Instagram @mattadamson.