Client Spotlight
Custom Corporate Gifts from Sock Club Help Xos Engage Clients
"​​The ease of customization and turnaround time were exactly what we needed."

Xos designs and manufactures purpose-built commercial electric vehicles, fleet management software, and charging infrastructure to enable adoption.
Last-mile delivery fleets, with short routes where trucks can charge at the same location every day, are perfectly primed for electrification. By going electric, fleets can combat soaring fuel costs, expensive diesel maintenance, and increasing emissions regulations.
Electric commercial vehicles are more efficient and will save fleet operators time and money over the life of the vehicle, but the pain points around delivering vehicles along with infrastructure and helping clients navigate ever changing government incentive programs leads to very long lead times.
"The time between ordering a truck and having it on your lot with charging takes a while," says Associate Marketing Manager, Cruise Russo-Zirkel. "We use lots of swag as ways to maintain a positive relationship over the whole delivery timeline."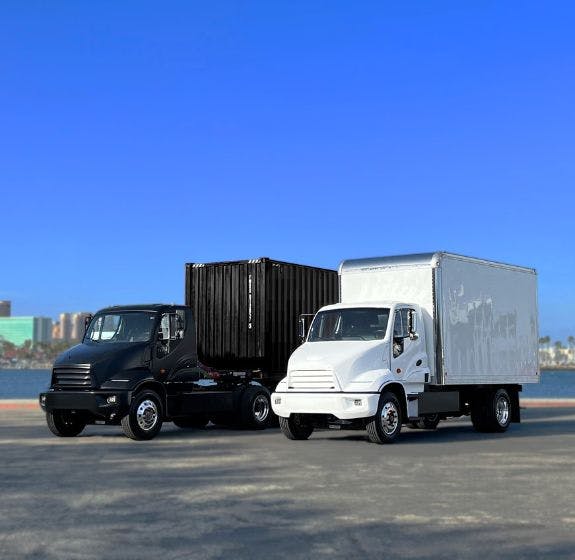 Because they rely heavily on swag to maintain positive client relationships, Russo-Zirkel is always on the lookout for a new cool swag item. Cruise discovered Sock Club through a Google search for custom socks, and decided to give our free designs a try.
"​​The ease of customization and turnaround time were exactly what we needed," said Russo-Zirkel. 
Although holiday corporate gifts were not the first thought for custom socks for Xos, Russo-Zirkel was happy to add that use case to the wide variety of applications for custom socks that can help the Xos team stay engaged and connect to their clients.
"We have used Sock Club custom socks previously for a big showcase event and we wanted to have some more unique items that our guests might not be expecting," said Russo-Zirkel. "After that event was a success, I was looking for an excuse to make some more socks and a holiday gift box seemed like a great idea especially when I saw I could even get wool socks."
As for the future of the Sock Club and Xos partnership, Russo-Zirkel expressed excitement for moving forward with new and varied opportunities. "This is the second time we've ordered and it won't be the last."
Want to get your own custom sock project started? Email our team at custom@sockclub.com for pricing and information, or click the button below to get free custom designs from our in-house design team!