Sole-Mate Stories
Custom Wedding Socks Help The Parsons (And Their Pets!) Thank Their Wedding Guests
Would you say that your personalized wedding socks were a sock-cess?
ABSOLUTELY! Our personalized dress socks were such a big hit! All of our guests were talking about them at the wedding and still talk about them today. We have friends who wear them all the time and send us a photo when they put them on. 

We have one friend who wears them to work and always gets comments from his clients. We love that we will have this momento from our wedding for a long time!


How did the two of you meet?
Jonathan and I matched on Bumble when the app had just come out. Our first date was to watch a Portland Trailblazers game. We bonded over our shared love of pugs and one of our next dates was to the Portland Pug Parade, even though neither of us owns a pug!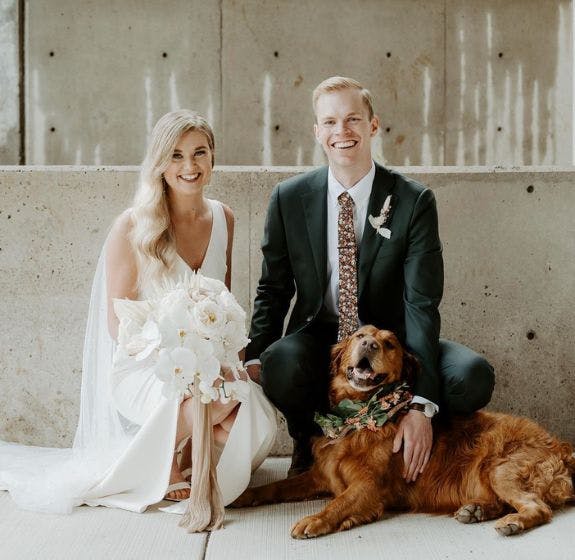 What are some challenges that you faced when picking party favors for your wedding guests?
We wanted to make sure our wedding favor was something that our guests would actually want and use! We have all received little tchotchkes from weddings that go in a drawer and then never come out. Everyone wears and loves fun socks!
What was important to you in the customization of your wedding favor ideas? What impression did you want them to leave on your guests?
It was important to Jonathan and I that our wedding dress socks truly represented us! We brainstormed different ways we could visualize our favorite things, foods or Portland, but ultimately landed on our pets being our most beloved thing. All of our guests know how important they are to us, and we felt this was the perfect way to represent us.


How did you distribute your fun wedding socks at your wedding?
We placed the wedding party socks in a wire basket on a table next to our polaroid camera setup. We had a small custom sign made to sit next to the socks that said "Please take a pair. We can't thank you enough for being here today."
What advice do you have for couples who are considering making fun socks for weddings?
Don't think twice! You will absolutely love your custom wedding socks and so will your guests. They will be a little keepsake you can wear and look at often and think about that amazing day.

Sock Club is the best!! <3
Want to make your own fun dress socks for your wedding?
Sock Club is a team of skilled designers that specialize in creating customized socks for a variety of occasions, with a particular focus on weddings. They are dedicated to producing unique bride and groom socks that are tailored to each couple's preferences and style. Working with Sock Club is ideal for couples who want to design custom dress socks for wedding favors, and the best part is that they can order as few as 30 pairs.
The process of designing fun and funky socks with Sock Club is simple and efficient. Couples can work with a designated designer to choose wedding colors, patterns, and designs that complement their wedding theme and style. In addition, they can include personalized messages, such as their names and wedding dates, to make the socks even more special.
After the design is approved, Sock Club's skilled craftsmen use advanced manufacturing techniques and high-quality materials to bring the socks to life. This ensures that the custom wedding socks are not only visually stunning but also comfortable and durable.
What's even more impressive is that Sock Club's custom wedding socks can serve multiple purposes. One order of amusing wedding socks can be used as men's wedding socks, groomsmen dress socks, bridesmaids socks, socks for the wedding party, and even for the happy couple themselves.
With Sock Club's expertise and meticulous attention to detail, they are the perfect partner for couples looking to add a unique touch of personality and style to their special day. They recognize the importance of a wedding day and strive to make it unforgettable for all involved.