Client Spotlight
Gabaldon Art Transforms Paintings into Custom Socks
Gabaldon Art uses art and painting for creative custom socks!
Patrick Gabaldon, the artist behind Gabaldon Art, said he started his business because "First impressions are usually lasting ones- good or bad. Our hometown has been subject to some bad first impressions so I made it my goal to make a new first impression for El Paso Texas and the border."

Painting started as a small hobby in 2013 for Patrick until he and his wife, Monica, saw his passion for painting morph into a small business. Gabaldon Art beautifully captures and celebrates El Paso culture, color, and community. The Gabaldon's wanted to create apparel that celebrated their love for the desert, but they didn't want anything ordinary. So…they turned to SOCKS! One of Sock Club's own, Rebecca Palomares, is an El Paso native and long-time fan of Gabaldon's work. She reached out to them directly, knowing that the art would translate well to socks. Patrick was ecstatic that Rebecca reached out and said, "We were leery of ordering socks from overseas and having to order THOUSANDS to make it worthwhile. We live in a small place and didn't want to be overrun with socks coming out of every corner!" Sock Club's made in U.S.A. custom socks and low minimum order quantities were a perfect fit for Gabaldon Art.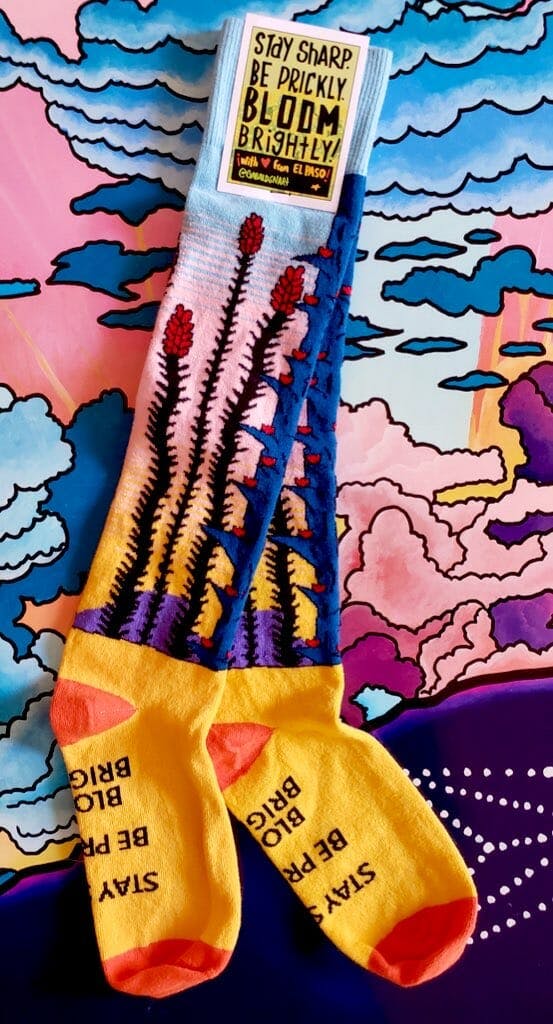 Patrick and Monica say that Sock Club samples were also a HUGE benefit and that once they received them, they were won over. Patrick said, "Several wears and washes later our samples still looked and felt great. We knew immediately that we had to work with Sock Club and were excited to see how our customers would react." Sock Club designers translated some of Gabaldon's favorite art paintings into sock format. He said that the buying process was simple and it's gotten even easier with the new website-based interface. "At the heart of the ordering process is people and great communication. When that exists it doesn't really matter if you're ordering off an old paper invoice or an app. Having great tech has made the ordering process even faster and customer care hasn't dropped off one bit. Their team is incredibly attentive, detail-focused, and understood our goals with the project. We really love the person-to-person interaction provided by Sock Club."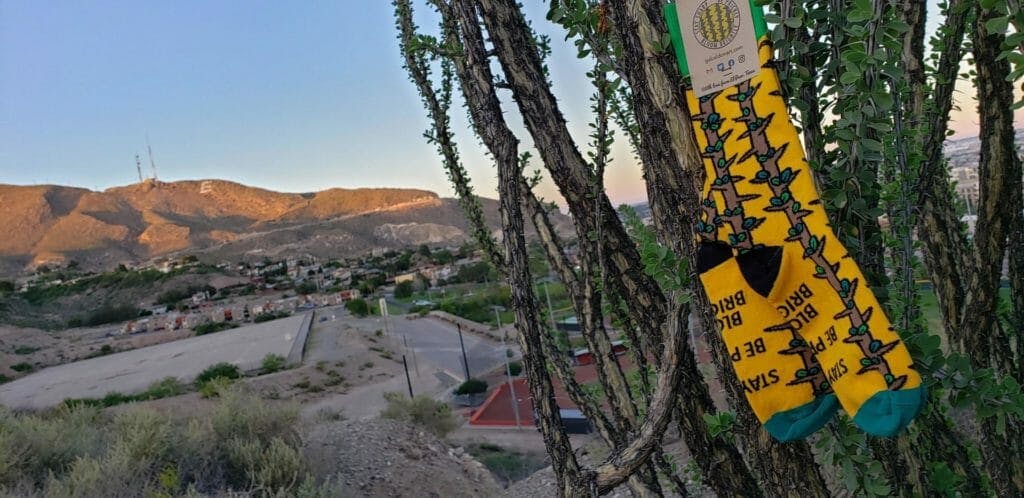 Gabaldon Art said their main goal was simple…to SELL EM ALL! They ended up selling their first 120 pair in about 60 days. Then over the winter holiday, they ordered 240 and sold those out in 30 days. "We were a bit nervous before launching the socks on our website but the second we made them available they started selling fast! Since that first launch, we have ordered new designs every year and plan on having new desert/El Paso socks every holiday season." The socks were a simple extension of his already "joy/color" focused artwork. Not everyone has the space for a large original piece of art but most people enjoy colorful socks or know someone who does. His bright bold socks have also allowed him to ship the artwork all over the country. There are desert lovers all over and they don't necessarily have to be from El Paso or the Southwest to love a pink prickly pear sock.

"It's the absolute best feeling to see our customers wear my art. Our goal of making a brighter first impression for the border is now a reality. We were lucky when we launched our custom socks because no one else in our creative space was doing that. So our target audience of art lovers soon found a new way to celebrate their love for El Paso and for the desert."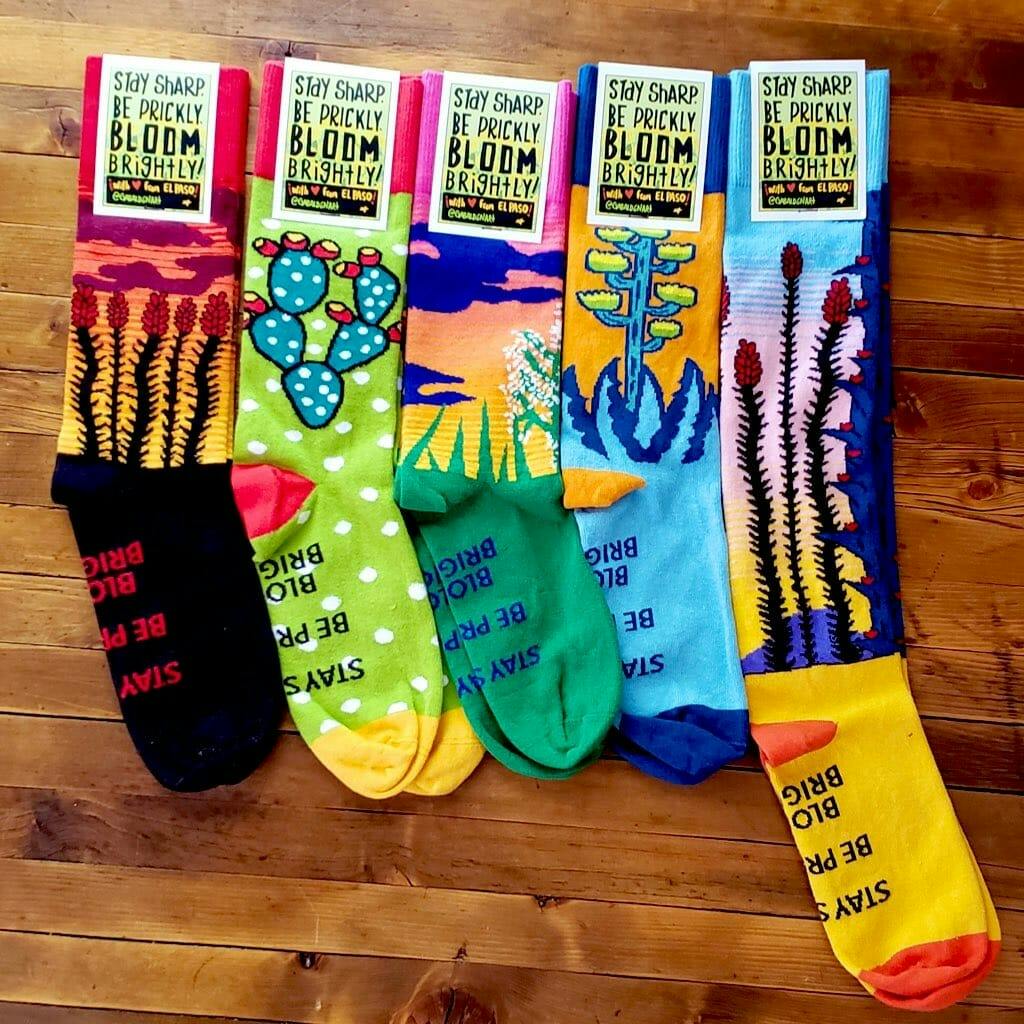 When asked about the biggest challenge he faces as an independent artist Patrick Gabaldon said, "It is tough! Continuously creating new work, never knowing how that will land with our customers, and keeping up with all the not-so-fun stuff of running a small business never stops. Working with SockClub has helped us grow in such a great fun way. We never thought we'd be doing socks and now we can imagine NOT having them as part of our small shop."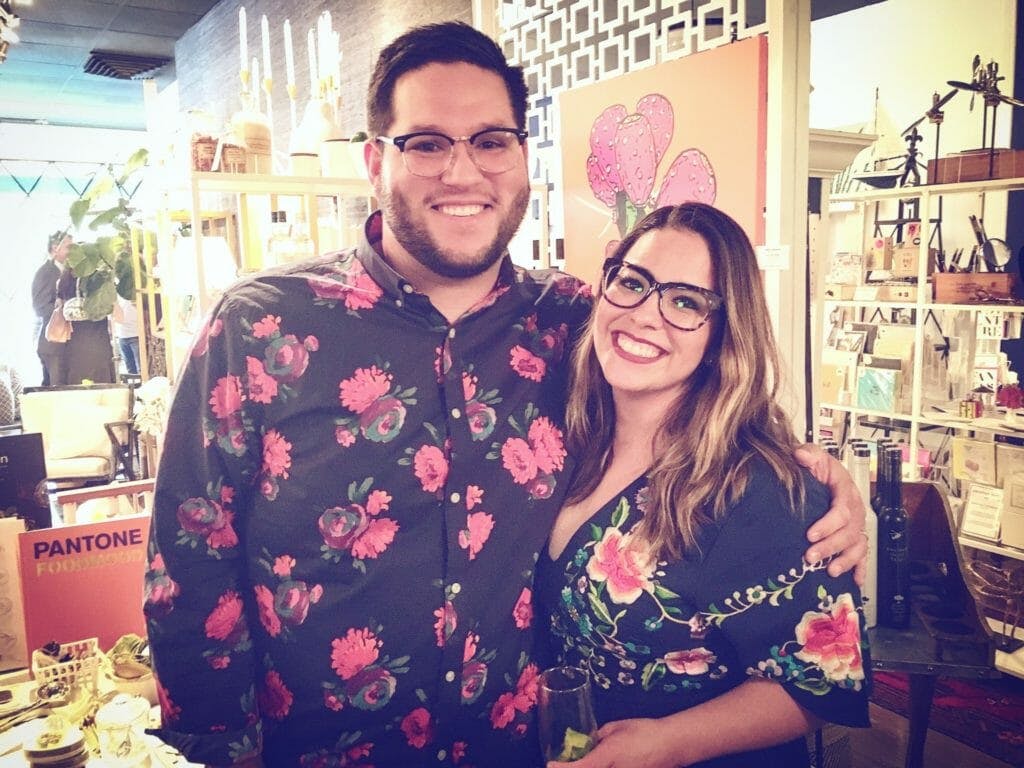 "I tell every small business I know to work with Sock Club. The quality of the product is HIGH and the fast production makes last min ideas possible."
- Patrick Gabaldon