Sole-Mate Stories
Chelsey and Phillip's Personalized Wedding Socks Still Make An Impression 7 Years Later
Would you say that your personalized wedding socks were a sock-cess?
They were the biggest sock-cess ever!! Every guest loved them! We still get pictures of people wearing the socks 7 years after our wedding! It fills me with joy every time I get to wear my wedding party socks and when I get pics of others still wearing their socks!


How did the two of you meet?
We met in college while working at a camp for kids with disabilities. He had served in every position at camp and was now the camp photographer and DJ, and as a new staff member, I thought he was the coolest person I'd ever met! 


One of our first dates was Halloween 2009. I was the Rock within a group of "Rock, Paper, Scissors", which was not as well planned out as I thought! When he asked for my phone number and put me in his phone as "Chelsey Trash" because of my costume. We laugh about that still today!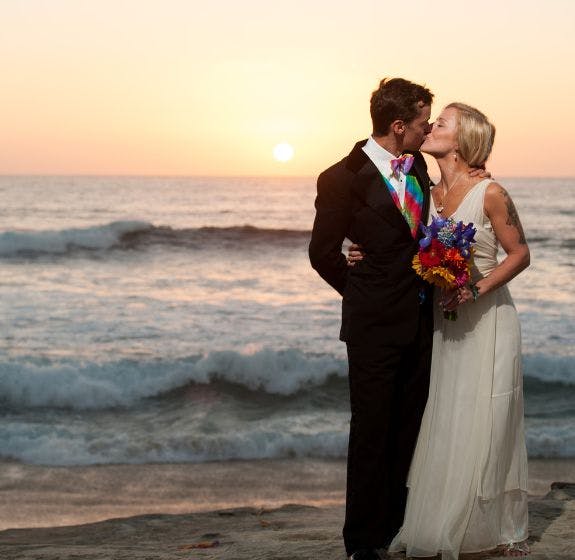 What are some challenges that you faced when picking party favors for your wedding guests?
We had a destination wedding so we had to consider what people could easily take home with them on an airplane. The personalized dress socks were the perfect favor as people could wear them home or pack them even if they had minimal space in their luggage!
What was important to you in the customization of your wedding favor ideas? What impression did you want them to leave on your guests?
Our custom dress socks were absolutely perfect for our wedding as it was a rainbow theme and the designer knew the bride (me) is OBSESSED with unicorns. They were such a wonderful and perfect gift to us that we could then give to all of our guests!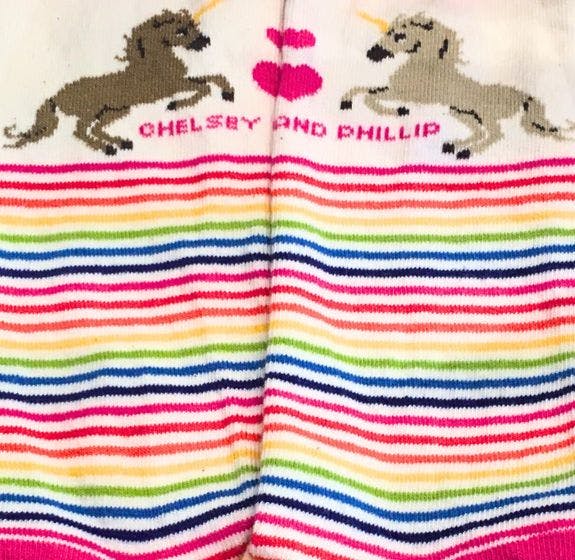 How did you distribute your fun wedding socks at your wedding?
We had a beautiful wedding favor box with the socks in them on the guests way out of the reception venue.
What advice do you have for couples who are considering making fun socks for weddings?
What to put in wedding favor bags is such a hard decision. Wedding dress socks are the best favor you could give!! They are so beautifully and thoughtfully created, very useful, and last a long time.


Sock Club is the best and their custom socks are such a cool way to memorialize one of the most special days of a couple's life together!!!
Want to make your own fun dress socks for your wedding?
Sock Club is a team of experienced designers that specialize in creating custom socks for various occasions, especially weddings. Their goal is to create custom bride and groom socks that are unique, tailored to each couple's needs, and style. What's great about working with Sock Club is their ability to help design custom dress socks for wedding favors and the option to order as few as 30 pairs.
The process of designing funky socks for weddings with Sock Club is easy and efficient. Couples can collaborate with a dedicated designer to choose wedding colors, patterns, and designs that align with their wedding theme and style. Moreover, they can add personalized messages such as their names and wedding dates to make the socks even more special.
Once the design is finalized, Sock Club's skilled craftsmen bring the socks to life using high-quality materials and advanced manufacturing techniques. This process ensures that the custom wedding socks not only look fantastic but also feel comfortable and durable.
What's even better is that Sock Club's custom wedding socks can serve multiple purposes. One order of funny wedding socks can be used as men's wedding socks, groomsmen dress socks, bridesmaids socks, socks for the wedding party, and even for the happy couple themselves.
With Sock Club's expertise and attention to detail, they are the perfect partner for couples looking to add a touch of personality and style to their special day. They understand the significance of a wedding day and strive to make it memorable for all parties involved.