Sock Club's Guide to Appreciation Gifts
So you've been looking for gift ideas for employee appreciation day 2023 (March 3rd), but you don't know where to start? Or maybe you're evaluating the best client gifts for the holidays but don't know what's appropriate.

Here at Sock Club, we've been a custom-branded swag manufacturer for over 10 years and have seen people utilize custom logo socks for employee appreciation gifts, client holiday gifts, executive gifts, and much more!

Custom branded socks are the perfect appreciation gift that can help you enhance company culture, increase employee/client engagement and retention, and just say thank you. 

This guide will help you enhance your company culture, increase team productivity, improve your client relationships, and even finish your corporate holiday shopping. Lastly, you'll get to learn more about teams like yours who've successfully used custom socks for their employees and clients.

Keep reading to learn more!

How to Enhance Company Culture with Merchandise Branding
In order to understand how you can enhance your company culture with custom swag, you must first understand what company culture is. According to Harvard, organizational culture is defined by four main characteristics: shared, pervasive, enduring, and implicit. Company culture is the norms and environment that define your team. 

You can use branded merch to enhance your company culture by creating employee gift boxes for new hire gifts and celebrating milestones through gifts for executives, or gifts for board members. By creating corporate gift boxes you'll help employees feel appreciated and valued. In turn, this results in a happier, more productive, and more loyal team.

Read this post to learn more about why you should invest in appreciation gifts for employees!

Read Post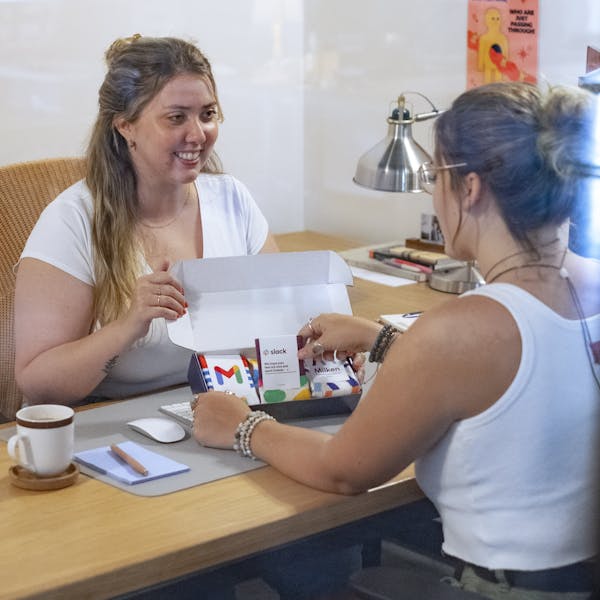 How to Increase Employee Engagement and Retention with Employee Gifts
In order for any organization to be successful, it's important to attract and retain top talent. However, employee engagement and retention can be one of an employer's biggest challenges. A great way to increase employee retention is through employee gift boxes.

These can be gifted to new hires, during performance reviews, on workaversaries, or even at team stand-ups as a thank you for employee participation and feedback. Employee gift boxes are a great way to show an employee that you care about their opinion and value their feedback.

Read this post to learn more about how you can utilize employee gifts to increase employee engagement and retention!
Read Post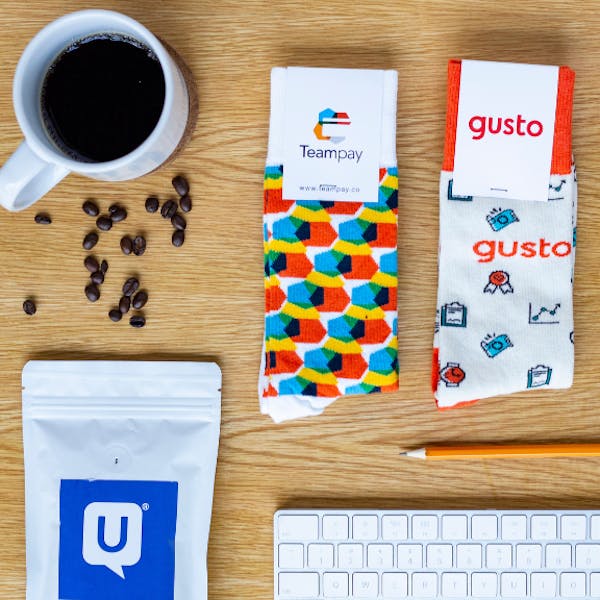 Best Employee Appreciation Gifts of 2023
Employee Appreciation Day 2023 is March 3, 2023. The goal of employee appreciation day is to give companies an opportunity to show their employees appreciation for all their hard work. This can be done through special events, company outings, and even employee appreciation gifts.

This means it's time to start thinking about employee appreciation gifts for your team. Employee appreciation gifts can lead to more productive, engaged, happy, and excited team members.

Read this post to see the most popular employee appreciation gifts for 2023!
Read Post
Fast Facts About Employee Appreciation
14%
Increased employee engagement, productivity, and performance by recognition. (Deloitte)
65%
of employees prefer non-cash incentives (IMA)
63%
more likely to stay at their current job within the next three to six months if they've been recognized (Apollo Technical)
69%
of respondents mentioned rewards as the top factor that keep them at their current employers. (Achievers)
Why Custom Socks are Perfect Holiday Appreciation Gifts
If you're looking for employee gift ideas for Christmas, then custom logo socks may be the solution you're looking for! Custom socks also make great client gifts. When you're building your client gift boxes or employee gift boxes, you need custom swag that is easy to design and can be shipped directly to your mailing list. Our 3D DIY Custom Sock Builder and custom sock packaging options check off both of these requirements for custom holiday socks! Holiday socks in bulk are the perfect gift for a group because they're one-size-fits-most, gender-inclusive, and everybody wears them. 

Read this post to see why custom socks are the perfect holiday appreciation gift for employees and clients!
Why are Custom Logo Socks Perfect for Employee Appreciation?
Employee appreciation can happen in many forms and for a variety of reasons. Whether it's for a job well done, successful project completion, or even celebrating a birthday or workaversary, employee appreciation is important. There is even a national employee appreciation day. 

Appreciation for employees can be shown in many ways including a shoutout in a company meeting, an unexpected treat like coffee or lunch, or even monetary compensation. However, one of the most popular is gift giving. Our favorite employee appreciation gifts are custom socks. They're one-size-fits-most, gender inclusive, practical, provide easy shipping gifts for remote employees, and they're universal for multiple use-cases.

Click the button below to learn more about why you should consider custom socks for your employee gift boxes!
Holiday Sock Ideas for Company Gifts
As an HR professional, you can benefit from getting Christmas gifts for employees because it shows how much they are appreciated, increases employee engagement, and in the long term can help increase retention. As a business owner or account manager, you can benefit from getting holiday gifts for your clients because it shows appreciation, they can be used as a form of advertising, and it helps reward your clients.
How Companies Like Yours Have Used Custom Socks for Employee Appreciation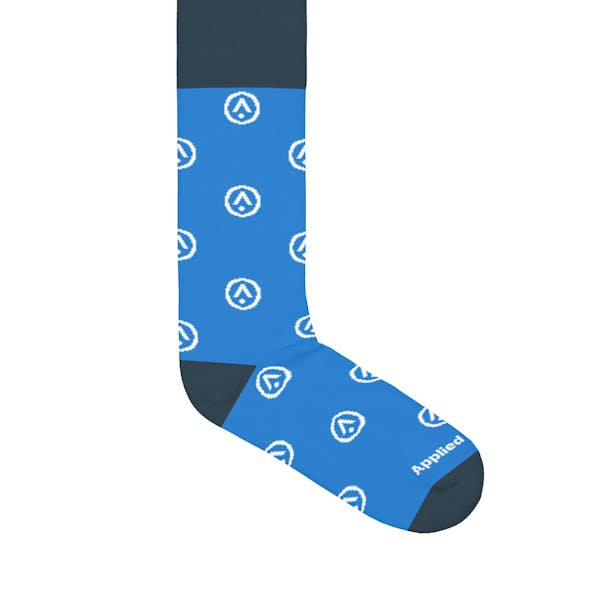 Applied Intuition Blended Employee Appreciation with Office Traditions
Headquartered in the heart of Silicon Valley, Applied Intuition provides engineering and product teams with software that makes it faster, safer, and easier to bring vehicle autonomy to market. Justin Barber from Applied Intuition says, "At Applied, we remove our shoes before entering our office – so socks are a big part of who we are! We're excited to have a gift that reflects a unique part of our company culture."
Read Spotlight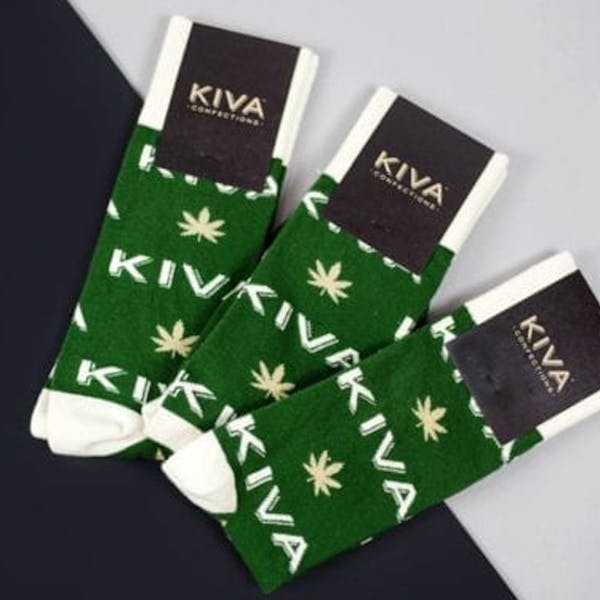 Kiva Confections Shows Appreciation with Custom Cannabis Socks
Kiva Confections is a cannabis edibles company based in California that is known and trusted for consistent, high-quality, and delicious (infused) treats. For their industry holiday 4/20, they curated gift baskets with custom socks, various samples of products, a booklet of information, and more to show appreciation to their partners. Abel from Kiva said, "It's been really fun as we go out to dispensary visits and then we come across someone wearing our custom socks. It's exciting and gets shared in our Slack channel."
Read Spotlight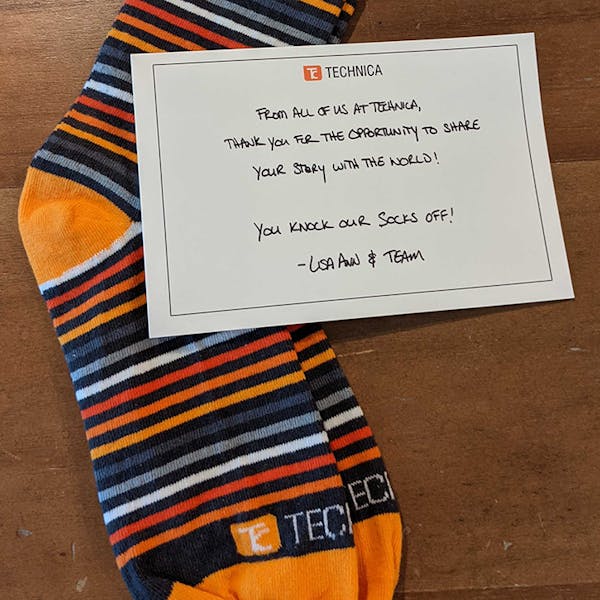 Technica Communications Connects With Their Remote Team Through Unique Swag
Founded in 2009 and based in Palo Alto, California, Technica Communications is an award-winning, boutique, public relations, social media, and content marketing firm. As a fully remote company, its biggest priority is connecting with its clients and internal team beyond meetings, emails, and messages. "We wanted to gift our clients and internal team something practical they could use daily. With many staying home due to the pandemic, we thought socks would be a perfect idea," says Technica Communications.
Read Spotlight
The Best Holiday Custom Sock Designs
We all know that the ugly Christmas sweater from last year's company holiday party has been sitting in the back of your closet for the last year. A better holiday corporate gift is custom socks because they can be utilized year-round for both employees and clients. 

We put together a list of some of our favorite holiday custom logo sock designs. Whether you're looking for a holiday ugly sweater-themed sock or something more low-key and universal, our expert sock designers can help you create something your whole team will enjoy. Just send us your logo or explore our holiday sock design templates in our 3D DIY Sock Design Builder.
How Companies Like Yours Have Used Custom Socks for Corporate Holiday Gifts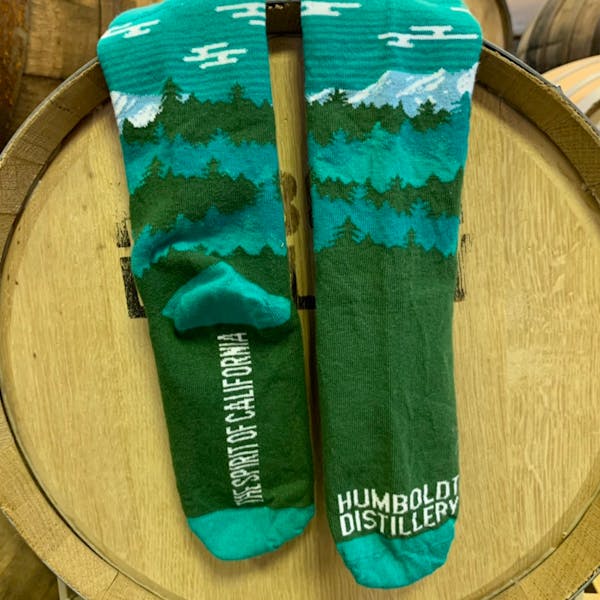 Custom Branded Socks Became a Key Component of Humboldt Distillery's Holiday Gifts
Humboldt Distillery is the proud maker of California's best-selling organic vodka. In order to connect with their clients beyond in-person events, tastings, and demos, they created mailable holiday gifts. "These socks are a key component of our holiday gift packs. We're so happy we get to include such colorful, quality socks in peoples' mailboxes around the holidays."
Read Spotlight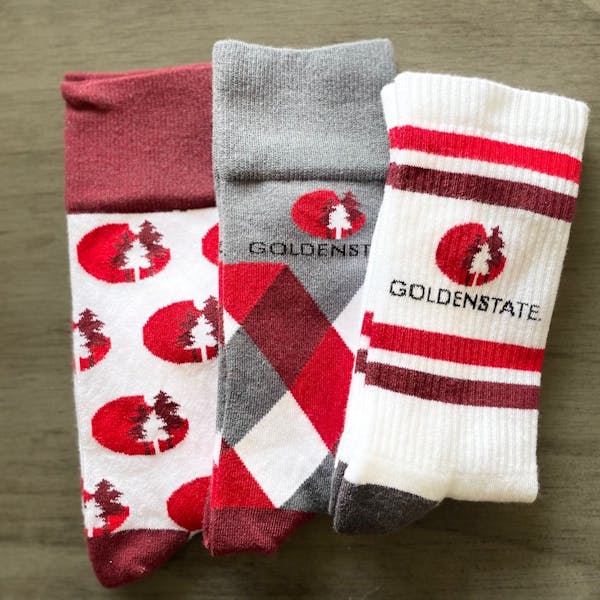 Golden State Lumber and Building Materials Creates a Unique Holiday Gift for Partners with Custom Logo Socks
Golden State Lumber and Building Materials is the premier supplier of building materials in Northern California. Every year they distribute holiday gifts to their valued partners to show their appreciation. This year, I thought it would be fun to choose a gift that was unique and outside of the box and these socks were able to accomplish that! Our customers will have high-quality, memorable Golden State branded socks that will last them years to come."
Read Spotlight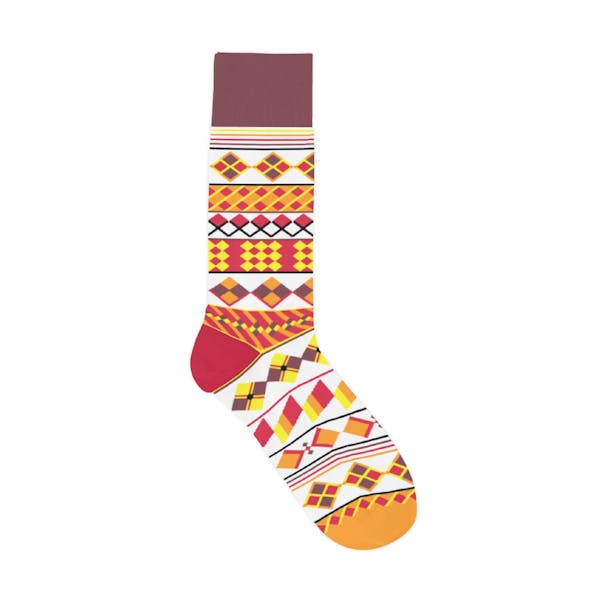 Ah-Tah-Thi-Ki Museum Celebrates Seminole Culture Through Tribal Art-Inspired Custom Socks
Rebecca Petrie at the Ah-Tah-Thi-Ki Museum said, "As a non-tribal member, it is a fine line between celebrating Seminole culture and heritage and appropriation. We do that by offering items, when not handcrafted by Tribal members, that are inspired by their art." These particular socks were ordered by another Tribal department for their holiday gift giving and said they were very pleased with the results.
Read Spotlight
Get Started on Your Free Design
Join over 10,000+ companies who have designed custom socks for their brand.